Mercedes continue to lead the way in Bahrain
Lewis Hamilton tops the second free practice timesheet, with Rosberg again in second place.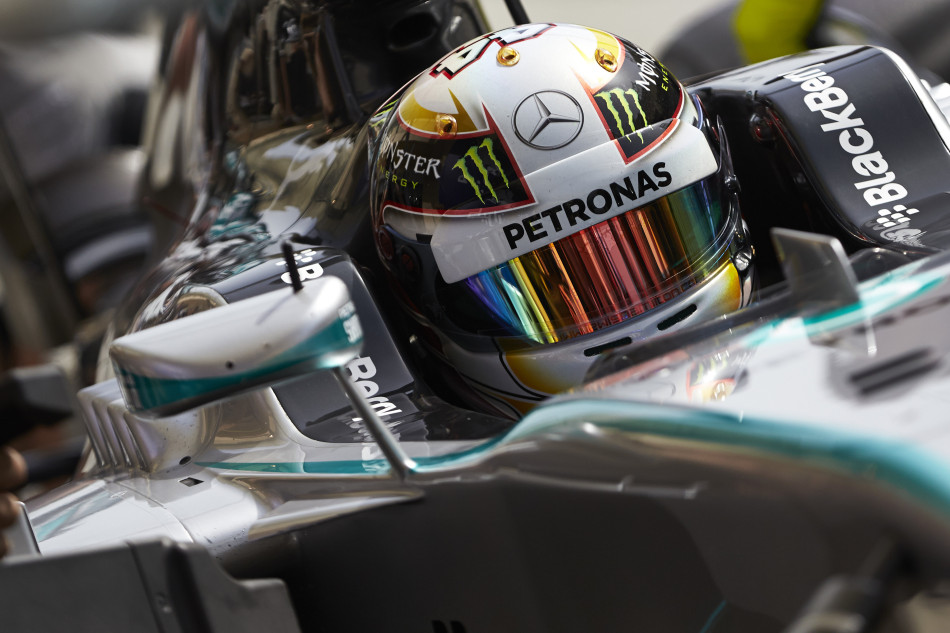 Mercedes continued to dominate free practice for the Bahrain Grand Prix as Lewis Hamilton topped the evening timesheet, three tenths of a second ahead of team-mate Nico Rosberg. As in the day's first session, Ferrari's Fernando Alonso was third fastest.
Alonso's best time was just over a second adrift of Hamilton's benchmark, pointing to the continued superiority Mercedes have over their rivals.
"It's been a pretty decent day for us," said Hamilton afterwards. "The car felt good from the outset, which allowed us to spend time getting to grips with the tyres. The softs in particular seem to be working well and we saw a fair difference in lap time between them and the mediums.
"The focus today was on the second session as the timing and conditions reflects that of the rest of the weekend and the difference in temperature between the sessions was quite large," he added. "The key was to not react too much to that change in terms of our approach to set-up and we seemed to manage that well. It was great driving under the spotlights here: the circuit looks even better at night and you don't really notice a difference in terms of visibility. It's actually quite nice to be driving in cooler conditions too. As always there are still some tweaks we can make to improve the car, but overall I'm feeling good."
Red Bull Racing's Daniel Ricciardo was fourth fastest, more than two tenths ahead of team-mate Sebastian Vettel, who finished seventh in the floodlit session. Fifth place went to Williams's Felipe Massa, with Jenson Button sixth for McLaren.
The top 10 order was rounded out by Toro Rosso's increasingly impressive Daniil Kvyat in eighth place, fellow rookie Kevin Magnussen of McLaren in ninth and Force India's Sergip Perez in tenth.
While the session was headlined by Mercedes' seemingly unassailable pace, it was marked for others by incidents and technical issues.
Lotus' Pastor Maldonado hit trouble when he clipped a kerb in Turn Four and briefly became airborne. Team-mate Romain Grosjean's problems were of a less nervy kind, though equally frustrating, as he complained of a engine misfire.
The Frenchman managed to post 23 laps, however, considerably more than fellow Renault-powered runner Marcus Ericcson of Caterham, who completed just 10 laps in the session and late on was forced to pull over as his CT05 suffered another problem.
Sauber's Adrian Sutil has earlier also exited the session, the German pulling over in Turn Six and clambering out of his stricken car. Elsewhere, Max Chilton's session ended early when a problem with his Marussia's rear end pitched the Briton into a spin and he skidded out in Turn Four.

2014 Bahrain Grand Prix – Free Practice 2 Result
1 Lewis Hamilton Mercedes 1:34.325 28
2 Nico Rosberg Mercedes 1:34.690 0.365 31
3 Fernando Alonso Ferrari 1:35.360 1.035 28
4 Daniel Ricciardo Red Bull Racing 1:35.433 1.108 28
5 Felipe Massa Williams 1:35.442 1.117 13
6 Jenson Button McLaren 1:35.528 1.203 21
7 Sebastian Vettel Red Bull Racing 1:35.606 1.281 30
8 Daniil Kvyat Toro Rosso 1:35.640 1.315 31
9 Kevin Magnussen McLaren 1:35.662 1.337 22
10 Sergio Perez Force India 1:35.802 1.477 40
11 Valtteri Bottas Williams 1:35.920 1.595 9
12 Jean-Eric Vergne Toro Rosso 1:35.972 1.647 33
13 Nico Hulkenberg Force India 1:35.998 1.673 18
14 Kimi Räikkönen Ferrari 1:36.366 2.041 33
15 Adrian Sutil Sauber 1:36.962 2.637 13
16 Esteban Gutierrez Sauber 1:36.975 2.650 35
17 Pastor Maldonado Lotus 1:37.259 2.934 25
18 Romain Grosjean Lotus 1:37.599 3.274 23
19 Jules Bianchi Marussia 1:37.800 3.475 15
20 Max Chilton Marussia 1:38.247 3.922 10
21 Kamui Kobayashi Caterham 1:38.257 3.932 33
22 Marcus Ericsson Caterham 1:39.136 4.811 30