Mercedes continue to dominate in Malaysia
German marque in control as Rosberg tops final practice timesheet ahead of team-mate Hamilton.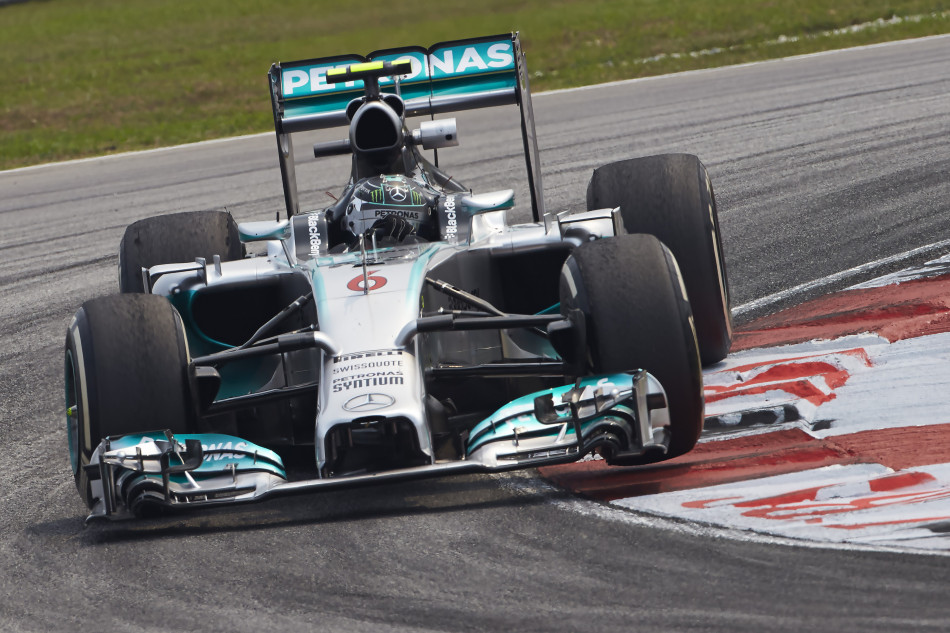 Mercedes continued to dominate at the Malaysian Grand Prix, with Nico Rosberg heading team-mate Lewis Hamilton at the top of the final practice session timesheet. The pair finished a second clear or more ahead of third-placed Kimi Raikkonen of Ferrari.
Hamilton had been fastest in the session's opening phase on the hard compound Pirelli tyres, with a lap of 1:40.552. However, when the field made the switch to the quicker medium tyre, Rosberg jumped ahead, delivering a lap of 1: 39.008s.
Hamilton finished second with a time of 1:39.240.
Raikkonen's lap of 1:40.156 was good enough for third, with Sebastian Vettel, who did not run until midway through the session, posting a medium tyre lap of 1:40.387. That was three tenths of a second quicker than team-mate Daniel Ricciardo who finished sixth, behind Force India's Nico Hulkenberg.
Seventh-quickest was Fernando Alonso, the Ferrari driver logging a best time of 1:40.736 ahead of former team-mate Felipe Massa who posted a lap of 1:40.781 for Williams. The top 10 was rounded by Valtteri Bottas in the second Williams and Sergio Perez in the second Force India.
After Lotus' woes of yesterday, both Romain Grosjean and Pastor Maldonado ran throughout the session, with the Frenchman ending the session in 15th place and the Venezuelan slotting into 16th position.
Instead, it was McLaren's turn to encounter problems. Kevin Magnussen reported a loss of engine power early in the session, with the result that he recorded just five untimed laps during the session. Jenson Button, too, spent most of the session in the garage and finished just four laps during the hour-long session.

2014 Malaysian Grand Prix – Free Practice 3 Result
1 Nico Rosberg Mercedes 1:39.008 13
2 Lewis Hamilton Mercedes 1:39.240 0.232 13
3 Kimi Räikkönen Ferrari 1:40.156 1.148 13
4 Sebastian Vettel Red Bull Racing 1:40.387 1.379 14
5 Nico Hulkenberg Force India 1:40.523 1.515 15
6 Daniel Ricciardo Red Bull Racing 1:40.686 1.678 14
7 Fernando Alonso Ferrari 1:40.736 1.728 14
8 Felipe Massa Williams 1:40.781 1.773 20
9 Valtteri Bottas Williams 1:40.891 1.883 20
10 Sergio Perez Force India 1:41.029 2.021 15
11 Daniil Kvyat Toro Rosso 1:41.182 2.174 18
12 Jean-Eric Vergne Toro Rosso 1:41.441 2.433 18
13 Adrian Sutil Sauber 1:41.552 2.544 15
14 Esteban Gutierrez Sauber 1:42.041 3.033 17
15 Romain Grosjean Lotus 1:42.749 3.741 16
16 Pastor Maldonado Lotus 1:43.539 4.531 20
17 Max Chilton Marussia 1:43.977 4.969 16
18 Jules Bianchi Marussia 1:44.170 5.162 18
19 Marcus Ericsson Caterham 1:44.457 5.449 12
20 Kamui Kobayashi Caterham 1:46.015 7.007 7
21 Jenson Button McLaren 2:05.555 26.547 4
22 Kevin Magnussen McLaren No time 5