A memorable day for 120 Girls on Track at the London E-Prix
On Friday 29 July, ahead of the London E-Prix race weekend, the ABB FIA Formula E World Championship hosted FIA Girls on Track, introducing 120 young women to a potential career in motorsport through innovative and educational activities. The participants also had the opportunity to meet Robert Reid, FIA Deputy President for Sport, Deborah Mayer, FIA Women in Motorsport Commission President and David Richards, Motorsport UK Chairman.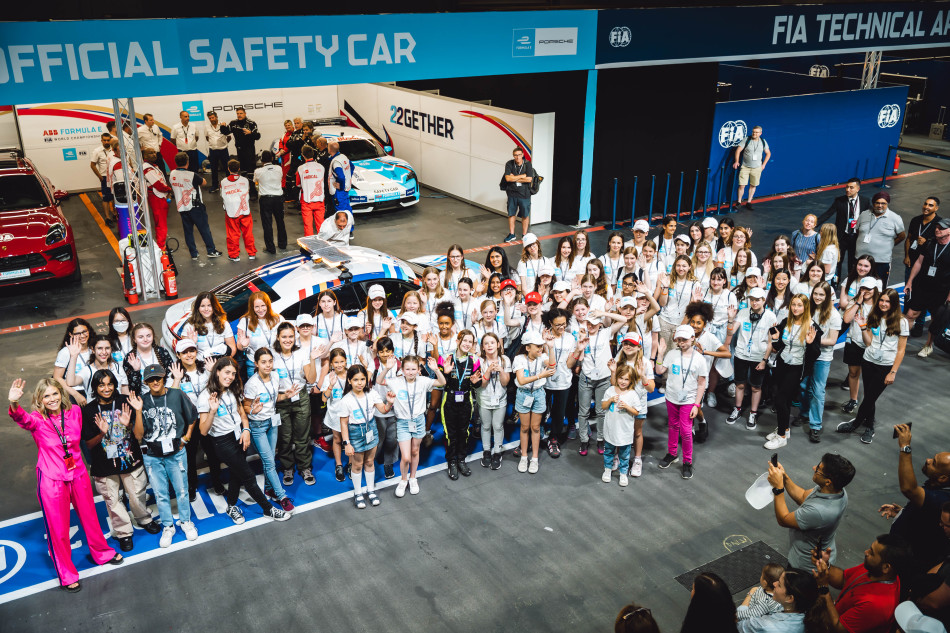 Hosted since 2019 by the ABB FIA Formula E World Championship, the FIA Women in Motorsport Commission's grassroots programme is aimed at young women between 8 and 18 years old to make them discover the different aspects of Motorsport and its industry through a set of activities and workshops, around 3 main pillars: education, career, racing.
Thanks to the joint mobilisation of the FIA, Formula E, Motorsport UK, ABB, DHL and the teams, the 120 participants in London engaged in a total of 10 activities throughout the day, including: a robotics activity, a pit stop challenge, an introduction to sim racing and ekarting, health and wellbeing awareness raising and careers talks with key role models involved in the sport.
For example, the young women were able to experiment Electric Karting, a first glimpse of the virtual world behind the wheel of a simulator, learning essential driving techniques along the way. Environmental activities raised their awareness about the leadership of Motor sport, in particular Formula E, in sustainable innovation. In addition, the young women were taught about marshalling, which flags apply for which incident and how to get involved as a marshal from as soon as 11 years old.  During the career talks, they had the chance to meet women working for Jaguar Racing, ROKit Venturi Racing and Mercedes who shared their backgrounds, experiences and gave tips to enter motorsport. They also explored the Formula E pit lane and paddock with tours around the FIA Technical Garage and several racing teams.
The intense day finished with the shakedown and the participants had the chance to come back on Saturday and Sunday to watch the races. 
With this fifth FIA Girls on Track event of the year, and visits to new territories of the world such as Asia, the FIA is delighted to increase its outreach, grow the programme and further promote diversity and inclusivity in motorsport worldwide.
Robert Reid, FIA Deputy President for Sport said: "It is fantastic to see how a programme the FIA has initially developed at European level back in 2017 has now reached a whole new international dimension, with events taking place in South America and Asia. We can see that FIA Girls on Track is really integrated as part of Formula E and that more and more partners see the value of these grassroots projects in increasing motorsport diversity and future fanbase"
Deborah Mayer, FIA Women in Motorsport Commission President, said: "It is a pleasure to see all these young girls discover with enthusiasm and interest the world of motorsport and the many opportunities it offers on track and off track. The FIA women in motorsport Commission and Formula E have a long-term commitment to making women aware of all the roles they can play in motor sport and helping them to start and succeed in their careers. I would like to thank all those who have worked to make this event a success, in particular our partners ABB, DHL, but also the teams and Motorsport UK".
Find our photo gallery HERE