This page contains archived information and may not display perfectly
Mehdi Bennani : "It was a very tricky race and my only message from my engineer was to push to the limit."
WTCC - 2017 Race of Portugal - Post Race Press Conference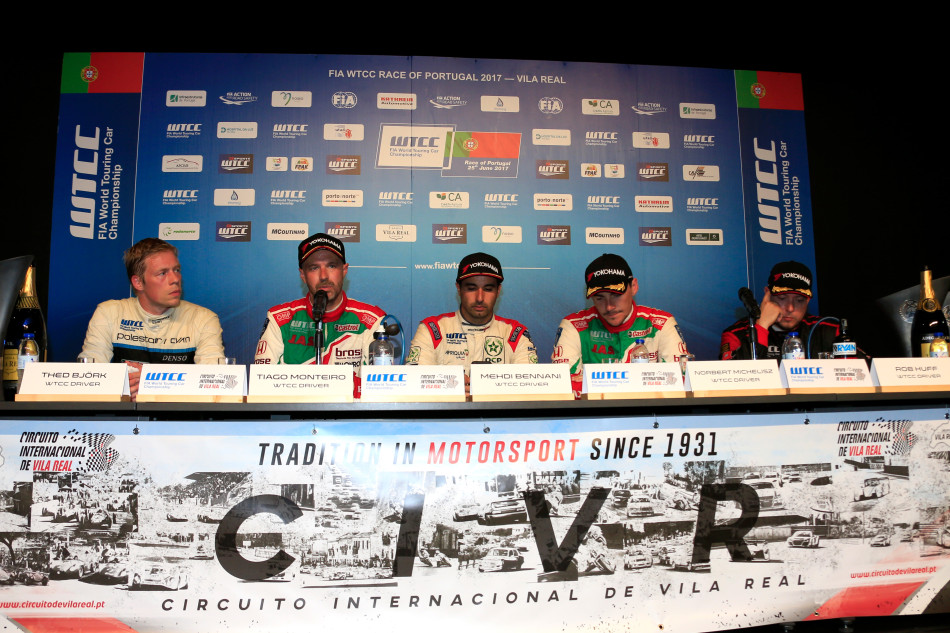 Present:
Mehdi Bennani, Sébastien Loeb Racing, Opening Race winner and WTCC Trophy winner
Norbert Michelisz, Castrol Honda World Touring Car Team, Main Race winner
Tiago Monteiro, Castrol Honda World Touring Car Team, Opening Race second position
Thed Björk, Polestar Cyan Racing, Opening Race third position, Main Race second position
Rob Huff, ALL-INKL.COM Münnich Motorsport, Main Race WTCC Trophy winner
Q: 
Turning to Mehdi Bennani first, the winner of the Opening Race, a fantastic result that puts you firmly into the championship fight. That was some performance, particularly your start?
MB:
For sure I'm happy to have this great result in the home race of Tiago. It's Portugal, we are close to each other between Morocco and Portugal. And I've seen there are also a lot of people following me shouting 'Bennani, Bennani!' – so also some good fun here in Portugal. It was a very tricky race and my only message from my engineer was to push to the limit. So it's not the best message to get over radio when you are in a very difficult circuit. And I pushed the limit and after I had to do the 'joker' lap. So I didn't know when and what would happen, if I do it well, because of the blue line to respect and not touching it. At the end everything was working very nicely. I had a very good start and I was very lucky to have some mistakes from the other drivers so I could overtake. After that my driving style was to push to the limit and try not to touch the wall and that's it. To finish with a victory here is wonderful and it's my second one this year. I'm very, very happy today.
Q:
And a word about the championship, Mehdi, because you are now a contender for the title?
MB:
Yes, I hope so! I think we are close to each other [performance-wise] and the target is to score points in each race. After we will see in Qatar what will happen. I'm not here to fight for the championship but to disturb a little bit the championship, because I think this year is going to be tough for everyone. And I think it's a good year for us.
Q:
We come next to the winner of the Main Race, Norbert Michelisz. Finally your first victory of 2017 and what a performance from pole position to win the race?
NM:
After yesterday I knew we had the car to win the Main Race. It was all down to the start. My start in the Opening Race wasn't great. I knew I had to improve that. I finally had a good start. I saw Rob just next to me, he stood still and there was some chaos that helped me to get away. From the second lap I realised it's all about not making mistakes. Timing for the 'joker' lap wasn't easy. Because the first message from my engineer was to do the joker lap early. I disagreed, but we managed to find a good solution and I was able to stay in front. In the end I'm really happy, because it is a huge amount of confidence for the rest of the season. Especially pole position yesterday. So yes, looking forward to Argentina, but now I'm enjoying this race win.
Q:
And I imagine looking forward to feeling slightly better because you've not been feeling so well this week. How are you feeling right now, Norbi?
NM:
It's still not 100 per cent. It wasn't really a problem during the race, because of the adrenaline. Now I feel I'm a bit down, but it's not a big problem. I think I will have a rest tonight and then from tomorrow I will have time enough [to get better] until Argentina.
Q:
We come next to your team-mate Tiago Monteiro, finishing twice on the podium for the Castrol Honda World Touring Car Team. It wasn't quite the victory from last year but that's an amazing set of points for you?
TM:
Definitely, I'll take that any day. When you don't start on pole here it's hard to dream of a victory. But nothing is over until it's done. We really wanted to score some good points for the championship and that was the main thing after what happened in yesterday's qualifying. So starting from seventh and fourth I just wanted to score as many points as possible and of course trying to give a good show. I'm over the moon with these two podiums. At the end of the day, two podiums on a track like this where it's hard to overtake, it wouldn't have been possible without the 'joker' lap. So I think it was a good success and well done and congratulations to the organisation, to Eurosport Events, to François Ribeiro, to the race track as well to Vila Real to have put this together in such a short time. It was not easy, they were working until very late last night trying to sort it out. In the end I think the result was quite good. At least for me it paid off, definitely in the Opening Race. The Main Race I didn't gain anything, didn't lose anything, but still I think it's a small plus. It could be interesting for the future. Well done to that. And it's great to recover the championship of course to take the lead. Everybody here is very tight but the points was the goal of the weekend. We knew we had a good car, good package, Norbi did a fantastic job with pole position, amazing job with the race win so well done Norbi, well done guys here on the podium as well. I'm still shaking from this amazing podium here, the amazing reception. Like Rob said before we should race here every weekend!
Q:
Just give us an idea of how much the fans out there support you and how it makes you feel?
TM:
It motivates me even more, to be honest, I don't want to let them down, I want to push myself to the limit, take a lot of risks. Sometimes it works, sometimes it doesn't. It paid off to take some risks today. I think everybody can agree here that it's a great atmosphere. Of course they're cheering for me, but they're also cheering for all the other drivers in the championship. Portugal loves to have the WTCC here and great racing, a great show like this. Vila Real is doing a great job and organising a fantastic race. This is what we want, this is what the show is all about. This is what WTCC is all about. So congratulations to everyone. I know it's many months of hard work for everybody here organising this. Coming here is not easy logistics. From my side as well I had a great team with me this weekend and a lot of people working with me. Thank you everyone. You guys make it all worth it and all this effort is for you. Thank you very much. Let's try to keep this championship lit now. After the disaster of Germany where I lost 40 points in one weekend I will try to build it up step by step. But these other drivers are not going to make it easy, for sure.
Q:
Turning next to Thed Björk from Polestar Cyan Racing. Third in the Opening Race, second in the Main Race and very much in the championship fight now you're up to second?
TB:
It's just fantastic to be here. Tiago said it all. The atmosphere and the fans and the people cheering for us. Even though Tiago is the number one, you could feel the atmosphere and how they are pushing us as well, fighting against him. It's a great feeling to be here and it was amazing outside on the podium. So I'm really happy. My goal was to be really fighting and double podium series is really good. It's really demanding. I'm really happy. It works really well, we keep pushing.
Q:
Thed, obviously we had the world premiere of the joker lap this weekend. Tiago's touched on the success of that. Your opinion?
TB:
Yes, it worked out really well. I think it was introduced in quite a short time for them and they really fight and pushed to make it happen. As we saw it was a good result so I think they take the knowledge that they know from here now and will see what they will do in the future. It worked out well for us and it's more tactical, there are a lot of things to think about. You're always a little bit afraid in the beginning about new stuff, that's normal, but I think it worked out really well.
Q:
We come finally to Rob Huff. Now it might not have been the result you were hoping from the front row of the grid but your fightback was spectacular. Can you talk us through how you made up so many places?
RH:
It was all a bit of a blur to be fair. I was just praying that no one crashed into me off the line. Luckily everyone was very aware and avoided me. I could feel there was a problem as soon as I engaged the launch strategy on the car and of course the result was the stalling. So yes, a disaster. And going up into Turn 1 I was effectively stone last. I think I managed to overtake four people on the first lap. I was just elbows out, horns were on and through we went. The car was just absolutely amazing and so fast. Every lap the car was getting better and better. I could see obviously the cars in front but I had no idea because we have no pit-boards here and I didn't want to be talked to on the radio. I told the team to go away, leave me alone. I started picking people off one by one. I chose a good time to do the 'joker' lap. And then sort of kept catching people and kept going past them pretty quickly. It was tough and whoever said you can't overtake on street circuits has not been watching WTCC.
Q:
You obviously have a good reputation as a street circuit driver, Rob, and you are leading the WTCC Trophy as well. Does it make up for not quite converting that second place into a higher overall result?
RH:
I'm again not quite sure of how that happened. Because of the start and going last into turn 1 and somehow I came back to win the Trophy. That's good news, but ultimately the main championship is the goal here and not just the Trophy. I'm positive, because the race was awesome, it was probably one of the best races in my life. We've got a nice gap now, a couple of weeks until Argentina, to regroup our thoughts and push forward from there. The car is not easy but we really feel as a team… and you know we're working really well together now. We really feel that we've got hold of the car and I think that really showed in the Main Race we're performing well. So, to start with we're very upset, and in the end pretty happy.