McLaren make up lost time
Jenson Button on top as Mercedes' power prospers in Jerez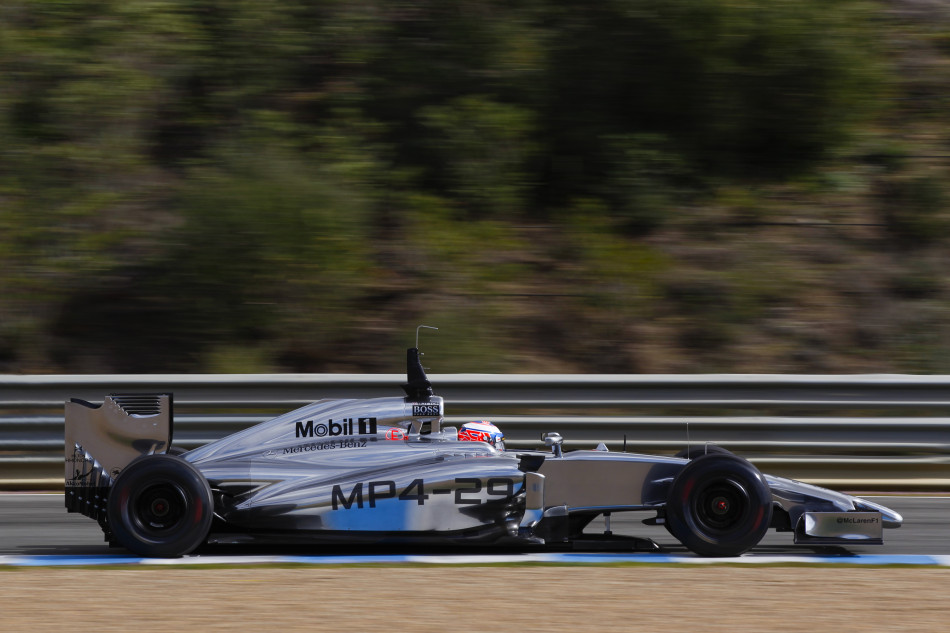 Following a very cautious first day of winter testing, day two in Jerez saw teams gradually ramp up their lap count as their confidence grew in the new chassis and power units. It was, however, a car that failed to run on day one that finished day two on top, McLaren's Jenson Button recording a time of 1:24.165 with an hour of the session remaining.
The driver roster for day two was much the same as that for day one. Button was scheduled to drive for McLaren with Kimi Räikkönen continuing for Ferrari, Sebastian Vettel in the Red Bull RB10, Valtteri Bottas at Williams, Sergio Pérez at Force India, Esteban Gutiérrez for Sauber and Marcus Ericsson for Caterham. The only teams opting to alternate their drivers were Toro Rosso, who intended to give Daniil Kvyat a first run today, and Mercedes, for whom Nico Rosberg was behind the wheel.
"It's tricky, and very different to what we're used to, but I could feel that these cars will be enjoyable to drive."
Jenson Button
Rosberg was the busiest driver, completing a (comparatively) colossal 97 laps, demonstrating that the broken front wing which halted Mercedes' Tuesday running was not an insurmountable impediment to its Jerez programme
"That was a great team effort today," said Rosberg at the end of the day. "The guys worked through the night back at the factories and flew in the parts just in time this morning, so we were able to do a lot of mileage today which is great for our learning process."
After overnight rain, morning running was declared wet, though given the cautious approach favoured so far, it was questionable how big an extra challenge the damp track presented to drivers not attempting to extract ultimate pace from their fragile new machines.
Button was the fastest man on track in that morning running. The Briton was the first on track but did not reappear immediately after his installation run, leaving others to set times. Gutiérrez was the first to do so, with a cautious lap of 1:49.424. The headline time dropped steadily during the morning. Gutiérrez himself was down into the 1m41s before spinning into the gravel some and causing the first red flag of the day. At that point Räikkönen was fastest with 1:38.272. Button would beat that twice on a five-lap run shortly before the lunch break, ultimately setting the best time of the morning with 1:36.094
"That was a great team effort today"
Nico Rosberg
After the break the cars switched to slicks, with fastest laps being swapped regularly. As the 1m30s barrier was breached, Pérez and Button were trading fastest times run-for-run until the former caused the second red flag of the day, parking a smoky Force India at Turn One. After a slow start Rosberg was getting up to pace at this point and he too to started to appear at the top of the leaderboard, as did Bottas for Williams. It was a strong showing from the Mercedes-powered teams, with Räikkönen's Ferrari the only non-Mercedes in the leading group.
With an hour and twenty minutes remaining Ericsson caused the final red flag, his Caterham slowing to a halt. At the restart, and with little over an hour remaining, the pace picked up and Button went back to the top of the leaderboard where he stayed until the session ended.
"For our first day of actual running, we were able to get a good understanding of the car, and the way the engine and turbo behaves," he said afterwards. "It's tricky, and very different to what we're used to, but I could feel that these cars will be enjoyable to drive.
"Our main aim this winter was to field a reliable car that would give us a good baseline. These cars will develop so much over the next few months, so it's essential to have a solid base to build upon; and I think we have that good base."
Perhaps more satisfying for McLaren will be the fact their MP4/29 managed 43 laps on its first track day. Alongside Rosberg's 97 – more than the total number done yesterday – and the 35 and 37 contributed respectively by Williams and Force India, it marked a good day for Mercedes power.
In contrast, it was a poor day for the Renault teams. Caterham were rushing to get Ericsson back out before the close. They narrowly failed but his 11 laps was still the benchmark. Vettel managed just eight laps for Red Bull before quitting early in the afternoon with a battery issue. Kvyat did not feature at all, Toro Rosso's STR9 suffered electrical problems and did not leave the garage. With Lotus not attending this first test, it was not a pretty picture for Renault.
2014 Jerez test day two – unofficial times
1 Jenson Button McLaren 1:24.165 43 laps
2 Kimi Räikkönen Ferrari 1:24.812 47 laps
3 Valtteri Bottas Williams 1:25.344 35 laps
4 Nico Rosberg Mercedes 1:25.588 97 laps
5 Sergio Pérez Force India 1:28.376 37 laps
6 Esteban Gutiérrez Sauber 1:33.270 53 laps
7 Marcus Ericsson Caterham 1:37.975 11 laps
8 Sebastian Vettel Red Bull 1:38.320 8 laps