MAX VERSTAPPEN SCORES REMARKABLE HAT-TRICK OF AWARDS AT FIA PRIZE-GIVING
Teenage motor racing sensation Max Verstappen concluded an incredible rookie season in the FIA Formula One World Championship by taking all three of the Federation's special vote-based awards at the 2015 FIA Prize-Giving in Paris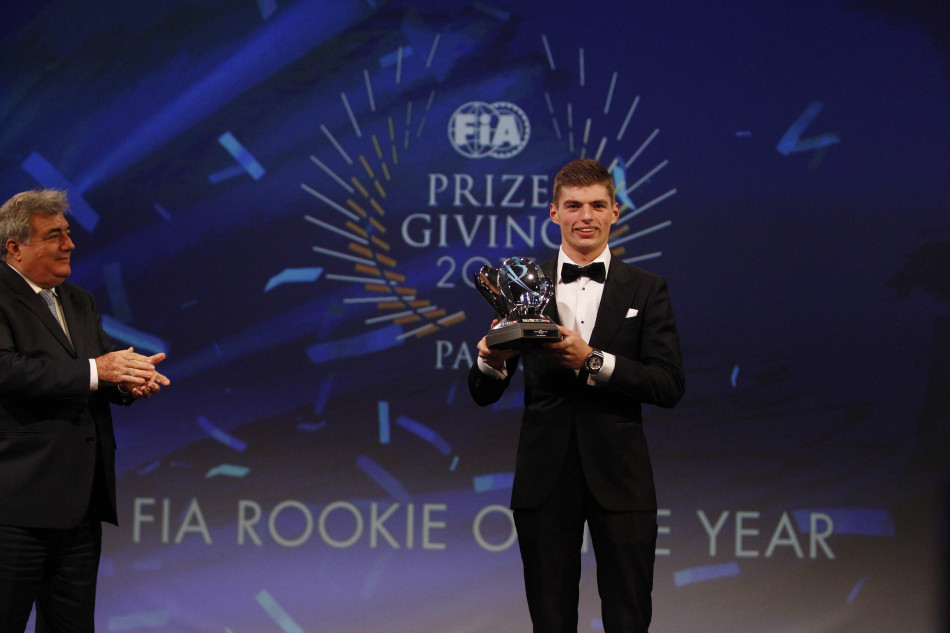 The Dutch racer took the Personality of the Year, Rookie of the Year and Action of the Year – the first time anyone has claimed more than one of the non-Championship related awards in the same season.
The FIA Personality of the Year award is handed out according to votes cast by accredited media from across the FIA's Championships. The first round of votes establishes a top 10, with the second round deciding the Personality of the Year. Verstappen's selection is even more impressive given the media have had just one season to get to know the Toro Rosso driver.
The Rookie of the Year award is decided by the FIA Drivers' Commission, presided over by two-time World Champion Emerson Fittipaldi. The Commission, made up of drivers with a combined 12 World Championships and 14 Le Mans victories, forms a supremely qualified judging panel for the selection of the most impressive first-year driver in an FIA Championship.
Finally, in the category voted for by motor sport fans from across the world, Verstappen won the Action of the Year award for his daring move around the outside of Sauber's Felipe Nasr at the fearsome Blanchimont corner during the 2015 Belgian Grand Prix.
The pass clearly impressed fans, with the online vote seeing Verstappen take the award over nine other nominations, and by a ratio of 10:1 votes over second place, the FIA European Rally Championship's Alexey Lukyanuk. It was actually the second consecutive Action of the Year win for Verstappen, who won the 2014 award while in Formula 3.
It was an unprecedented achievement for the 18-year-old racer, who took this year's FIA Formula One World Championship by storm.
"I am amazed and very happy to have won three awards this evening at such an important event, and at the end of only my first year in Formula 1," said Verstappen.
"It's nice to win the Action of the Year for the second time, because I really enjoy overtaking on track.
"It's a great honour to win the Rookie of the Year award, as it's voted for by the Drivers' Commission and I have to say, getting two fourth place finishes in my first F1 season is more than I expected.
"Personality of the Year? I'm not sure why I won that, but it's nice to know the media like me!" 
The FIA Prize-Giving celebrates the Champions of the FIA's various disciplines around the world, with this year's event being held at the famous Lido theatre on the Champs-Elysées.
---
MAX VERSTAPPEN TROIS FOIS RECOMPENSE A LA REMISE DES PRIX FIA
Le jeune prodige des courses automobiles Max Verstappen a conclu une incroyable saison de "rookie" en Championnat du Monde de Formule Un de la FIA en raflant les trois prix spéciaux de la Fédération lors de la cérémonie de Remise des Prix de la FIA 2015 à Paris.
Lauréat des prix "Personality of the Year", "Rookie of the Year" et "Action of the Year", le pilote néerlandais est le premier à remporter dans la même saison plusieurs récompenses non liées au classement d'un Championnat.
Le prix "Personality of the Year" de la FIA est attribué suite au vote des médias accrédités par la FIA pour tous les Championnats. Le premier tour permet d'établir un top 10, le second tour désigne la Personnalité de l'année. La victoire de Verstappen est d'autant plus impressionnante que les médias n'ont eu qu'une saison pour apprendre à connaître le pilote de Toro Rosso.
Le prix du "Rookie of the Year" est décerné par la Commission des Pilotes de la FIA, présidée par le double Champion du Monde Emerson Fittipaldi. Cette Commission, composée de pilotes qui, ensemble, totalisent 12 victoires en Championnats du Monde et 14 au Mans, forme un jury hautement qualifié pour sélectionner le pilote le plus époustouflant dans sa première saison d'un Championnat FIA.
Enfin, dans la catégorie soumise au vote des fans de sport automobile du monde entier, Verstappen a remporté le prix "Action of the Year" pour son dépassement audacieux du pilote Sauber Felipe Nasr dans le redoutable virage de Blanchimont au Grand Prix de Belgique 2015.
La manœuvre a clairement impressionné les fans, le vote en ligne ayant valu à Verstappen de l'emporter sur neuf autres nominations et à 10 votes contre 1 devant la deuxième place occupée par Alexey Lukyanuk (Championnat d'Europe des Rallyes de la FIA). C'est en réalité la deuxième fois consécutive que Verstappen signe l'"Action of the Year", puisqu'il a déjà reçu le prix en 2014 alors qu'il courait en Formule 3.
C'est un exploit sans précédent pour ce jeune pilote qui a littéralement conquis le Championnat du Monde de Formule Un de la FIA à tout juste 18 ans.
"Je suis à la fois surpris et très heureux de recevoir trois prix ce soir, à la fin de ma toute première année en Formule 1, l'événement est si prestigieux" a déclaré Verstappen.
"C'est également très gratifiant de remporter le prix "Action of the Year" pour la seconde fois, j'adore tenter des dépassements sur la piste !
C'est un grand honneur de remporter le prix "Rookie of the Year", car c'est la Commission des Pilotes qui vote et je dois dire que se classer deux fois quatrième pour ma première saison de F1, c'est au-delà de ce que j'espérais.
Je ne sais pas vraiment pourquoi j'ai été élu "Personnalité de l'année" mais c'est bon de savoir que les médias m'apprécient !" 
La Remise des Prix de la FIA célèbre les Champions des diverses disciplines de la FIA dans le monde. Cette année, l'événement se déroule au Lido sur les Champs-Elysées.