Massa quickest in first day of testing at Silverstone
Williams driver finishes six thousandths of a second ahead of Red Bull Racing's Daniel Ricciardo.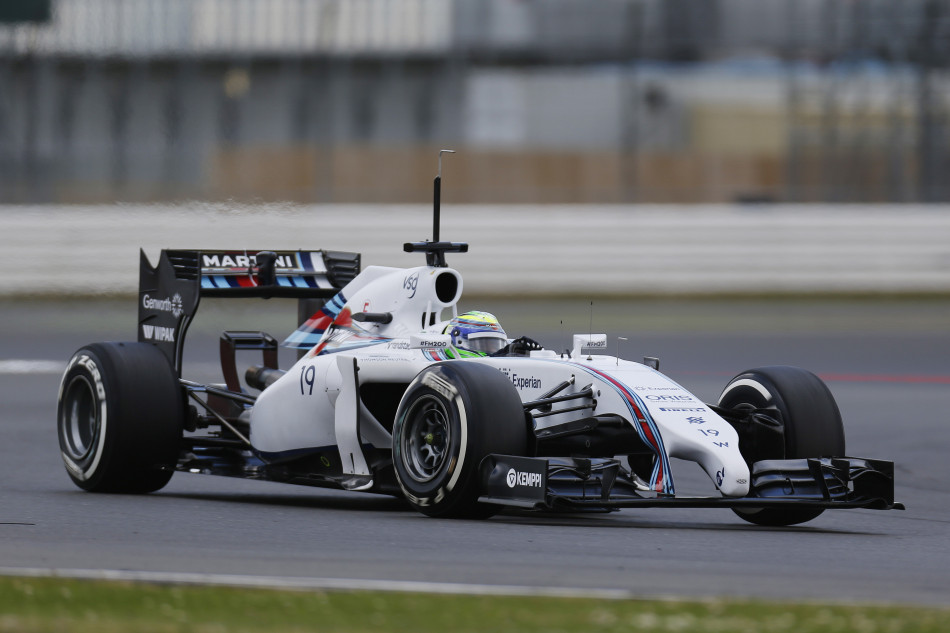 Felipe Massa put the disappointment of his British Grand Prix crash behind him to finish on top of the timesheet on the first day of Formula One's third in-season test of 2014 at Silverstone.
The Brazilian was caught up in the accident the befell Ferrari's Kimi Raikkonen at the start of Sunday's race and was unable to take the restart of his 200th Grand Prix, but while Raikkonen's crash forced the Finn to sit out this week's test, Massa was back at the wheel today and in the late morning set the day's best time, 1:35.242, on medium compound Pirelli tyres.
Daniel Ricciardo almost pipped the Williams driver at the post. The Red Bull Racing driver spent most of the morning conducting aerodynamic tests and opted not to set a flying lap time. He corrected that late in the afternoon though and eventually recorded a time of 1:35.248, just 0.006 behind Massa.
Mercedes' Nico Rosberg had spent much of the afternoon in second place behind Massa as he tested rear wing updates for the Brackley squad. He ended the session in P3, three tenths of a second down on Massa.
After a disappointing grand prix at Silverstone, Adrian Sutil gave Sauber some cheer today by posting the day's fourth fastest time, a lap of 1:45.674. It wasn't all plain sailing, however, as the German was confined to the team's garage for a lengthy spell due to a power unit issue.
Fifth place went to Marussia's Jules Bianchi. The Frenchman, a Ferrari development progframme driver, is set for a busy week, as he will tomorrow replace Raikkonen, who is being rested, at the Italian outfit. Today, though, Bianchi racked up the largest number of laps of any driver, touring Silverstone 108 times for a best time just under seven tenths of a second behind Massa. He might have logged more track time but for a power unit fire in the closing stages of the session.
McLaren junior Stoffel Vandoorne took sixth place ahead of Force India's Sergio Perez, while Jean-Eric Vergne was eighth for Toro Rosso. The French driver only managed 28 laps all day, however, as the team struggled with recurring battery problems. Of the five red flags shown during the day, Vergne accounted for four.
Pastor Maldonado was ninth fastest for Lotus E22, ahead of Ferrari test driver Pedro de la Rosa, who tested an experimental rear tyre construction for Pirelli.
Caterham development driver Will Stevens put in a solid 95 laps for the Leafield team and finished in 11th place, some five seconds adrift of Massa's best time.
Silverstone Test – Day 1 Times
1 Felipe Massa Williams 1m35.242s 42 
2 Daniel Ricciardo Red Bull Racing 1m35.248s +0.006s 72
3 Nico Rosberg Mercedes 1m35.573s +0.331s 90
4 Adrian Sutil Sauber 1m35.674s +0.432s 74
5 Jules Bianchi Marussia 1m36.148s +0.906s 108
6 Stoffel Vandoorne McLaren 1m36.462s +1.220s 71
7 Sergio Perez Force India 1m36.583s +1.341s 79
8 Jean-Eric Vergne Toro Rosso 1m36.688s +1.446s 28
9 Pastor Maldonado Lotus 1m37.131s +1.889s 97
10 Pedro de la Rosa Ferrari 1m37.988s +2.746s 49
11 Will Stevens Caterham 1m40.627s +5.385s 95