Marciello makes the break!
In China a Ferrari triumphed in the F1 grand prix and at Silverstone the Ferrari Driver Academy driver Raffaele Marciello emulated Fernando Alonso! The young Italian now has a solid lead in the FIA F3 European Championship.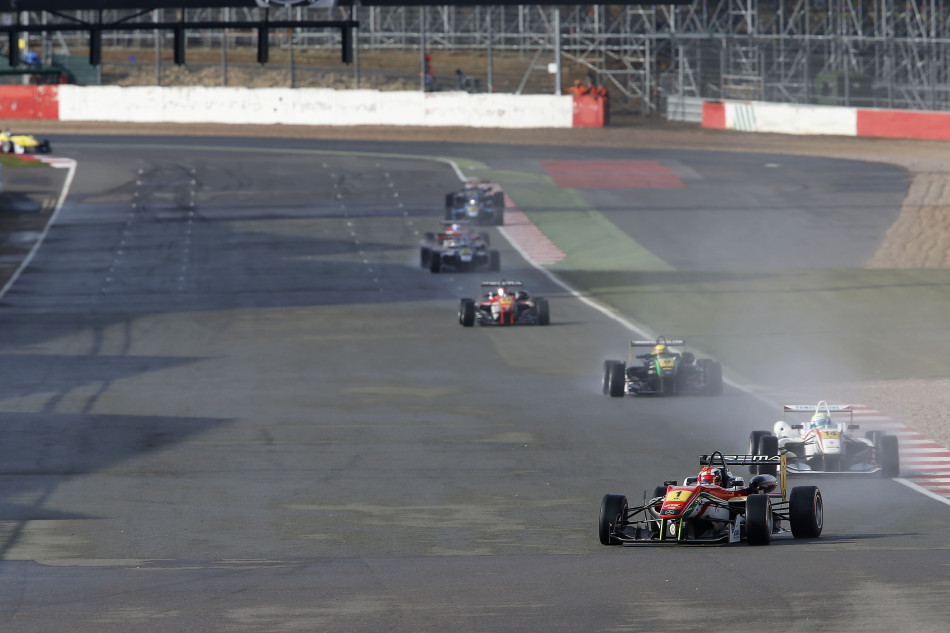 Throughout the whole weekend the drivers in the FIA Formula 3 European Championship had to cope with wet conditions at Silverstone. This morning was no exception when the 28 drivers lined up on the grid. Slicks, though, were the right choice. 
With a dry line, wet sections and a pack of talented young chargers, all the ingredients were combined for a ding-dong battle. While Felix Rosenqvist (kfzteile24 Mücke Motorsport) made the best start from the second row, Rafaelle Marciello (Prema Powerteam) soon got the bit between his teeth after a safety car period. First of all, the Ferrari Driver Academy protégé passed his Prema Powerteam team-mate Alex Lynn and then took the fight to Rosenqvist, the race leader.
This was the start of a no-holds-barred scrap between the Italian and the Swede. "Today I wasn't thinking of the championship as I knew my car was capable of winning," said Marciello. "I tried to find an opening over several laps and we were running wheel-to-wheel on several occasions. Finally, I took advantage of a small mistake by Felix in the closing seconds of the race when he spun his wheels on the exit from a corner and I was able to nip past."
"I was quicker when the track was wet and the drier it became the more the situation turned in Raffaele's favour," analysed Rosenqvist. "Although I lost today, overall it's been a positive weekend with three top-3 finishes including a victory. It's put me back in the title chase, and the rest of the season will be to our advantage with circuits I know like Hockenheim, the Nürburgring and Zandvoort."  
Thanks to his third win of the season from Rosenqvist, Lynn, Felix Serrales (Fortec Motorsports) and Will Buller (ThreeBond with T-Sport), Marciello has increased his lead in the FIA Formula 3 European Championship. "I didn't do very well in qualifying and I made mistakes in the first two races. Overall it's been a positive weekend in terms of points," summed up the young Italian.  
After six races Marciello has a 36.5-point lead over Rosenqvist who has moved up to second place. Harry Tincknell, Alex Lynn and Lucas Auer (Prema Powerteam) fill the next three positions. In the teams' championship Prema Powerteam leads from kfzteile24 Mücke Motorsport and Carlin. The next round is in three weeks' time at the first round of the DTM on the Hockenheim circuit.