Marciello closes in on the title
Raffaele Marciello scored his 12th win in the 2013 FIA Formula 3 European Championship taking another step closer to the title. He leaves Italy with a lead of 45.5 points over Felix Rosenqvist.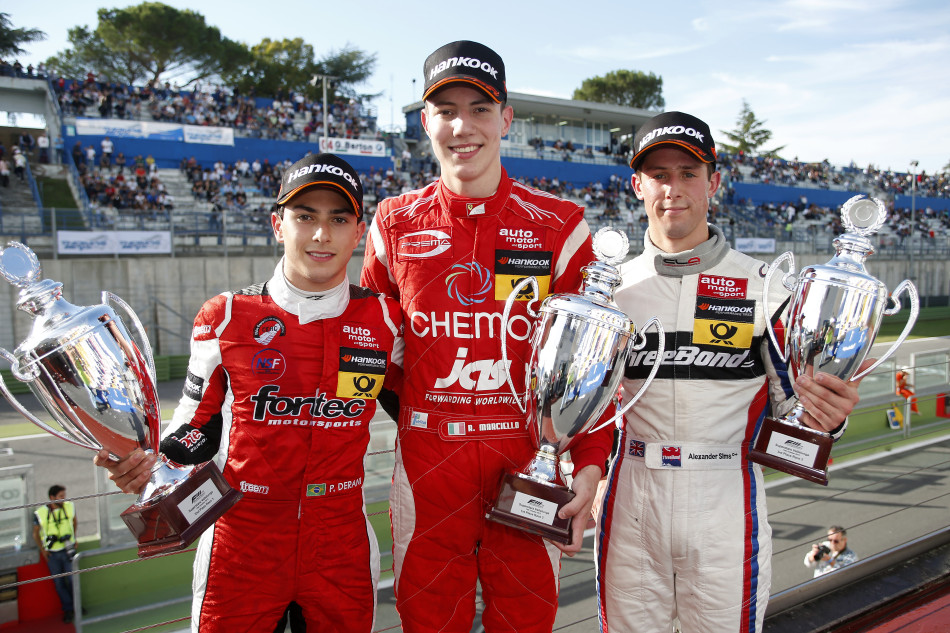 Raffaele Marciello (Prema Powerteam) experienced highs and lows this weekend; the low being retirement at the start of race 2 and the highs his two pole positions and two more victories to add to his tally. The Ferrari Driver Academy protégé led the incident-packed third heat from start to finish increasing his lead over Felix Rosenqvist (kftzeile24 Mücke Motorsport), who could do no better than sixth. What really scuppered the Swede's weekend was his accident in qualifying. 
"Felix started further back. I had to win to increase the gap between us. This victory feels good, but there are still three races to go and as I've already shown this season it's very easy to lose points," said Marciello. "I had a huge lead before Zandvoort and I lost everything in a single weekend so I'll have to be very careful next week at Hockenheim. Ideally, I should tackle it as if it were a normal weekend whereas it's anything but!" 
If Marciello had a relatively untroubled race behind him battle raged. Luis Felipe Derani (Fortec Motorsports) finished second for the second time this season. "I kept some good tyres for the race as I qualified on the front row and that's what made the difference" smiled the Brazilian. "I made a good start and I had a look at going for first place, but then the safety car came out. It's very positive to finish three races in the points and above all to be on the podium this evening." 
However, the battle for third place between Felix Serralles (Fortec Motorsports), Alex Lynn (Prema Powerteam) and Alexander Sims (ThreeBond with T-Sport) was thrilling in its intensity. Finally Sims clinched it after his two rivals had a coming-together and he was able to pull away to score his third top-3 finish of the weekend. "The opening laps were pretty crazy! You really had to fight, but where I'm concerned it was clean. We were on the pace all weekend and it's been a good one for us. I really believe that the team has what it takes to win races. I should just have been a bit quicker in qualifying." 
The battle will continue next weekend in the final at Hockenheim. Even if Prema Powerteam has already won the teams' championship, the outcome of the title battle between Marciello and Rosenqvist still has to be decided although the Italian will arrive in Germany with a 45.5 point lead over his Swedish rival. Alex Lynn looks on course to finish third in front of Lucas Auer.