This page contains archived information and may not display perfectly
Maluszynski and Ferreira go down to the wire for FIA European Bajas Cup title
Saudi Arabia's Yazeed Al-Rajhi and Northern Irish co-driver Michael Orr top a 30-car entry for Columna Medica Baja Poland, round five of the FIA World Cup for Cross-Country Bajas and the final event in the FIA European Cup for Cross-Country Bajas.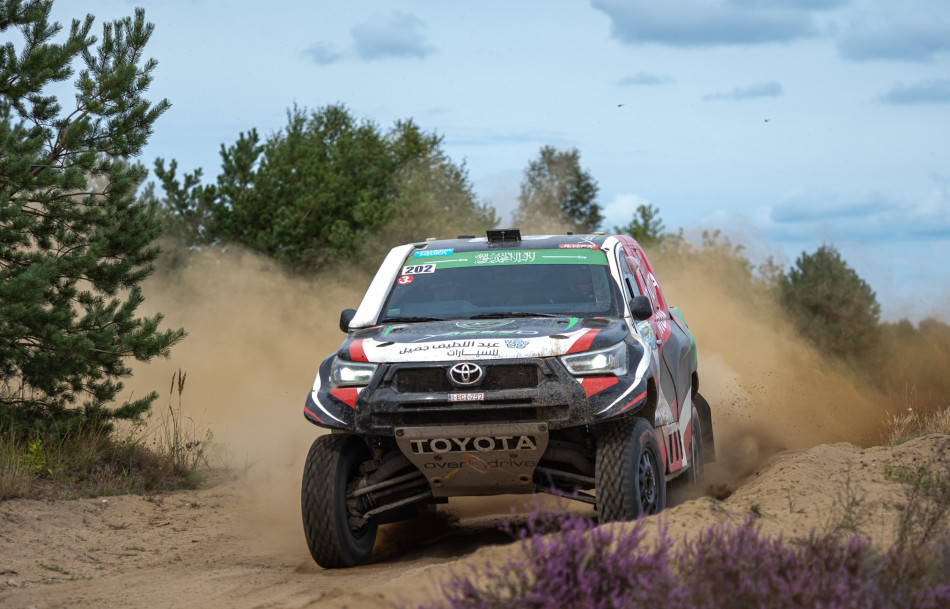 Ten cars grace the T1 category, with a further eight lining up in the T3 section for lightweight prototypes and a dozen machines entered in T4.
Current FIA World Cup Baja leader Al-Rajhi has never won the Polish event but finished second in 2021. He will be aiming to break his duck at the wheel of the solitary Overdrive Racing-run Toyota Hilux entered on the three-day event in north-western Poland.
With two-time event winner Nasser Saleh Al-Attiyah taking part in the Rally of Lebanon the same weekend, the path is potentially paved for Polish veteran Krzyzstof Holowczyc - driving the first of three X-raid-built Mini John Cooper Works Rally machines - to add to the seven victories he has amassed on his home event between 2010 and 2021. Two of those wins actually came when he has partnered by Jean-Marc Fortin (2010 and 2011), the current managing director of rival team Overdrive Racing.
Spain's Santiago Navarro and Italy's Amerigo Ventura have already clinched the European FIA T3 and T4 Baja titles, but the overall Drivers' Championship is still at stake in Szczecin.
Michal Maluszyński currently holds a three-point lead over Portugal's João Ferreira and the Pole knows that finishing ahead of his Mini JCW Rally rival should be sufficient to clinch the title. With his regular co-driver Lukasz Kureja – himself a three-time winner - returning to sit alongside Holowczyc in the hope of also pipping David Monteiro to the Co-Drivers' Championship, Michal will be partnered by his wife Julita.
"Probably the toughest battle of my career is about the begin," insisted the Pole. "I know I will have to give 110% to win. It is true that we will be fighting on my favourite and well-known routes, but the rivals are very fast. I hope that with my wife we can reach for the European Cup."
Lithuanian driver Benediktas Vanagas and his Estonian co-driver Kuldar Sikk won the recent Hungarian Baja and the Toyota Gazoo Racing Baltics driver is the third seed, as the bids to improve on last year's third place and continue to gain experience before a serious Dakar challenge in 2023. Vanagas also has a slim mathematical chance of pipping both Maluszyński and Ferreira to the FIA European Cup title if he can win the event outright and neither of his rivals finish up in the points. The best three results will count from the five events.
Czech veteran Miroslav Zapletal (Hummer H3 Evo) holds second place behind Al-Rajhi in the FIA World Cup for Cross-Country Bajas Drivers' Championship with four rounds to run. Zapletal, who finished second at Baja Poland in 2012 and third in 2009 and 2013, knows he needs to beat Al-Rajhi to reduce the 27-point gap in the points' standings.
T1 competition comes from a trio of Toyota Hiluxes in the hands of Poland's Wlodimierz Grajek and Tomasz Baranowski, Lithuania's Mindaugas Poviliatis and a Ford F150 Evo in the hands of the Czech driver František Brutovsky.
Spaniard Fernando Alvarez currently holds fourth in the FIA World Cup Drivers' Championship standings and has a 27-point advantage over South Racing Can-Am Team colleague Dania Akeel in the FIA World Cup for Cross-Country Bajas' T3 Championship.
Their six rivals present in Poland are the FN Speed Team duo of Jordi Segura and Pau Navarro, German privateer Bernt Hoffmann, Saudi Arabia's Mashael Al-Obaidan and the PRK Sport Rally Team's Portuguese driver Filipe Nascimento.
Cristiano de Sousa Batista has a 10-point cushion over Kuwait's Meshari Al-Thefiri in the FIA T4 tussle, but the Brazilian is not present in Poland. The South Racing Can-Am Team duo of Kees Koolen and Eduard Pons will tackle the Szczecin-based event, however, and a maximum points' score for either the Dutchman or the Spaniard would intensify the battle before the final three rounds in Portugal, Saudi Arabia and Dubai.
The Energylandia Rally Team brothers, Marek and Michal Goczal, head the T4 category in their South Racing-run Can-Ams, where further competition comes from the already-crowned FIA European Cup winner Amerigo Ventura, Egidijus Valeiša in an SRT-run Can-Am, Germany's Lina van der Mars, Italy's Enrico Gaspari, Estonia's Toomas Triisa and Akpol Rally Team's Adam Kus.
Poland's Tomasz Bialkowski rounds off the dozen T4 entrants his Kamena Rally Team Polaris RZR Pro XP and will be hoping for success on home ground. "It's my fifth time in Baja Poland. Two times we won the National Championship. The terrain is different to the rest of Europe. There are many bumps, jumps and corners. The two Drawsko stages are very long and cars quickly cause ruts that can be a metre deep."
Competitive action gets underway with a Qualifying Stage of 7.50km at Szczecin on Friday evening and this precedes two demanding selective sections of 216.40km apiece through the demanding military proving grounds at Drawsko Pomorskie on Saturday.
Competition reaches a conclusion with two passes through a shorter 25.50km between Wolczkowo and Dobra on Sunday morning.
In a total route of 774.59km, competitors will tackle 491.30km against the clock.
For more information, please visit the Baja Poland website as well as FIA World Cup and European Cup for Cross-Country Bajas.
| | |
| --- | --- |
| Columna Medica Baja Poland – leading entries: |   |
| 200. Yazeed Al-Rajhi (SAU)/Michael Orr (GBR) | Toyota Hilux |
| 201. Krzysztof Holowczyc (POL)/Lukasz Kurzeja (POL) | Mini JCW Rally |
| 202. Benediktas Vanagas (LTU)/Kuldar Sikk (EST) | Toyota Hilux |
| 203. Michal Maluszyński (POL)/Julita Maluszyńska (POL) | Mini JCW Rally |
| 204. João Ferreira (PRT)/David Monteiro (PRT) | Mini JCW Rally  |
| 205. Miroslav Zapletal (CZE)/Marek Sykora (SVK) | Hummer H3 Evo  |
| 206. Wlodzimierz Grajek (POL)/Lukasz Laskawiec (POL) | Toyota Hilux |
| 207. Tomasz Baronowski (POL)/Maciej Marton (POL) | Toyota Hilux |
| 208. Mindaugas Povilaitis (LTU)/Albert Veliamovic (LTU) | Toyota Hilux |
| 209. František Brutovsky (CZE)/Petr Hauptmann (CZE) | Ford F150 Evo |
|   |   |
| Timetable of events |   |
|   |   |
| Thursday, September 1 |   |
| Administration checks, Rally HQ, Szczecin Netto Arena | 12.00-22.00 |
| Scrutineering checks, Szczecin Automotive School Complex | 14.00-22.00 |
|   |   |
| Friday, September 2  |   |
| Administration checks, Rally HQ, Szczecin Netto Arena | 07.00-09.00 |
| Scrutineering checks, Szczecin Automotive School Complex | 08.00-10.00 |
| Shakedown, Dobra-Wolczkowo | 08.00-14.00 |
| Pre-event press conference, Szczecin service park | 16.30hrs onwards |
| Ceremonial start, Szczecin service park | 17.00hrs onwards |
| Qualifying Stage – Szczecin (7.50km) | 17.15hrs onwards |
|   |   |
| Saturday, September 3 |   |
| SS2 – Drawsko Pomorskie (216.40km) | First car – 08.30hrs |
| SS3 – Drawsko Pomorskie (216.40km) | First car – 14.20hrs |
|   |   |
| Sunday, September 4 |   |
| SS4 – Wolczkowo-Dobra (25.50km) | First car – 09.35hrs |
| SS5 – Wolczkowo-Dobra (25.50km) | First car – 12.05hrs |
| Post-event press conference, Szczecin Netto Arena | 14.00hrs |
| Podium ceremony, Szczecin Netto Arena | 14.30hrs |