Lynn wins, Prema Powerteam Champion!
The FIA Formula 3 European Championship is a never-ending source of the unexpected! Despite Raffaele Marciello's retirement, Alex Lynn's third victory of the seasons gives Prema Powerteam the teams' title!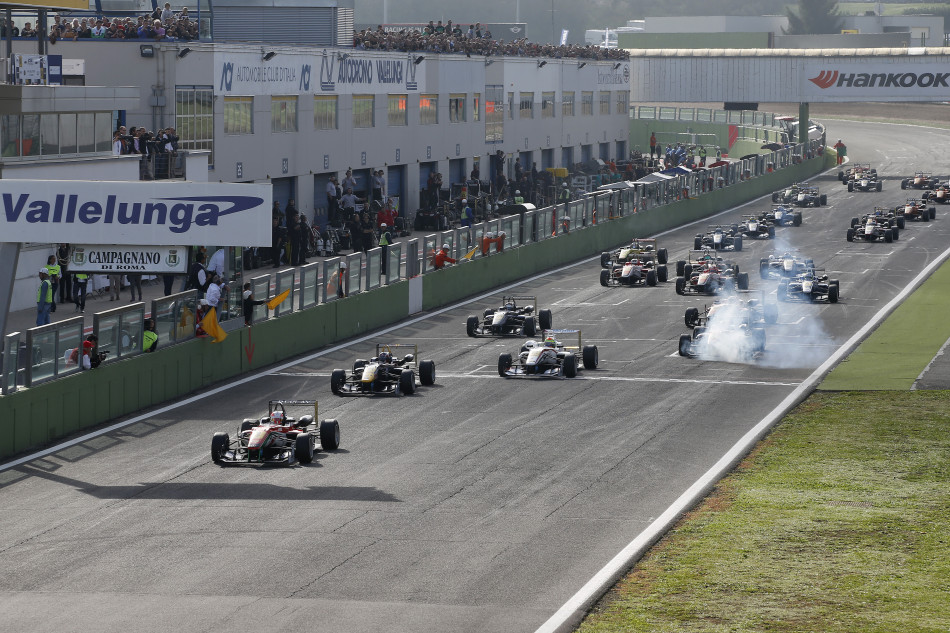 The Tifosi in the grandstands awaited the second race with mounting impatience with Alex Lynn (Prema Powerteam) on pole in front of Raffaele Marciello (Prema Powerteam), while the Ferrari Driver Academy protégé's nearest rival again started from the back of the grid.  
But there was a major upset when the lights went when Marciello found himself enveloped in a cloud of smoke and retired! Lynn took advantage of his team-mate's misadventure to go into the lead, and drove a magnificent race to score his third win of the season despite having to cope with two safety car periods. "This victory comes after four top-three finishes on the bounce, and it's happened just at the right moment," smiled the delighted winner. "I had four new tyres for this race, which wasn't the case for Alexander Sims. When I found myself in the lead in front of him I knew that I was well placed. I just had to avoid making mistakes and cope with the two safety car deployments. The car performed perfectly; it's a great result." 
There was a ding-dong battle behind the British driver between Alexander Sims (ThreeBond with T-Sport), Daniil Kvyat (Carlin) and Eddie Cheever (Prema Powerteam). Throughout the whole race the threesome watched one another's moves, sized one another up and attacked. But there was no change in the order! Sims clinched his second second-place finish of the weekend. Kvyat completed the top 3 while Cheever fifth yesterday, moved up today to fourth, his best performance of the season to date. 
"Honestly, I was expecting a difficult race as we were on worn tyres," explained Sims. "The start went off well and then I had to keep the others behind me. Two top-three finishes on the trot, it's almost ideal!" 
While Lucas Auer (Prema Powerteam) shone by snatched fifth place from Luis Felipe Derani (Fortec Motorsports), Felix Rosenqvist's (kftzeile24 Mücke Motorsport) spectacular comeback was the highlight of the race. The Swede, who set off last, was on the limit from start to finish and he took the chequered flag in ninth place bagging the points for eighth as Kvyat is not eligible to score. The gap between Marciello and Rosenqvist stands at 28.5 points before race 3 this afternoon. 
Thanks to this morning's victory Prema Powerteam has clinched the teams' title before the end of the season!