This page contains archived information and may not display perfectly
Local hero leads ERC field after dramatic Acropolis opening day
On his first gravel rally for four years, Lambros Athanassoulas leads the SEAJETS Acropolis Rally overnight in his ŠKODA Fabia R5.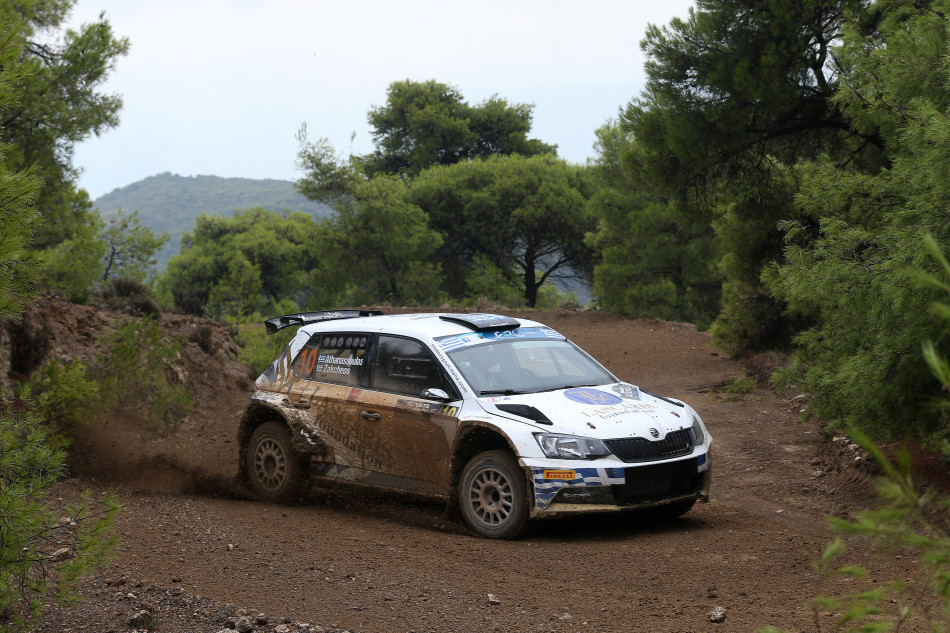 Co-driven by Nikolaos Zakcheos, the Greek driver was fourth after the extremely wet, muddy and slippery opening stage, and took the lead after setting the fast time when the stage was repeated in darkness.
"We pushed a lot in the night stage, I actually like driving in the dark and local knowledge for sure helped me a lot," said Athanassoulas. "The battle is on for tomorrow. The ERC drivers will be very fast again in the day, but we need to try our best and have fun. Imagine after four years, I return with a new rally car and just do a small test and the shakedown and everyone is expecting me to win – and that is really a big weight on my shoulders. I am trying hard, and I want to try to finish on the podium."
Following a spectacular ceremonial start at the Acropolis in Athens, conditions in the mountains near the rally's host town of Loutraki were deteriorating quickly, following hours of heavy rain. The bad weather saw the opening SEAJETS Kineta-Loutraki stage reduced from 43.19 to 24.33kms, yet despite this the slippery surface saw a dramatic start to the event, with several of the top drivers hitting major problems.
FIA European Rally Championship leader Kajetan Kajetanowicz wasn't one of them, however, as another stylish performance sees the Polish star second tonight, 9.6 seconds behind Athanassoulas, after an impressive day in his Pirelli-shod LOTOS Rally Team Ford Fiesta R5. 'Kajto' led by 12.2s after the opening stage, but took no chances in the dark on SS2 and goes into tomorrow looking to secure the title.
Craig Breen is the only other driver who can become European champion this year, and he was a very strong second after the opening stage. However, a problem on the road section to SS2 saw Breen and co-driver Scott Martin get their Peugeot Rally Academy 208 T16 emergency repair kit out. Despite their muddy overalls highlighting the huge efforts they went to, they couldn't fix the problem and lost almost 30s driving with it on SS2. Despite this, the Irish driver is third, just 14.7s behind the leader.
Alexey Lukyanuk picked up a 10 second penalty for starting the opening stage late, with the knock-on effect that the Russian Performance Motorsport Ford Fiesta R5 driver had to start the stage behind the unregistered Jourdan Serderides (Citroën DS3 R5), who he then had to overtake. Lukyanuk completed SS1 in fifth position, and moved up to fourth after SS2 – 32.3s behind the leader.
Jaromír Tarabus felt he'd been driving too cautiously, but he'd survived the incredibly tricky day unscathed and in fifth in his ŠKODA Fabia S2000, albeit 1m16.0s in arrears. Raul Jeets is just 4.3s further behind after a good day in his MM-Motorsport Fiesta R5, while Antonín Tlusťák completes the top 10, behind the leading ERC2 crews, in his Fabia S2000.
Robert Consani put his Citroën DS3 R5 off the road on the opening stage rather than collide with the stranded car of Lambros Kirkos. He was stuck there for over half an hour, and many of the following drivers would have also come to grief on that particularly slippery section, had he and co-driver Maxime Vilmot not sportingly alerted them to the hazard with lots of arm waving.
Consani's Delta Racing stable-mate Bruno Magalhães had a pop-off problem in his Peugeot 208 T16 during Qualifying, which saw him set eighth fastest time. Having finished fifth on the Acropolis Rally last year in a Peugeot 207 S2000, Magalhães was looking forward to continuing his good 2015 ERC form in his 208 T16, but was forced out with broken suspension on SS1.
Having been eighth fastest on SS1, France's Charles Martin retired his Peugeot Rally Academy 208 T16 on the road section to SS2.
Botka leads ERC2, despite running first on the road
Dávid Botka ran first on the road today, and set a stunning third fastest time overall on SS1 in his Mitsubishi Lancer Evolution IX, to come out of the opening stage with a 1m15.7s class lead! Dominykas Butvilas damaged the front of his Subaru Poland Rally Team Impreza WRX STI with an off on SS1. The Lithuanian driver regained 24.7s on SS2, to trail Botka overnight by 51s. Triple Greek champion Lambros Kirkos missed the Qualifying Stage, having ripped a rear wheel off his Team Greece Mitsubishi Lancer Evolution IX in Free Practice. Things didn't improve on SS1, when he slipped off the road. Spectators eventually came to his rescue, but only after 20 minutes had been lost.
WHAT'S NEXT?
Leg two on Sunday (11 October) starts at 07h00 and contains seven stages, with two runs over SEAJETS Athikia (17.93kms), Klenia Mycenae (20.67kms) and Kefalari (18.66kms) and a single pass over EKO Racing Ziria (20.31kms). After all the event's nine stages, totalling 202.57kms, have been completed, the finish ceremony will be in Loutraki at 18h00.
MEDIA EVENTS AND INFORMATION (all timings local for Sunday 11 October)
Podium ceremony and prize-giving: 17h40, Service Park, Loutraki 18h30
Post-event press conference: 18:h30, Media Centre, Club Hotel Casino Loutraki.
Colin McRae ERC Flat Out Trophy presentation: Immediately following the post-event press conference
Headquarters: Club Hotel Casino Loutraki
Service park: Military Engineering School, Loutraki
Media centre: First Floor, Club Hotel Casino Loutraki, 48 Poseidonos Str, 20300 Loutraki
Opening times: 07h00-until the last journalist leaves
Event media contact: Helen Xenakis, hxenakis@acropolisrally.gr, +30 6974362362
Television coverage: A preview show, daily highlights and the post-event Inside ERCmagazine programme will be broadcast on Eurosport
ERC Rally Radio: Live throughout the event at Fiaerc.com or through the ERC app
Results, standings, live timing and text commentary: Fiaerc.com
Rights-free images: Register at the media lounge section of Fiaerc.com