This page contains archived information and may not display perfectly
Legge signs with Amlin Aguri as Cerruti goes with Trulli
Two female drivers are registered in the all new FIA Formula E championship which is set to begin at Beijing in September.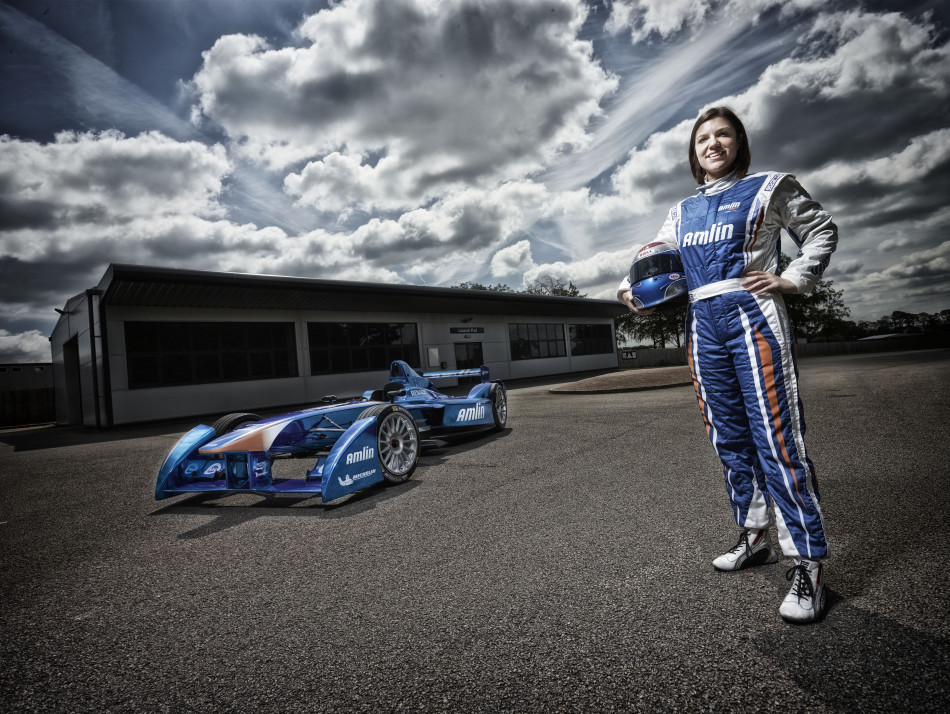 Two female racers will line up on the new FIA Formula E Championship grid for the inaugural round of the electric racing series, which takes place at Beijing's 'Bird's Nest' Olympic Stadium in September. IndyCar and United Sports Car Series racer Katherine Legge has been snapped up by the Amlin Aguri team, while Italian driver Michela Cerruti, who recently scored a first victory in the Auto GP series, has been signed to race with the team fronted byformer Formula One race star Jarno Trulli. In the last edition of the FIA Women in Motorsport Newsletter Legge said that having been involved with the efficiency-targeted DeltaWing project in the United Sports Car Series, Formula E resonated with her both for its sustainable focus and the quality of its entry list. "I really want to prove myself in a global series that is well respected," she said in signing up for the Formula E Drivers Club, the group of 40 drivers who expressed a desire to race in the championship. That wish has now been realised, thanks to the Amlin Aguri team which is being run by former Formula One team owner Aguri Suzuki.
"I am thrilled to be part of the ground-breaking Formula E championship. Being a driver in the Amlin Aguri team is a dream come true," said Katherine of her appointment to drive for the team alongside Portuguese driver António Félix da Costa, who joins the series from DTM in which he races with BMW and Formula One, where he is reserve driver with the Infiniti Red Bull Racing team.
"Everyone involved is seriously excited and serious about winning," added Legge. "We've got a really strong racing pedigree, the best technical expertise and uniquely we have [sponsor] Amlin's analytical skills. I think we've put together exactly the right tools and support that will help drivers like me to win races in this new format.
"There is incredible commitment and professionalism within our team, it's a very special place to be," she concluded. "I can't wait to bring racing to people in cities around the world, it's going to be a unique experience for everyone." Cerruti, meanwhile, will race alongside 2004 Monaco Grand Prix winner Jarno Trulli. A veteran of 252 Formula One races with teams such as Renault, Toyota and Caterham, Trulli is fronting his own team in Formula E.
Cerruti joins the championship hot on the heels of taking her first win in the Auto GP single seater-series, which uses 3.5-litre, normally aspirated V8-powered cars, at Imola recently. Racing for the respected Super Nova International racing team Michela soaked up intense pressure from the championship's second-placed driver Kevin Giovesi of the FMS team to become the first female winner in the series. She currently lies sixth in the standings 13 points behind fifth-placed Andrea Roda and 66 points behind leader Kimiya Sato. "I'm very pleased to join the Trulli Formula E Team and I am very honoured to be part of the FIA Formula E Championship," she said. "I really do believe that this series can help attract people to use electric vehicles and help care for the future of the environment."
Of his new driver, Trulli said: "Michela is a very talented driver with a natural skill. I was impressed by her recent results considering the very limited time she has spent in single-seaters. I'm extremely happy to share my long Formula One experience with Michela to make our team successful. I'm convinced that she is an up and coming star, the one to watch for this season and the future."
Both drivers got their first taste of Formula E machinery across four days of testing at the championship's UK base at Donington, earlier this month. After missing out on the first day due to technical issues, Cerruti made solid progress and on day four recorded the 16thfastest time, 2.4s off pacesetter Sébastien Buemi, who recorded a lap of 1m31s.
Legge, meanwhile, finished the final day in 18th place, though she was some five seconds ahead of team-mate Fabio Leimer. "I've really started to gel with the team during testing so far and we're making strides in our endeavour to be a competitive force in the championship," said Legge afterwards. "The team boasts great technical expertise with our Team Principal Mark Preston and Technical Director Peter McCool both having had careers in F1, so the team is certainly in good hands as we build toward the first race in Beijing."
The inaugural FIA Formula E Championship kicks off in Beijing on September 13, after which it will take in nine more city races around the world, reaching its finale in London on June 27, 2015.