This page contains archived information and may not display perfectly
Kristensson does the double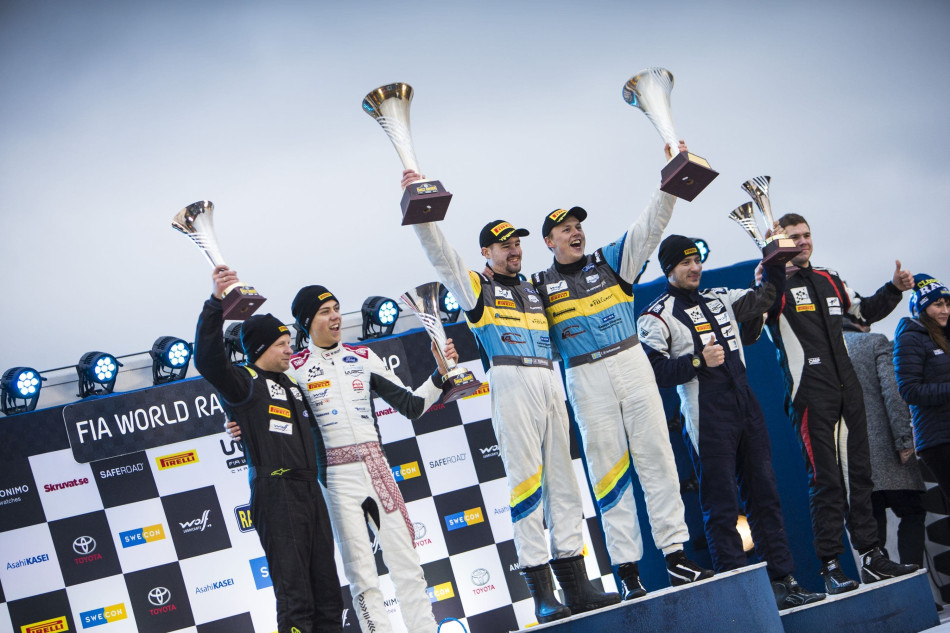 Tom Kristensson did the double at this weekend's Rally Sweden – securing victory on the opening round of the FIA Junior WRC Championship for the second year in succession. Setting three fastest stage times, Kristensson used his local knowledge to full effect to secure the victory with an impressive 37.8 second advantage.

His victory also sees Swedish drivers continue to dominate their home event in the FIA Junior WRC Championship – Kristensson's victory this weekend adding to his maiden win last year as well as that of Dennis Rådström in 2018 and Per-Gunnar Andersson in 2006.

Delivering a highly consistent and competitive performance – which included a fastest time through the first pass of new stage Nyckelvattnet (SS4) – Latvia's Martin Sesks got his season off to a strong start with second place. And Ken Torn recovered from an excursion into the ditch at the end of Saturday's Torsby Sprint (SS16) to secure the third step of the podium.

Finland's Sami Pajari demonstrated his speed potential with the fastest time through the second pass of Nyckelvattnet (SS7) to secure fourth place. And Romanian driver Raul Badiu perfected the Torsby Sprint – setting the fastest time on both passes (SS8 and SS16) to round off the overall top-five.

Flawless performances from Paraguay's Fabrizio Zaldivar and Great Britain's Ruairi Bell saw them secure sixth and seventh places respectively. And Sweden's Pontus Lönnström showed good pace after a puncture cost the rookie more than three minutes on the opening stage (SS2) – setting the fastest time through the second pass of Finnskogen (SS6) as well as the Power Stage (SS18) to recover eighth place overall.

There was final-stage heartbreak for fellow rookie Lauri Joona who had been on course for third place. Picking up a puncture through the closing kilometres, the Finn was cruelly relegated from third to ninth but should take encouragement from what was an impressive performance this weekend.

Getting to grips with the unfamiliar terrain, the Italian delegation completed all of the stages with Marco Pollara claiming the final championship point in tenth place, and Enrico Oldrati and Tommaso Ciuffi finishing just shy of the top-ten in 11th and 12th.

Oscar Solberg also picked up a puncture through the final stage which saw him relegated outside of the points, and the Norwegian's event was also marred by an electrical issue causing an intermittent misfire. He finished the event in 13th place ahead of Catie Munnings who was recovering from a double puncture through the opening speed test (SS2).

Elsewhere, Jon Armstrong was finding his rhythm and setting good splits before a high-speed accident saw his Fiesta flung into the air on Friday's Nyckelvattnet stage (SS4). Both Jon and co-driver Noel O'Sullivan were unhurt in the incident, but it brought their rally to an early end.

Fabio Andolfi was also on course for points before going off the road at the end of Friday's Torsby Sprint (SS8). Damage from this then led to a water pump failure and loss of coolant through the second pass of Finnskogen (SS6) on Saturday.
FIA Junior WRC Manager, Maciej Woda, said:

"Congratulations to Tom on his second Rally Sweden victory, and also to co-driver Joakim on his first. They really didn't put a foot wrong all weekend and showed pace, consistency and a clever strategy to deliver a very well-deserved victory.

"But we also saw some fantastic performances from the likes of Martin, Ken and Raul who put last year's experience to very good use, as well as some very impressive displays from our rookies – Sami and Pontus both showing stage-winning pace an Lauri being very unlucky through that final stage.

"I would also like to say how grateful the Junior WRC are to Glenn Olsson and the Rally Sweden team. They have all worked extremely hard to ensure this event went ahead in what were some very challenging conditions; and that hard work has resulted in a great opening round to our championship.

"Finally a big thanks to all 16 crews for creating such a great atmosphere around the service park. I can already see some close bonds forming amongst our competitors, and it's fantastic to see them all working and socialising so well together whilst also fighting it out so fiercely on the stages. Congratulations to everyone this weekend, and we look forward to more of the same in Sardinia!"
DRIVER QUOTES
Tom Kristensson (1st) said:

"It's always difficult to find the words for a moment like this, but this is the result I dreamed of from the beginning. We had a really strong start on the first stages and just continued with good pace and good speed. It's another unbelievable result and I'm so happy and so thankful to everyone who helped me. The team have been brilliant and this car is amazing to drive. Everything worked so well all weekend and all I can say is that I'm so happy and so thankful."
 
Martins Sesks (2nd) said:

"I'm feeling really good and I think this is a great start to the season for us. We delivered some smooth driving, with no real risks, and just built up the confidence throughout the weekend."  

Ken Torn (3rd) said:

"This year we delivered quite a clean run and it was much better than the years before. When we saw Lauri [Joona] having his problems in the last stage we lifted the throttle and just made it safely to the finish."

Sami Pajari (4th) said:

"I think we had good pace this weekend, and it was especially good on Saturday. It was a bit sad that we weren't as quick at the start of the rally, because then we would have had a chance at second, but that is rallying and I'm still happy."

Raul Badiu (5th) said:

"It's a really good start to the season. Fifth place in a field full of Scandinavians is pretty good and we also had two stage wins which was a big confidence booster – especially as we've not had a proper test or anything like that since Finland last year. It feels really good to start the season like this, and I'm looking forward to Sardinia and a surface that I really love."

Fabrizio Zaldivar (6th) said:

"For us this result was quite a lot better than last year. The conditions were really tricky but the organisers did a great job bringing a good rally for us. We tried to adapt as best we could, but still we need to learn more to be faster."

Ruairi Bell (7th) said:

"It's been a brilliant weekend with lots of learning. I've taken everything I can in and the pace at the end was getting much better. So hopefully we can take that forward to Sardinia."

Pontus Lönnström (8th) said:

"It was not so good in the beginning with a puncture. But we managed to get two stage wins and show some very good pace – so that was good."

Lauri Joona (9th) said:

"Unfortunately we had a puncture on the final stage. But we showed good pace in the weekend so we can be happy with that."

Marco Pollara (10th) said:

"This was a very hard rally and I am very happy with my first point in the Junior WRC Championship. Now we'll see you in Sardinia where we will push hard."

Enrico Oldrati (11th) said:

"It wasn't an easy rally but we made it. The conditions were very tricky with a lot of changes of conditions – mud and ice and all very slippery. But we got a lot of experience and the next one will be my home event in Sardinia so let's see what we can do there."

Tommaso Ciuffi (12th) said:

"For me it was not an easy rally and we will try to improve for the next one in Sardinia."

Oscar Solberg (13th) said:

"The M-Sport guys tried to fix the engine but it wasn't possible which was unlucky for me so I'll just have to come back stronger on the next rally."

Catie Munnings (14th) said:

"I think I've learnt a lot this weekend about the car and also about driving on this surface with studs. It was an amazing experience and one that I'll remember forever. I just look forward to the next one and hopefully doing a bit of testing and getting some good kilometres in preparation for Sardinia."
FINAL CLASSIFICATION
1. Tom Kristensson / Joakim Sjoberg 1:22:51.3
2. Martins Sesks / Renars Francis +37.8
3. Ken Torn / Kauri Pannas +1:00.4
4. Sami Pajari / Marko Salminen +1:11.6
5. Raul Badiu / Gabriel Lazar +3:23.8
6. Fabrizio Zaldivar / Fernando Mussano +3:54.0
7. Ruairi Bell / Darren Garrod +04:01.0
8. Pontus Lönnström / Stefan Gustavsson +4:14.1
9. Lauri Joona / Ari Koponen +4:15.5
10. Marco Pollara / Maurizio Messina +6:10.2
11. Enrico Oldrati / Elia de Guio +6:14.4
12. Tommaso Ciuffi / Nicolo Gonella +10:11.4
13. Oscar Solberg / Jim Hjerpe +11:05.1
14. Catie Munnings / Ida Lidebjer-Granberg +11:16.2
Retired: Fabio Andolfi / Stefano Savoia
Retired: Jon Armstrong / Noel O'Sullivan
STAGE WINS
Tom Kristensson 3
Raul Badiu 2
Pontus Lönnström 2
Martins Sesks 1
Sami Pajari 1
DRIVERS' CHAMPIONSHIP STANDINGS
1. Tom Kristensson 28
2. Martins Sesks 19
3. Ken Torn 15
4. Sami Pajari 13
5. Raul Badiu 12
6. Fabrizio Zaldivar 8
7. Ruairi Bell 6
8. Pontus Lönnström 6
9. Lauri Joona 2
10. Marco Pollara 1