Just a few hours to get to grips with an F3!
Daniil Kvyat and Ed Jones are making their debut in the FIA F3 European Championship at Hockenheim. While Jones has already done a few F3 races it is a first for Kvyat.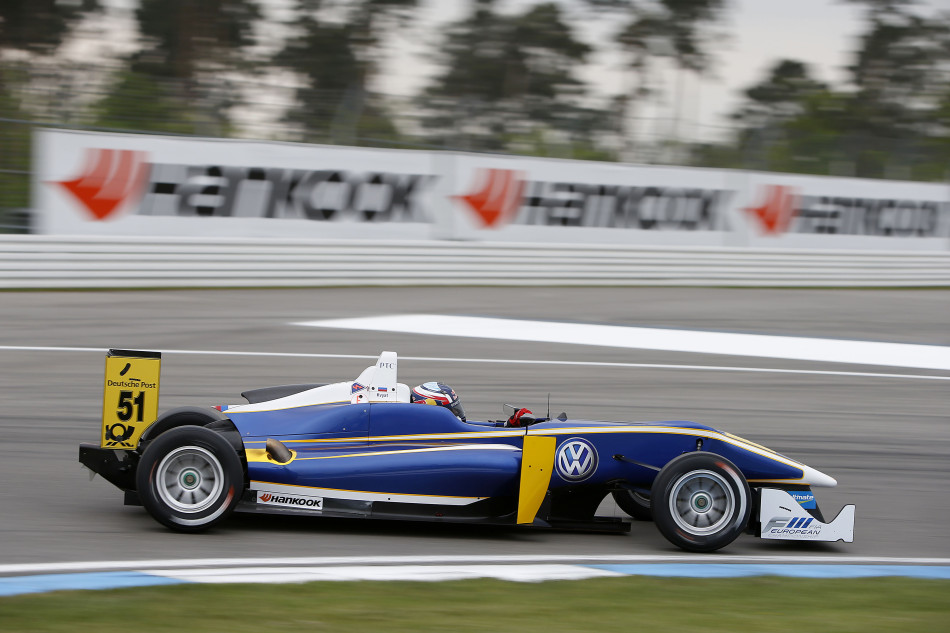 As neither Daniil Kvyat (Carlin) nor Ed Jones (Fortec Motorsports) are entered for the full season they will not score points this weekend. Nonetheless, the Russian and the representative from the United Arab Emirates will be drivers to watch, and if they have a successful meeting they may well race in other rounds of the FIA Formula 3 European Championship. 
Kvyat, runner-up in the Eurocup Formula Renault 2.0 and Formula Renault 2.0 ALPS Champion, made a big impression in 2012. The Russian, a member of the well-run but very demanding Red Bull Junior team, is having both his first outing at Hockenheim and his first race in a new formula. He is part of the Carlin squad in which Daniel Ricciardo and Jean-Eric Vergne both made their mark in F3, and his priority aim is to gather experience. 
"Before this weekend I'd just driven a few laps in a Formula 3 car with the Carlin team," explains Kvyat. "So my only aim is to learn here at Hockenheim. But I'm a racer and as soon as I get into the car I'm determined to go for it." 
And the young Red Bull protégé backed up his words with his actions in free practice by setting the second-quickest time overall! "I drove different single-seaters this winter and on each occasion I adapted quickly to the car. It's a particular challenge, as you have to put yourself on the line each time. The F3 is a car with no surprises. You have to be able to take advantage of the aero grip to go quickly. I have to say that I soon learned how to get the best out of the Hankook tyres as their window is fairly similar to what I was used to in Formula Renault 2.0." 
Daniil did even better in qualifying by setting his first pole position in F3 in the second session. "The first session took place on a wet track which then dried out. Obviously the conditions weren't ideal for someone like me who is having his first drive in the car. On the other hand, things went off perfectly in the second part of qualifying (the one used to decide the grid for the third race). 
"Although it's a good start I still have a lot to learn as the race will be a different kettle of fish! Technically it's a very interesting formula. With Carlin I'm in good hands and my engineer explained the different parameters where we can progress. For the moment I don't have enough experience so I listened to his advice, but it makes me want to go deeper into things."