Italian GP: Bad day for Button
Jenson Button retired his McLaren from second place in the Italian Grand Prix.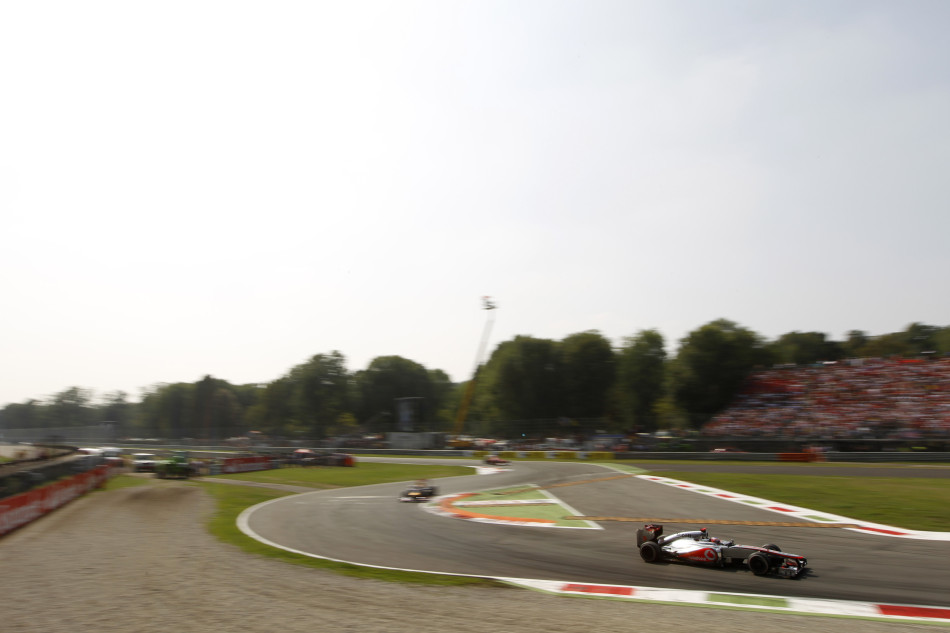 Button, who has finished second at Monza for the last three years, looked likely to add to that tally when, exiting the Ascari chicane, he pulled his McLaren to the side of the track and stepped out of the car. 
  
"I don't entirely know yet, it's to do with fuel, as in the engine doesn't have any in it – which is a problem," said Button, returning to the pitlane.  "I don't know if it's a pipe that's come loose or come off. It cut out and that was the end of it and I just had to coast to a stop."
Button's race up to that point had been far from smooth. He'd lost out to Felipe Massa at the start and had to fight his way back through in the opening exchanges. He then had a less-than-perfect pitstop.
"I didn't get a very good start, had a lot of wheelspin which cost me a lot of time, obviously, behind Felipe, to Lewis. Then in my stop… it wasn't as quick as we would have hoped, so we lost more time again. 
"I was never going to challenge Lewis for the win but we were in a good position anyway for a second place – which would have been great for the team."
Taking whatever positives were available from the weekend, Button, himself victorious seven days ago, pointed out McLaren have won the last three grands prix. "Congratulations to the whole team," he said. "We've proven over the last few races that we're very strong in qualifying and also in race trim. The consistency is really key and we haven't seen this from anyone really this season. It's good to see."

This was Button's third retirement of the season, following a differential problem in Bahrain and a puncture in Monaco."We should have scored a one-two finish, but Jenson was deprived of an easy second place by a fuel system problem," added team principal Martin Whitmarsh. "That's frustrating for him and frustrating for us, but the important thing is that our car is a winner. We've now won three grands prix in a row, and both our drivers are on top form."