IDC - Stage set for first FIA Intercontinental Drifting Cup
Tokyo ready for inaugural competition as 24 drivers from 14 different countries will do battle in Odaiba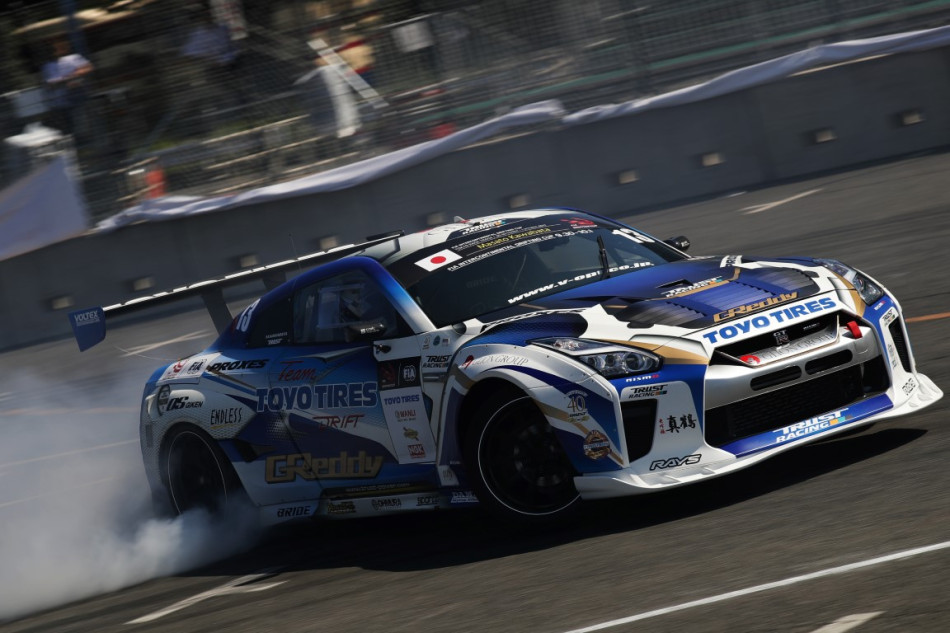 On September 29th (Friday), practice sessions for the inaugural FIA Intercontinental Drifting Cup, set to open tomorrow, were held at the special course in Odaiba, Tokyo.
The practice day was comprised of three heats, and though many drivers were checking the course surface and their machines in the first heat, they soon started testing their skills with high scoring runs from the second heat and onwards.
For scoring each run, E.D.S. (Electric Device System) developed and utilized for the D1 Grand Prix Series to convert quantified aspects such as speed and angle into a score is used.
Masato Kawabata with Toyo Tires Glion Trust Racing consistently marked 98 points with continual crisp runs. Daigo Saito with Wanli Fat Five Racing and Masashi Yokoi with D-Max followed with excellent scores as well.
Drivers coming from abroad also had good runs, including Georgy Chivchyan driving for Primring Team with Toyo Tires from Russia and Tengku Djan Ley with Team Maxxoil Racing from Malaysia scoring 98 points, promising a close competition with the local drivers in the days to come.
The competition starting from tomorrow will consist of "Tanso (Solo Run)" sessions where each driver will drive and compete in technical accuracy, and "Tsuiso (Battle Run)" sessions where two drivers will run together and fight in a one to one battle.
Fans can watch the event live on Facebook around the world on the official FIA Intercontinental Drifting Cup Facebook Page.
Facebook Live (English) Worldwide*
30th September: 1:30 am 〜 8:00 am (UTC)
1st October: 1:30 am 〜 8:15 am (UTC)
*Excluding China
For more information and to purchase tickets to the event, visit the official website here.