Huff beats Tarquini to race two win in Brazil
Chevrolet driver Rob Huff claimed victory in Curitiba after a tough battle with Gebriele Taquini.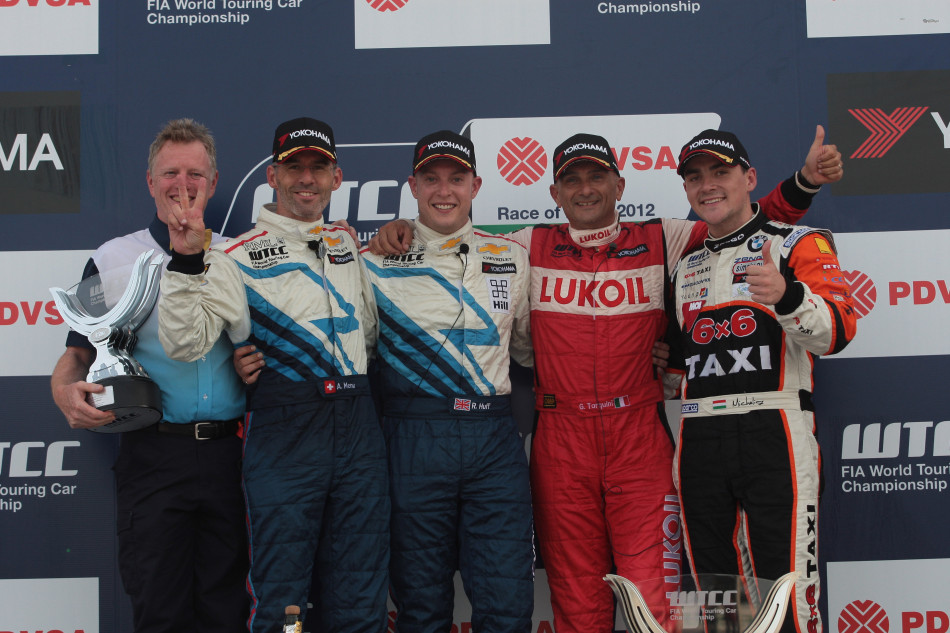 Rob Huff claimed a second victory for Chevrolet in the Brazilian WTCC weekend, but  had to fight hard to beat a hard-charging Gabriele Tarquini who had managed to jump in the lead, keeping the dominant Chevrolet drivers at bay for a a number of laps.
Eventually, however, Tarquini was forced to give up also the second place to Alain Menu, but he managed to salvage the last step of the podium ahead of Yvan Muller.
Norbert Michelisz won the Yokohama Trophy race finishing in fifth overall, but in the first part of the race the young Hungarian driver was able to stay in the lead, resisting a huge pressure from Tarquini.
Just as in the first race, the drivers fighting for the midfield positions delivered exciting battles. After finishing fifth in Race 1, Michel Nykjær claimed sixth in the second race, beating Coronel, Bennani, Monteiro, Dudukalo and MacDowall.
Key moments
Start – Michelisz takes the lead from Coronel; O'Young starts from the pit lane.
Lap 1 – Tarquini overtakes Coronel for second; Muller overtakes Menu for sixth.
Lap 1 – Monteiro and Huff make contact while fighting for fourth.
Lap 2 – Menu retakes sixth from Muller.
Lap 2 – Coronel drops from third to seventh behind Monteiro, Huff, Menu and Muller.
Lap 3 – Huff and Menu overtake Monteiro who drops to fifth.
Lap 4 – Ng crashes at Turn 4; the safety car is deployed.
Lap 6 – The race resumes.
Lap 7 – Tarquini overtakes Michelisz for the lead.
Lap 7 – Michelisz drops to fourth behind Huff, Menu and Muller.
Lap 8 – Cerqui crashes into the pit wall after clashing with Dudukalo.
Lap 11 – Huff overtakes Tarquini for the lead.
Lap 13 – Menu overtakes Tarquini for second.
Lap 14 – Nykjær and Coronel overtake Bennani moving up to sixth and seventh.
Withdrawals
F Engstler: mechanical failure; C Ng: race incident; A Cerqui: race incident; D O'Young: gearbox; P Oriola: engine; T Chilton: mechanical failure.