Huff and Chevrolet Crowned at Gala
The FIA officially crowned Rob Huff as the 2012 FIA World Touring Car Champion at its Gala awards evening in Istanbul, Turkey, today.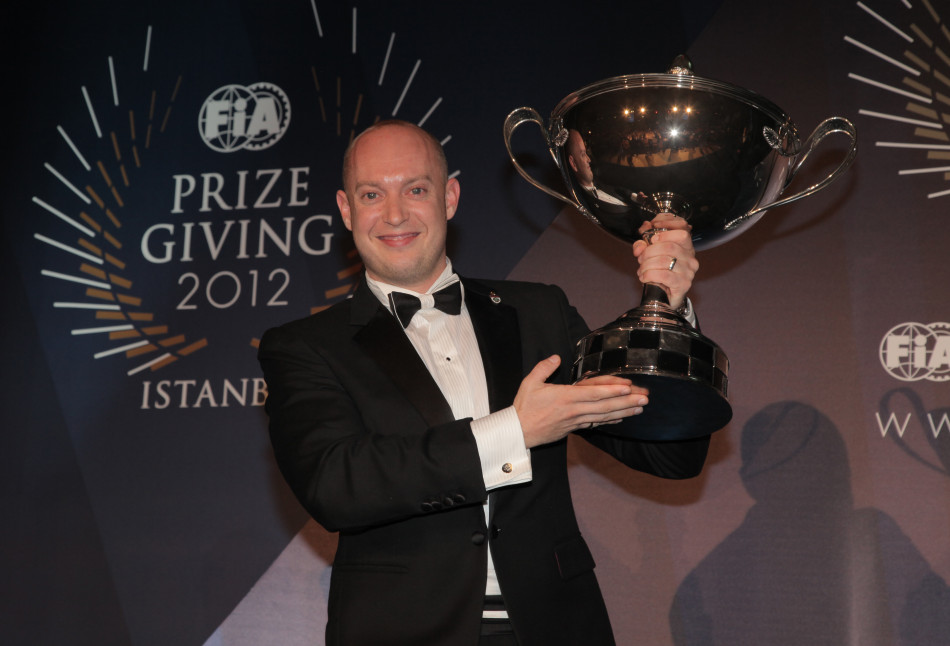 The eighth season of the FIA World Touring Car Championship saw the three Chevrolet works drivers fighting for the Drivers' Championship and giving the American car maker its third consecutive Manufacturers' Championship.
After finishing twice in third position (2008 and 2010) and once second (2011), Huff eventually claimed his first World title, beating his team-mates Alain Menu and Yvan Muller.
For most of the year Huff was chasing the 2011 champion Muller who had taken the lead since the opening races in Monza. The first WTCC event in the USA, at Sonoma, gave Huff the opportunity to match Muller's points tally and they remained even again after the following race meeting at Suzuka.
Shanghai was the turning point, as Huff took a solo lead after Muller was involved in a couple of incidents that left him scoreless.
But the season finale meeting at Macau provided plenty of drama as Huff crashed from the lead during the first race, which enabled Muller (who won) and Menu to cut the gap.
"What a mistake of me it was! But we had a happy ending. So we will ignore that… I overtook Yvan and was very happy, but half-a-lap later I lost the car and crashed. I have to thank the RML team, because they all jumped to my car when I pitted. There was quite a lot of damage to be fixed before the second race. They did a great job and my car was perfect," said Huff.
In the second race, Huff recovered from 10th on the reverse grid to finish second behind Menu, which earned him the points he needed to be crowned champion.
"The time in between the races was horrific, but still I had a good margin of points and I knew that, even if Yvan or Alain were going to win, all I needed was to finish no lower than sixth. After the first safety car I was fifth behind Yvan, so it was just a matter of staying focused and not to make any other mistake…"
With five race wins, twelve other podium results, two pole positions and three fastest laps, Huff edged Menu by twelve points, while Menu completed the Chevrolet podium in third, a further eight points adrift.
"This has been a hard year. The first three events were not especially great for me, but then it got better and better. I have changed my strategy for the season; last year I had focused on being the fastest and equalled Yvan on race wins and poles but had more fastest laps. I finished second in the Championship and learned a lesson: you don't just need to be the fastest to win the title. This year I've been concentrating on the races with my car set-up, and it paid off!
"It's an amazing feeling to be World Champion. A couple of weeks after Macau I still have to sink in with the idea. And I am especially pleased, because the team made a gamble on me when they picked me up back in 2005, and I hope that I have shown they had made the right decision. It has been a perfect end to a fantastic venture."
Vijay Iyer, Chevrolet and Cadillac Europe Communications Director, who collected the Manufacturers' trophy, said:
"We are very happy to win the Drivers' and Manufacturers' Championships for the third consecutive year. On behalf of our global Chevrolet team I want to thank our drivers and everybody at RML for the outstanding job, the commitment and the spirit shown during this entire season and the eight years of our partnership and presence in the WTCC.
"With over 1000 points scored in the Manufacturers' classification it was a record season for us and to finish with a 1-2-3 in the last race at Macau was really symbolic of how great this experience has been for everyone involved.
"This has been a fantastic program for Chevrolet, which has brought a lot to our brand and the Chevrolet Cruze, with more than 1.7 million cars sold since we've launched. We say goodbye to the WTCC with a sense of pride for our achievements."
Note to Editors:
Imagery can be downloaded from: http://www.fiaimages.com/
--------------------------------------------------------------------------------------------------------------------------------------------
HUFF ET CHEVROLET RECOMPENSES AU GALA
La FIA a décerné officiellement le titre de Champion du Monde des Voitures de Tourisme de la FIA 2012 à Rob Huff lors de son Gala de Remise des Prix à Istanbul, en Turquie, ce jour.
La huitième saison du Championnat du Monde des Voitures de Tourisme de la FIA a vu les trois pilotes courant pour Chevrolet se disputer le titre Pilotes et offrir au constructeur américain son troisième titre consécutif au Championnat.
Après s'être classé deux fois troisième (2008 et 2010) et une fois deuxième (2011), Huff a finalement décroché son premier titre mondial, en battant ses coéquipiers Alain Menu et Yvan Muller.
Pendant presque toute l'année, Huff a talonné le tenant du titre Yvan Muller qui avait pris la tête dès les courses inaugurales à Monza. C'est lors de la première épreuve de WTCC disputée aux Etats-Unis à Sonoma que Huff est parvenu à égaliser avec Muller, les deux pilotes étaient toujours à égalité des points à l'issue de la course suivante à Suzuka.
Shanghai a été le tournant décisif : Huff s'est retrouvé seul en tête alors que Muller était impliqué dans une série d'incidents l'empêchant de marquer des points.
Toutefois le meeting final à Macao a été riche en rebondissements. Huff a été victime d'un accident durant la première course, ce qui a permis à Muller (vainqueur de l'épreuve) et à Menu de rattraper l'écart.
"Quelle erreur de ma part ! Heureusement, tout s'est bien terminé. Alors oublions cet épisode … J'ai dépassé Yvan et j'étais très content mais, à peine un demi-tour plus loin, j'ai perdu le contrôle de ma voiture et j'ai eu un accident. Je dois remercier l'équipe RML car ils se sont tous précipités sur ma voiture lorsque je suis rentré au stand. Ils ont fait un excellent travail et ma voiture était parfaite", a déclaré Huff.
Lors de la seconde course, Huff est remonté de la 10ème place sur la grille inversée pour terminer deuxième derrière Menu, ce qui lui a permis de gagner les points dont il avait besoin pour être couronné champion.
"L'attente entre les courses était insupportable mais j'avais toujours une bonne marge de points et je savais que, même si Yvan ou Alain allaient gagner, tout ce dont j'avais besoin, c'était de terminer parmi les six premiers. Après la première voiture de sécurité, j'étais cinquième derrière Yvan, il s'agissait juste de rester concentré et de ne pas commettre d'autres erreurs …"
Avec cinq victoires, douze autres podiums, deux pole positions et trois meilleurs temps au tour, Huff avait douze points d'avance sur Menu, tandis que Muller occupait la troisième place sur un podium entièrement Chevrolet, huit points derrière.
"L'année a été très dure. Les trois premières épreuves n'ont pas été particulièrement bonnes pour moi mais par la suite cela n'a fait que s'améliorer. J'ai changé ma stratégie pour la saison ; l'année dernière, je me suis concentré sur la rapidité et j'étais au même niveau qu'Yvan pour ce qui est des victoires en course et des poles mais j'avais des temps au tour plus rapides. J'ai terminé deuxième du championnat et ai tiré une leçon : il ne suffit pas d'être le plus rapide pour remporter le titre. Cette année, je me suis concentré sur les courses avec ma configuration de voiture et ce fut payant !
Etre Champion du Monde procure une sensation incroyable. Quelques semaines après Macao, j'avais encore du mal à me faire à l'idée. Et je suis particulièrement content car l'équipe a parié sur moi lorsqu'elle m'a engagé en 2005, j'espère lui avoir démontré qu'elle a fait le bon choix. Cette aventure fantastique s'est achevée en beauté."
Vijay Iyer, Directeur de la Communication Chevrolet et Cadillac Europe, venu retirer le trophée Constructeurs, a déclaré :
"Nous sommes très heureux d'avoir remporté les Championnats Pilotes et Constructeurs pour la troisième année consécutive. Au nom de toute l'équipe Chevrolet, je souhaite remercier nos pilotes et tout le monde chez RML pour l'extraordinaire travail réalisé, leur engagement et l'esprit d'équipe dont ils ont fait preuve tout au long de la saison et pendant les huit années de notre partenariat et présence en WTCC.
Avec plus de 1000 points marqués au classement Constructeurs, c'est une saison record pour nous et terminer aux trois premières places de la dernière course à Macao a prouvé combien cette expérience était importante pour tous les intervenants.
Ce fut pour Chevrolet une expérience fantastique, qui a apporté une valeur ajoutée à notre marque et à la Chevrolet Cruze, avec plus d'1,7 million de voitures vendues depuis son lancement. Nous quittons le WTCC avec un sentiment de fierté."
Note aux Rédacteurs en chef :
Les photos peuvent être téléchargées depuis l'adresse : http://www.fiaimages.com/