This page contains archived information and may not display perfectly
Homola top scores in ETCC Single Make Trophy at Zolder
Mato Homola was the top scorer in the Single Make Trophy section of the FIA European Touring Car Cup in Belgium as he and Dušan Borković each took an outright and class win.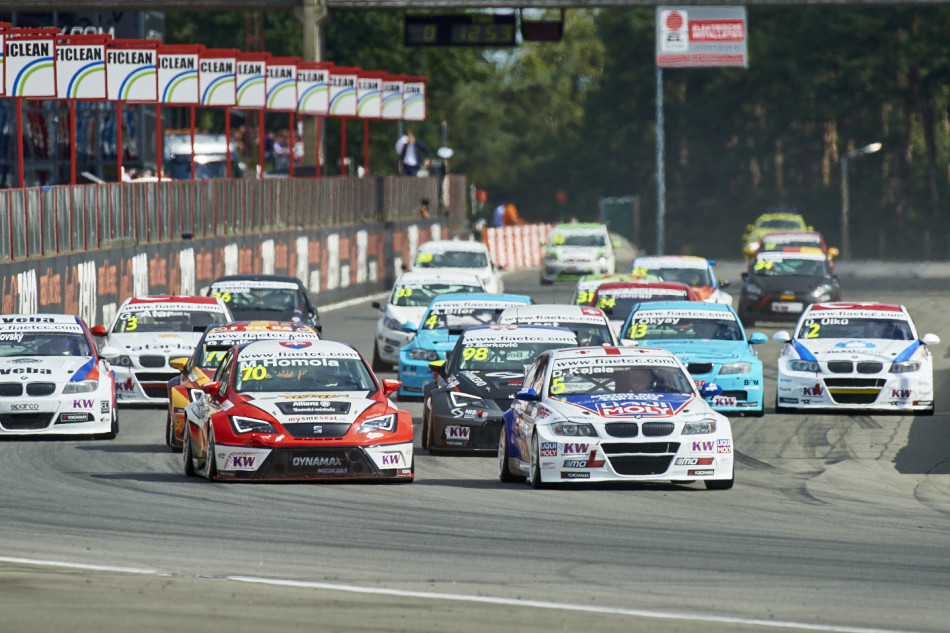 Davit Kajaia was heading to overall glory in the opening race at Zolder until a mechanical issue dropped him back and brought his run of consecutive victories in the TC2T category to an end. His misfortune let in Aytaç Biter for the category spoils with Michal Matĕjovský claiming a victory double in TC2 after Peter Rikli led early on in race two. Niklas Mackschin couldn't be beaten in Super 1600, while Turkey secured the Nations' Cup after Ümit Ülkü took the TC2T triumph in the second 13-lapper.
RACE 1 ROUND-UP: ETCC JOY FOR HOMOLA, DESPAIR FOR KAJAIA
Mato Homola claimed his second outright victory in this year's ETCC with first place in the opening race at Zolder – but only after a suspected driveshaft glitch slowed long-term leader Davit Kajaia. The Georgian was three laps away from his maiden overall success in his pole-sitting BMW only to slow and allow Homola to move ahead. Homola (Slovakia) also secured top Single Make Trophy points in his SEAT ahead of Petr Fulín (Czech Republic) and Serbian Dušan Borković, who were second and third overall and in SMT respectively. Czech Michal Matĕjovský won TC2 in fourth overall with Aytaç Biter (Turkey) winning TC2T for the first time in fifth. Turk Ibrahim Okyay was second in TC2 in sixth with Swiss Peter Rikli charging through from his lowly starting position to complete the TC2 podium in seventh in his Honda. Ronny Jost was fourth in SMT in eighth following a drive-through penalty for exceeding track limits at turn nine and gaining an unfair advantage in the process. Galip Atar was second in TC2T in ninth with Kajaia a disconsolate third in TC2T in P10. Germany's Niklas Mackschin won Super 1600 ahead of Gilles Bruckner (Luxembourg) and German trio Erwin Lukas, Ulrike Krafft and Florian Hildner, whose Fiesta had suffered extensive damage when he rolled in the rain-hit qualifying on Saturday. Luxembourg driver Ben Lintgen's ETCC return ended in retirement, while Daniel Conrad, Andreas Pfister and Ümit Ülkü were involved in a first lap collision at turn four. Conrad was out on the spot, Pfister limped back to the pits, while Ülkü continued only to be black flagged for receiving outside assistance from a recovery vehicle in his efforts to vacate the gravel trap.
RACE 2 ROUND-UP: BORKOVIĆ BEATS JOST TO ZOLDER ETCC VICTORY
FIA European Touring Car Cup Single Make Trophy contender Dušan Borković bagged his fifth outright victory of 2015 after catching and passing Ronny Jost for top spot in the second race at Zolder. TC2 contender Peter Rikli powered his Honda into the lead on the charge to the first corner and held on until lap three when Jost moved ahead. Borković followed Jost through, eventually climbing to the front three laps later. Jost tried to hit back but Borković blocked his move at the final chicane and gradually pulled clear. Mato Homola was next up after spending several laps trying to pass Petr Fulín. Andreas Pfister made up for his race one exit in fifth from the back of the grid following repairs to his SEAT. Michal Matĕjovský won TC2 ahead of the courageous Rikli, while Turkey's Ümit Ülkü took a maiden TC2T victory in his BMW after Davit Kajaia took a trip through the gravel exiting the first chicane and dropped back to second in class in ninth overall. Aytaç Biter completed the top 10 followed by Daniel Conrad, Galip Atar and Super 1600 victor Niklas Mackschin. Ulrike Krafft, Erwin Lukas and Florian Hildner rounded out the finishers with Hildner recovering from a gravel trap visit on lap two. Gilles Bruckner retired before completing a flying lap while Ben Lintgen was a non-starter following mechanical issues in race one.
Race press conference transcript http://www.fiaetcc.com/media/
Race 1 classification: http://www.fiaetcc.com/wp-content/uploads/2015/09/ETCC-Zolder-Race-1- classification-provisional.pdf
Race 2 classification: http://www.fiaetcc.com/wp-content/uploads/2015/09/ETCC-Zolder-Race-2- classification-final.pdf
Standings after Round 10/12: http://www.fiaetcc.com/wp-content/uploads/2015/09/2015-ETCC- Points-Drivers-after-round-10-of-12-PROVISIONAL.pdf
Next race: Pergusa (Italy), 10-11 October