Hartley hares to success at Brno
Steve Hartley was the big winner as Masters Historic Racing made its first visit to the Brno Circuit in the Czech Republic for the first running of the GP Revival event. The Brit took two wins in the FIA Masters Historic Formula One Championship.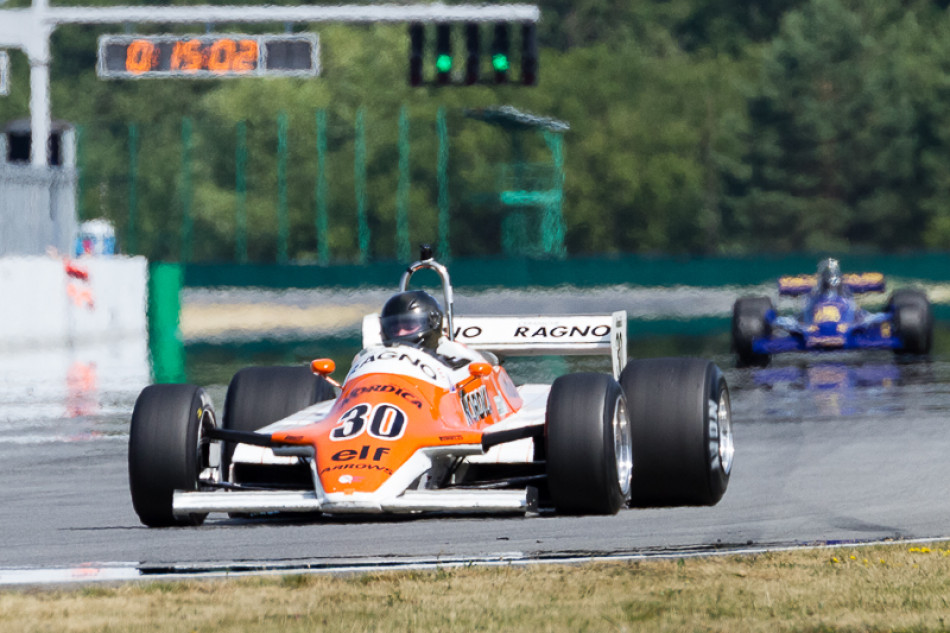 In front of big and enthusiastic crowds, Hartley won both races for the FIA Masters Historic Formula One Championship, his first win coming in easier fashion that the second. His Arrows A4 was pursued hard in Race one by Simon Fish (Ensign N180) and the Unipart-liveried car, but in the second race Fish led for the vast majority of the race, wringing everything out of his 1980 chassis, before Hartley managed to get past and pull away for the win. Hartley maintained his 100 per cent record of victories this year and maintain his lead in the Championship standings. Reigning FIA Masters Historic Formula One champion Greg Thornton was third in both races in his Lotus 91/5, his second race a tougher one after he was hard-chased by Richard Barber (Williams FW08C). Barber had missed qualifying after a crank sensor drama stopped his Williams but he raced well from the back of the grid in race one and to put himself in a more commanding position for race two.
Max Smith-Hilliard was the cream of the Pre-1978 runners, winning the earlier championship race in both races. His Lotus 77 fended off the challenge of Andrew Beaumont (Lotus 76/1) and the two JPS-liveried cars made a stirring sight as they ran together. An impressive third was Michel Baudoin (Hesketh308E) who scored his first Masters podium finish in race two. In contrast, Nathan Kinch struggled with his Minardi M185 all weekend, starting from the pit lane in race one but mechanical problems kept him out of race two. 
Jason Wright's Lola T70 won a race of attrition for the FIA Masters Historic Sports Car Championship. He ran away clear of Mike Donovan's T70 Mk3B until Donovan felt his engine go flat. Rather than damage it, he brought the car back to the pit lane. After early charges from Enrico Tonetti (Huffaker) who ran out ofbrakes and Steve Hart/Tim Cousins (Chevron B19) who fell into the gravel in the final laps of the race, Graham Adelman (Lola T210) took second place from the ever-consistent Andy Newall in the JCB-liveried Chevron B8.  Chris Jolly/Steve Farthing (Cooper Monaco T61M) were denied a Pre-66 win after the car ran out of fuel gifting honours to Keith Ahlers/Billy Bellinger (Cooper Monaco King Cobra). Howard Jones (Lola T70 Spyder) took second in the category from Arthur Bruckner's Lotus 23B.