Hamilton wins thrilling Bahrain GP
Briton takes second win of year after race-long battle with team-mate Rosberg. Perez third for Force India.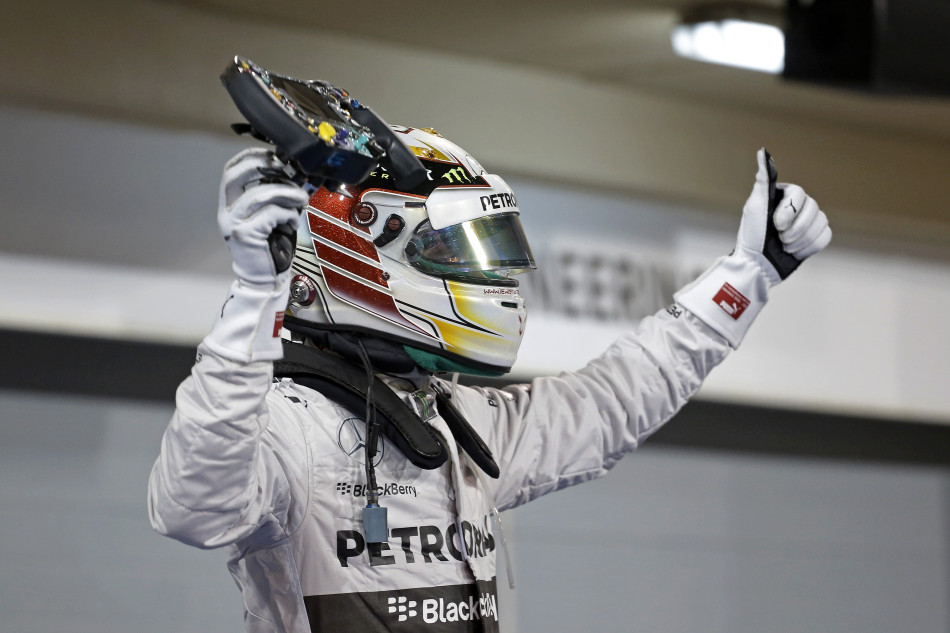 Lewis Hamilton this evening took a thrilling Bahrain Grand Prix victory, the Briton finishing just one second ahead of team-mate Nico Rosberg at the end of a race-long battle.
Sergio Perez, meanwhile, scored his first podium finish since the Italian Grand Prix of 2012 ahead of Daniel Ricciardo, who delivered an impressive, aggressive drive for Red Bull Racing after starting 13th. Perez's third place was Force India's first podium finish since Giancarlo Fisichella's second place at the 2009 Belgian Grand Prix.
The battle for the podium places was mirrored right the way down the field, with epic duels occurring throughout the points-scoring positions, with Nico  Hulkenberg seeing off the challenge of Sebastian Vettel to take fifth place, a defence that then left the champion, who was without DRS and down on power to fend off a final charge from the Williams cars of Felipe Massa and Valtteri Bottas.
At the race start, Hamilton made the better getaway and passed Rosberg into turn one, the first salvo in a conflict that would develop into a titanic struggle in the closing stages.
Behind them, Bottas made a poor start from third, slipping back to fifth. It was a different story for team-mate Felipe Massa, however. The Brazilian made an excellent start and was soon up to third, ahead of Sergio Perez and Jenson Button.
Kimi Raikkonen, meanwhile, was in trouble. The Finn, who started fifth but lost out to team-mate Fernando Alonso at the start, also tangled with Kevin Magnussen on lap one with the result that both dropped back – Magnussen to 12th and Raikkonen to ninth, just ahead of Sebastian Vettel.
Rosberg's first attempt to wrestle back control came on laps 17-18 when the German twice went past his team-mate only for Hamilton to find a fight his way back.
The race then ebbed and flowed as the teams' race strategies unfolded through the opening two stints. Up and down the order positions changed hands with staggering regularity as those on three stops dived for the pits and those on two remained on track. Among them all differing choices of tyres compound for different stints also defined whether drivers were powering through the order or defending stoutly.
And it was a difference of compound that defined the final huge battle between Hamilton and Rosberg.
On lap 41, Sauber's Esteban Gutierrez was making his way through Turn One when Pastor Maldonado straight-lined the corner and smashed into the Mexican.
Gutierrez's car was flipped over and off track and the safety car emerged. Both Hamilton and Rosberg arrowed towards the pit lane and took on fresh tyres. The Briton, though, had to take on the prime medium tyres for his final laps while Rosberg, having used the prime in his second stint, had the option of the quicker soft tyre.
With any time advantage Hamilton had built up all but erased, the race was now a contest between Hamilton's ability to defend and Rosberg's ability to find a chink in his team-mate's armour.
Behind them the two-stopping Force Indias of Perez and Hulkenberg were third and fourth respectively, ahead of Button, and the twin Red Bulls of Vettel and Ricciardo. Three-stopping Massa and Bottas were eighth and ninth, ahead of Alonso, who had also opted for a three-stop race.
The Safety Car came in at the end of lap 46 and the battle between the leading Mercedes duo began in earnest, as did the tussle between the Force Indias, with Perez robustly fending off a move by Hulkenberg into turn one. Ahead, Hamilton retained his lead.
Further back the Red Bulls both passed Button, who dropped to seventh. He was soon dumped to eighth as Massa too swept past.
A battle then developed between Ricciardo and Vettel with the Australian eventually muscling past the champion on lap 50 after they had swapped position several times. Ricciardo then set off after Hulkenberg and eventually reeled in and passed the German on lap 54, claiming fourth place.
At the front the leaders were tussling again, with Rosberg continually probing, prodding and looking to seize on the slightest error from Hamilton. The Briton was inch perfect, however, and Rosberg could find nothing to exploit as he attempted to take the lead.
And that was how the order remained over the closing laps, with Hamilton successfully fending off Rosberg to take his second win of the year. Behind them Perez took his first podium finish since the Italian Grand Prix of 2012.
Ricciardo delivered a superb drive to covert a 13th-place start into fourth position for Red Bull, while Hulkenberg was fifth in the second Force India.
Champion Sebastian Vettel, claiming to be down on power, defended well to take sixth ahead of the Williams cars of Massa and Bottas. The final two points positions were taken by the Ferraris of Fernando Alonso and Kimi Raikkonen.

2014 Bahrain Grand Prix – Race Result
1 Lewis Hamilton Mercedes 57 Winner 2 25
2 Nico Rosberg Mercedes 57 +1.0 secs 1 18
3 Sergio Perez Force India-Mercedes 57 +24.0 secs 4 15
4 Daniel Ricciardo Red Bull Racing-Renault 57 +24.4 secs 13 12
5 Nico Hulkenberg Force India-Mercedes 57 +28.6 secs 11 10
6 Sebastian Vettel Red Bull Racing-Renault 57 +29.8 secs 10 8
7 Felipe Massa Williams-Mercedes 57 +31.2 secs 7 6
8 Valtteri Bottas Williams-Mercedes 57 +31.8 secs 3 4
9 Fernando Alonso Ferrari 57 +32.5 secs 9 2
10 Kimi Räikkönen Ferrari 57 +33.4 secs 5 1
11 Daniil Kvyat STR-Renault 57 +41.3 secs 12
12 Romain Grosjean Lotus-Renault 57 +43.1 secs 16
13 Max Chilton Marussia-Ferrari 57 +59.9 secs 21
14 Pastor Maldonado Lotus-Renault 57 +62.8 secs 17
15 Kamui Kobayashi Caterham-Renault 57 +87.9 secs 18
16 Jules Bianchi Marussia-Ferrari 56 +1 Lap 19
17 Jenson Button McLaren-Mercedes 55 +2 Laps 6
Ret Kevin Magnussen McLaren-Mercedes 40 +17 Laps 8
Ret Esteban Gutierrez Sauber-Ferrari 39 Accident 15
Ret Marcus Ericsson Caterham-Renault 33 +24 Laps 20
Ret Jean-Eric Vergne STR-Renault 18 +39 Laps 14
Ret Adrian Sutil Sauber-Ferrari 17 +40 Laps 22