Hamilton victorious in Hungary
McLaren driver takes his second win of the season at the Hungarian GP, despite pressure from Lotus' Kimi Raikkonen.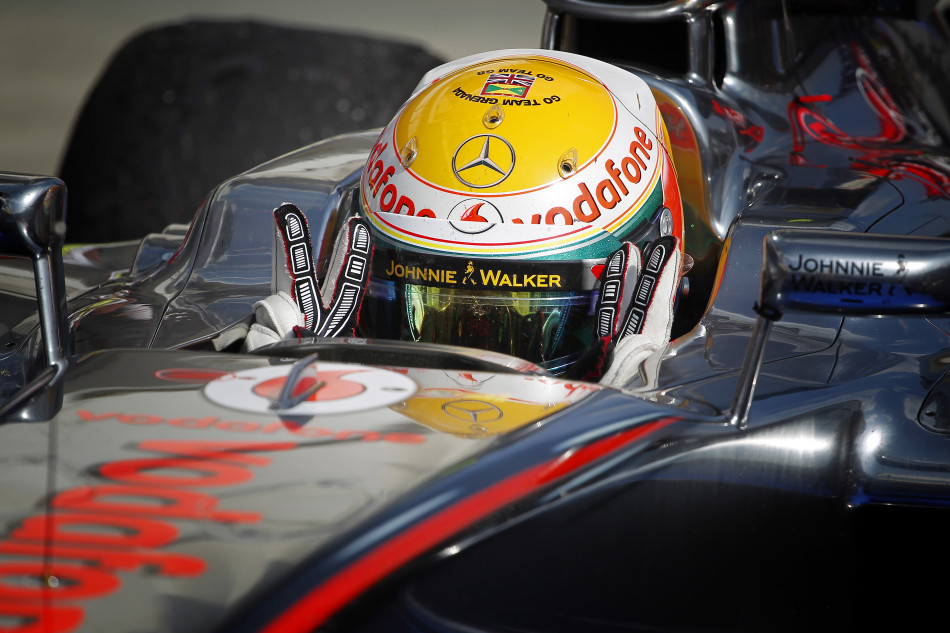 Lewis Hamilton powered to his second win of the season at the Hungarian Grand Prix, fending off late pressure from Lotus' Kimi Raikkonen. The Finn's team-mate Romain Grosjean was third, with Sebastian Vettel finishing fourth.
Pole winner Hamilton made a good getaway, leaving Grosjean standing at the lights, which led to the Lotus driver being immediately put under pressure by Vettel. The Red Bull Racing man couldn't make the move stick however, and as the pair went wide on the exit, Jenson Button was allowed to sneak through on the inside and steal third. Raikkonen, starting fifth, had got away badly and was passed by Fernando Alonso. 
 
That was the shape of things for the first two thirds of the race, with Grosjean staying in touch with Hamilton throughout, the gap ebbing and flowing as the first two stints went on.
 
But the complexion of the grand prix changed at the end of the second stint. Midway through the second stint, Raikkonen was told that he would have to go long on his option soft tyres in the hope he would gain ground on his rivals. The Finn complied and despite changing his car settings to preserve his tyres, he continued to put in competitive times. And as the cars ahead encountered traffic the race suddenly swung Raikkonen's way. 
 
The 2007 champion pitted for medium tyres and when he emerged he found himself alongside Romain Grosjean and battling for second. He brusquely shouldered his team-mate aside and took off in pursuit of Hamilton.
 
Initially, it looked like that chase might also go the Finn's way. Lapping almost half a second quicker than the McLaren driver he closed to within a second and it looked like he would get a chance to make an assault on Hamilton's lead. 
 
However, with the McLaren driver carefully managing his tyres and Raikkonen struggling in the messy wake left by his rival's car, an opportunity never presented itself and Hamilton cruised to his 19th career win. 
 
"These are the kind of grands prix you really enjoy winning – races where you're under intense pressure from great drivers like Romain and Kimi," said Hamilton. "This is the kind of day when you have to have your mind 100 per cent [focused] and I feel great because the team didn't flinch and neither did I."
 
The McLaren driver insisted, however, that he was never under threat from Raikkonen.
 
"He was never really close enough," he said. "I purposely allowed him to close up in certain corners, so that he may have problems with his tyres eventually – but it didn't look like it was going to happen. But I had to make sure I saved my speed for the last sector and made sure I drew a big enough gap in the last three corners and I did that every lap. I could see it was very difficult for them to follow, particularly through those areas, so it was important to make sure you maximise, especially with the DRS."
 
Raikkonen was left with the consolation of his fifth podium finish of the year and admitted that it had been a struggle to get close to Hamilton.
 
"My only chance was that he would run out of the tyres and then you will have a chance – but that never happened, so we probably should have had 20 more laps – and then it would have happened. I didn't win, so there's no point worrying about it." 
 
Grosjean, meanwhile, settled for a somewhat disappointing third place, the Frenchman complaining that he had been badly held up by back markers in the period before he was passed by Raikkonen. 
 
"I got stuck behind another car, which had been [blue] flagged but didn't let me past in this lap: I lost 1.5 seconds," he said. "I wasn't very happy at that stage to be honest because I had been fighting for the win the whole race with Lewis and suddenly you get stopped by something you cannot really manage. 
 
"Basically it was close with Kimi," he added. "He did what he had to do to not let me pass. I went a little bit on the outside and got the marbles on the tyres and then I struggled to recover. It is what it is."
 
Vettel took fourth place after a nip and tuck battle with Button in the opening two stints. After being eclipsed at the start, Button led the pair for most of the race, despite Vettel insisting to his team that he had the faster car and that they needed to do something. In the end they didn't need to. Button made his second stop and emerged eighth behind the slower Bruno Senna. 
 
That was enough to buy Vettel the time he needed and after his own stop he emerged in front of Button and settled into fourth place, which he held until the flag. 
 
With Fernando Alonso fifth, Button sixth and Senna seventh, eighth place went to Mark Webber. The Australian, who had started 11th, ran as high as fifth in the closing stages but need to make a third stop and dropped back behind Senna whom he was unable to pass. 
 
Felipe Massa finished ninth and Nico Rosberg, who salvaged some pride for Mercedes after a dismal weekend, took the final point. 
 
After seeing neither of its drivers make Q3 on Saturday the team's race went wrong even before the start. Michael Schumacher stalled on the grid and had to be pushed back to his pit box to start the race from pit lane. On his exit he was penalised for speeding in the pit lane and eventually retired after 58 laps.