Hamilton takes over at the top at Silverstone
Briton outpaces team-mate Rosberg before encountering mechanical troubles.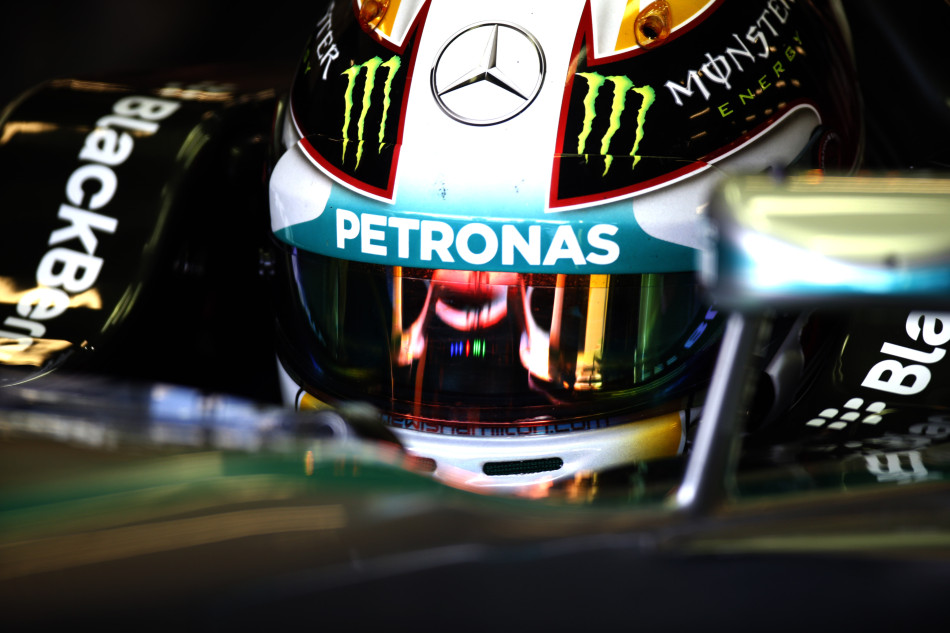 Lewis Hamilton replaced team-mate Nico Rosberg at the top of the Silverstone time sheets before being sidelined by mechanical issues.
Hamilton's best time of 1:34.508 came early in the session while the teams were testing out Pirelli's medium compound tyre. His time was 0.228 ahead of Rosberg's best. The Briton's session came to an end with 30 minutes left on the clock, however, when his Mercedes engine shut down, forcing him to pull over.
Fernando Alonso was third fastest, just under three quarters of a second down on Hamilton's best, with Red Bull Racing's Daniel Ricciardo fourth. The Australian's best time was set on the hard compound, however, with the driver telling his team that he could not make any improvement on the medium tyre as he could not get the front tyres up to the right temperature.
Sebastian Vettel was fifth quickest, just a tenth behind his Red Bull Bull team-mate, though the champion's time was set on medium rubber.
Valtteri Bottas was sixth for Williams, the Finn claiming his car back from Susie Wolff who made a brief appearance in the morning session before being sidelined by an oil pressure problem. Bottas's session wasn't without its problems, however, and he was forced to return to pits at one stage when his engine cover began to detach from his car.
Jenson Button took seventh place, just seven hundredths of a second clear of team-mate Kevin Magnussen, while Kimi Raikkonen was ninth for Ferrari.
The final top-10 place was taken by Jean-Eric Vergne, though the Toro Rosso did suffer a mid-session incident in which his left front wheel became loose and he had to stop in an escape road just before the wheel detached.

2014 British Grand Prix – Free Practice 2 Times
1 Lewis Hamilton Mercedes 1:34.508 14
2 Nico Rosberg Mercedes 1:34.736 0.228 35
3 Fernando Alonso Ferrari 1:35.244 0.736 32
4 Daniel Ricciardo Red Bull Racing 1:35.511 1.003 11
5 Sebastian Vettel Red Bull Racing 1:35.627 1.119 27
6 Valtteri Bottas Williams 1:36.016 1.508 33
7 Jenson Button McLaren 1:36.228 1.720 34
8 Kevin Magnussen McLaren 1:36.299 1.791 35
9 Kimi Räikkönen Ferrari 1:36.554 2.046 29
10 Jean-Eric Vergne Toro Rosso 1:36.583 2.075 26
11 Felipe Massa Williams 1:36.671 2.163 29
12 Daniil Kvyat Toro Rosso 1:36.778 2.270 31
13 Esteban Gutierrez Sauber 1:36.951 2.443 35
14 Pastor Maldonado Lotus 1:37.064 2.556 35
15 Romain Grosjean Lotus 1:37.097 2.589 33
16 Sergio Perez Force India 1:37.236 2.728 37
17 Nico Hulkenberg Force India 1:37.449 2.941 27
18 Adrian Sutil Sauber 1:37.520 3.012 25
19 Jules Bianchi Marussia 1:38.658 4.150 11
20 Kamui Kobayashi Caterham 1:39.068 4.560 31
21 Max Chilton Marussia 1:39.224 4.716 28
22 Marcus Ericsson Caterham 1:39.762 5.254 21