Hamilton quickest as Monaco GP weekend gets underway
Championship leader edges out team-mate Nico Rosberg with Red Bull Racing's Daniel Ricciardo third.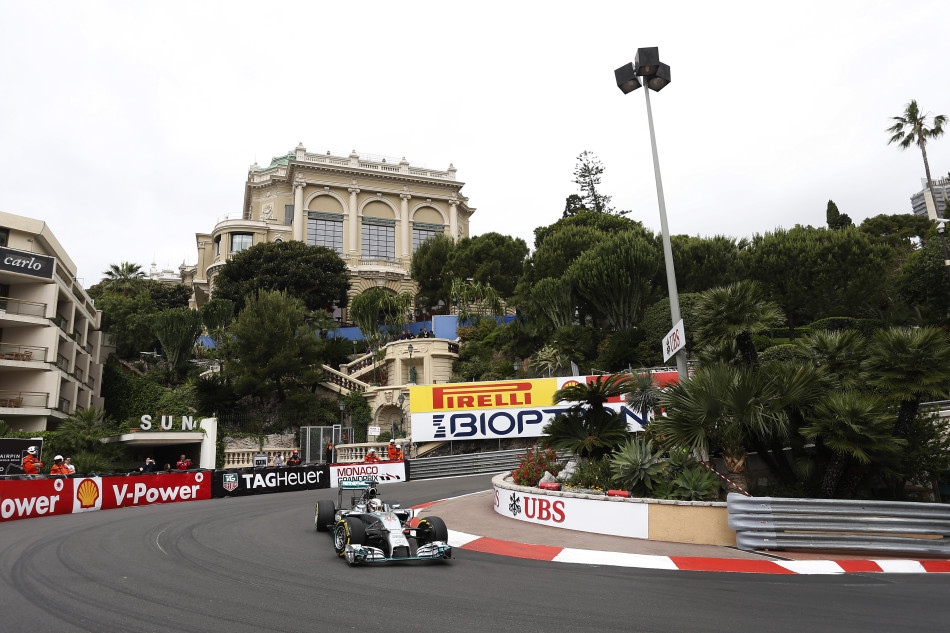 Mercedes were fastest in the first practice session ahead of the Monaco Grand Prix, with Lewis Hamilton claiming top spot, just three hundredths of a second ahead of team-mate Nico Rosberg. Daniel Ricciardo was third for Red Bull Racing.
There was little to separate the Mercedes pair as they traded fastest laps through the session but at the end of the 90 minutes it was Hamilton who took the honours, his lap of 1:18.271 good enough to relegate Rosberg to second spot.
Ricciardo, a two-time winner here in Formula Renault 3.5, in 2010 and 2011, finished just over two tenths adrift of Hamilton's best time. The Australian's team-mate Sebastian Vettel, a Monaco winner in 2011, was fifth-fastest, half a second down on Ricciardo.
The Red Bull Racing duo were split by Fernando Alonso. The Ferrari driver, who was four tenths of a second behind Ricciardo, had a nervous moment late in the session when he outbraked himself at the Mirabeau corner and was forced to take an escape road before reversing back onto the circuit.
The corner caught a number of drivers out during the session, with Sauber's Adrian Sutil hitting the barriers there in the final 15 minutes of the session. Max Chilton had earlier hit the wall in the same spot to bring his session to an early end.
Kimi Räikkönen took sixth in the second Ferrari, ahead of Williams' driver Valtteri Bottas.
Force India saw both cars finish in the top ten, with Sergio Pérez eighth and Nico Hulkenberg tenth. They were separated by McLaren's Kevin Magnussen.

2014 Monaco Grand Prix – Free Practice 1 Times
1 Lewis Hamilton Mercedes 1:18.271 32
2 Nico Rosberg Mercedes 1:18.303 0.032 31
3 Daniel Ricciardo Red Bull Racing 1:18.506 0.235 37
4 Fernando Alonso Ferrari 1:18.930 0.659 31
5 Sebastian Vettel Red Bull Racing 1:19.043 0.772 33
6 Kimi Raikkonen Ferrari 1:19.467 1.196 31
7 Valtteri Bottas Williams 1:19.494 1.223 31
8 Sergio Perez Force India 1:19.666 1.395 29
9 Kevin Magnussen McLaren 1:19.789 1.518 29
10 Nico Hulkenberg Force India 1:19.856 1.585 38
11 Jenson Button McLaren 1:20.033 1.762 35
12 Esteban Gutierrez Sauber 1:20.118 1.847 33
13 Romain Grosjean Lotus 1:20.207 1.936 33
14 Pastor Maldonado Lotus 1:20.241 1.970 38
15 Jean-Eric Vergne Toro Rosso 1:20.260 1.989 36
16 Felipe Massa Williams 1:20.517 2.246 25
17 Adrian Sutil Sauber 1:20.736 2.465 28
18 Daniil Kvyat Toro Rosso 1:20.914 2.643 37
19 Marcus Ericsson Caterham 1:22.063 3.792 40
20 Kamui Kobayashi Caterham 1:22.492 4.221 38
21 Jules Bianchi Marussia 1:31.310 13.039 27
22 Max Chilton Marussia 1:35.817 17.546 7