Hamilton on pole for German Grand Prix
Surprise at the Nürburgring as Mercedes driver overcomes poor practice form to take top spot.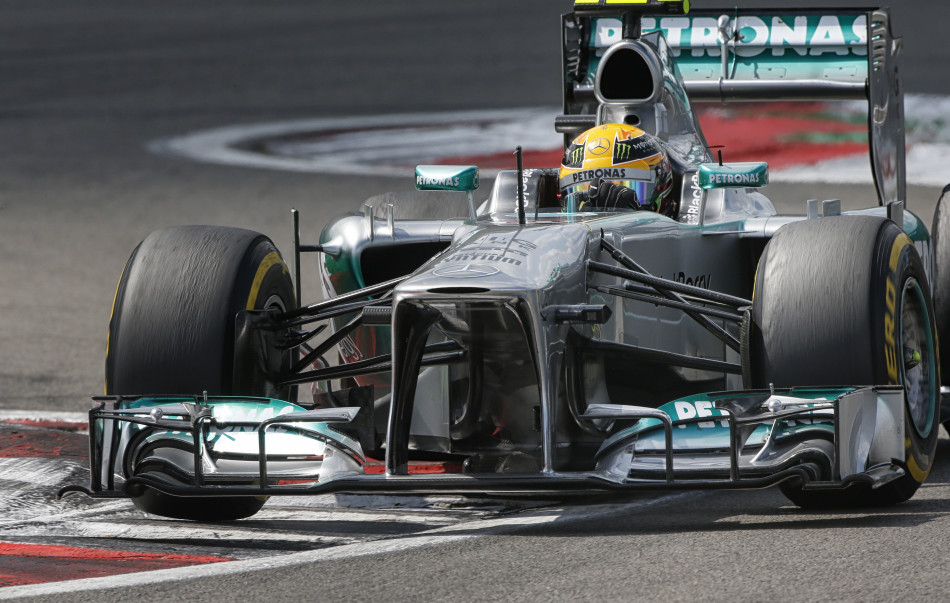 Lewis Hamilton will start from the front of the Nürburgring grid thanks to a last-gasp lap that snatched pole position away from home favourite Sebastian Vettel.
As has been the case right through the first half of the 2013 F1 season, pole position for the German Grand Prix was a battle-royal between Mercedes and Red Bull Racing. At the last Hamilton grabbed pole from Vettel by a tenth of a second, with Mark Webber a further tenth back. The two teams looked strong throughout the hour and provided the only runners capable of making it out of Q1 on the much-slower medium compound Pirelli.
With Germany hosting the ninth round of the 2013 F1 World Championship, the list of pole position winners now has a pleasing symmetry to it, with Hamilton joining team-mate Nico Rosberg and Vettel on three poles each. However, the Briton had looked a long-shot at the start of the session, having endured a rough FP2 and FP3 in which he struggled to get his car to perform.
"I just hoped that it would work and fortunately the car was beneath me."
Lewis Hamilton
"We were miles off!" he said in the post-qualifying FIA press conference. "I was a good eight-tenths of a second off, I wasn't comfortable with the car at all. We went back into the truck and we just worked hard, tried to analyse everything and made lots and lots of changes. I just hoped that it would work and fortunately the car was beneath me and I was able to put in the times we did."
Despite failing to secure top spot in front of a partisan audience at his home grand prix, Vettel did not look too disconsolate.
"It looks like we are much closer to them here than we were in Silverstone so I think we've made some progress and have all confidence for tomorrow," he said. "We had a good run yesterday, looking at the race. I think we did our homework and now, obviously, it's up to us."
"I was really shocked when I saw the times falling in Q2 today and realised that I was in P11."
Nico Rosberg
In the opening session the drivers from Williams, Caterham and Marussia were eliminated without fanfare. Q2 offered up a lot more excitement. As the clock wound down, Rosberg remained in the garage, apparently confident that his earlier lap of 1:30.326 would beat the cut-off but in the closing stages, with the chequered flag flying and the track improving, McLaren's Jenson Button pushed Rosberg out to 11th, posting a time of 1:30.269.
It was a major blow to Rosberg who would have been readying himself for a tilt at a fourth pole of the season. "I was really shocked when I saw the times falling in Q2 today and realised that I was in P11," he said. "I didn't see it coming and we just underestimated how much the track would ramp up in terms of grip and lap time. I could have been on the front row today."
Eliminated with Rosberg were the Force Indias of Paul di Resta and Adrian Sutil, McLaren's Sergio Pérez, Esteban Guiterrez for Sauber and Toro Rosso's Jean-Eric Vergne.
The drivers making it through to Q3 had a difficult choice to make: run or not run? While pole position would be set on the soft tyre, practice demonstrated that the medium compound was by far the stronger race tyre. Many cars kept their options open by doing outlaps but in the end only six cars continued on to set times on the soft tyre. Behind the top three Kimi Räikkönen took fourth, only hundredths of a second ahead of team-mate Romain Grosjean, and Toro Rosso's Daniel Ricciardo qualified sixth for the second weekend in a row.
As the end of the session approached, Ferrari decided to set lap times on the medium tyre, with Felipe Massa beating out team-mate Fernando Alonso by less than a tenth. They will line up seventh and eight. Behind them McLaren's Jenson Button did not set a time and will start ninth, with Sauber's Nico Hülkenberg alongside in tenth.
2013 German Grand Prix qualifying times
1 Lewis Hamilton Mercedes 1:29.398
2 Sebastian Vettel Red Bull Racing 1:29.501
3 Mark Webber Red Bull Racing 1:29.608
4 Kimi Räikkönen Lotus 1:29.892
5 Romain Grosjean Lotus 1:29.959
6 Daniel Ricciardo Toro Rosso 1:30.528
7 Felipe Massa Ferrari 1:31.126
8 Fernando Alonso Ferrari 1:31.209
9 Jenson Button McLaren No time
10 Nico Hülkenberg Sauber No time
11 Nico Rosberg Mercedes 1:30.326
12 Paul di Resta Force India 1:30.697
13 Sergio Pérez McLaren 1:30.933
14 Esteban Gutiérrez Sauber 1:31.010
15 Adrian Sutil Force India 1:31.010
16 Jean-Eric Vergne Toro Rosso 1:31.104
17 Valtteri Bottas Williams 1:31.693
18 Pastor Maldonado Williams 1:31.707
19 Charles Pic Caterham 1:32.937
20 Jules Bianchi Marussia 1:33.063
21 Giedo van der Garde Caterham 1:33.734
22 Max Chilton Marussia 1:34.098