Hamilton on pole in Brazil
McLaren lock-out the Interlagos front row but in the championship battle Sebastian Vettel qualifies four places higher than Fernando Alonso.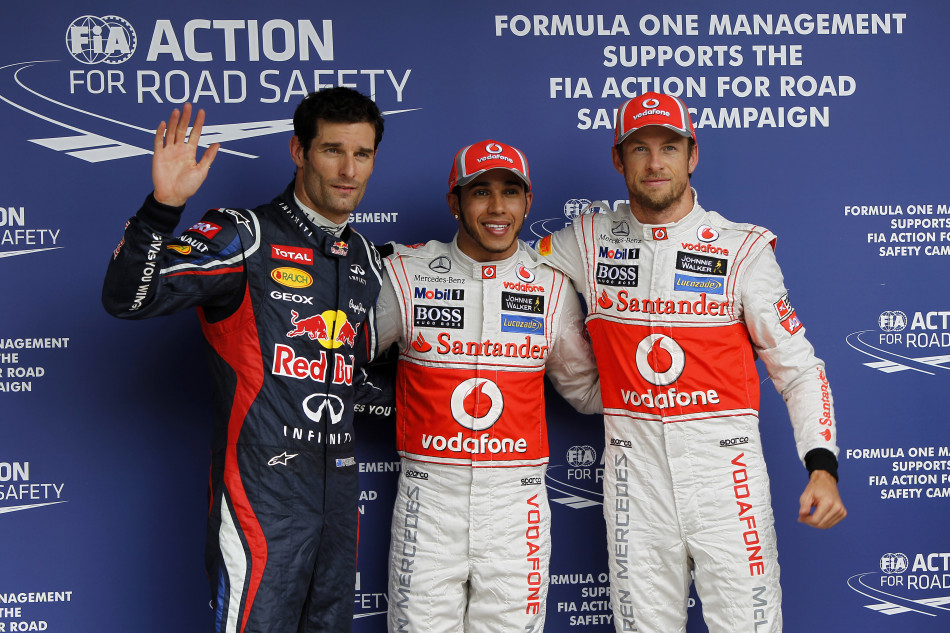 Having been quickest in every session so far it wasn't unexpected that a McLaren would take pole position for the Brazilian Grand Prix. The only question was which one. In the end Lewis Hamilton beat Jenson Button by less than a tenth of a second. Mark Webber will line up third on the track where he's won twice in the past three years and Sebastian Vettel was fourth – but all that really matters for tomorrow is that he's got a gap between himself and Fernando Alonso who lines up eighth. 
"It's quite exciting for two people, their stress levels are going to be through the roof."
Jenson Button
Rain was expected to play a part today and it did – though mostly by its absence: a shower briefly hit the track half an hour before the session beg but the circuit dried before the session began. Nico Hülkenberg tried a lap with the Inters but aborted that run – it wasn't wet enough. In fact the track was drying quickly in the warm São Paulo air. When the session began the times were around six seconds off those set in morning practice, the gap narrowed minute by minute.
Confident more rain would not fall, the big guns all held their fire until the second half of the session, going out with around seven minutes remaining. Interlagos is a short lap: they had plenty of time for a four or five lap stint, and they took advantage of that. With the track picking up speed everyone ran to the flag. That created it's own problems: Interlagos is narrow and Romain Grosjean was caught out, losing a front wing trying to pass Pedro de la Rosa's HRT. The Lotus driver had time to come in for a new nose and return to the action, but he could do no better than 18th. Eliminated with him were Petrov, Kovalainen, Glock, Pic, Karthikeyan and de la Rosa. Hamilton was the pick of the bunch, finishing the session in P1 with a time of 1:15.015, roughly a second off a hard tyre time from free practice.
If rain was on the way there would have been a mad dash to the end of the pitlane before the start of Q2. Obviously it wasn't threatening because the both McLarens and Red Bulls elected to sit tight and watch their peers. At the halfway mark Alonso was fastest with 1:14.288 but at that point Hamilton, Button, Vettel and Alonso were just pulling on their gloves and preparing to run. They went out and duly slotted into the first four positions. This time Vettel gained the upper hand, eight-hundredths quicker than Hamilton. Game on. Eliminated were Di Resta, Senna, Pérez, Schumacher, Kobayashi, Ricciardo and Vergne. Felipe Massa looked like he was heading for the exit but just squeaked through on his last lap by a couple of hundredths.
"We need to keep our eyes open tomorrow and be ready for everything because that's what can happen around here. It's going to be a good final grand prix of the year."
Mark Webber
Q3 began with only Nico Rosberg interested in lapping but soon afterward the bulk of the fielded rolled out though Kimi Räikkönen and Nico Hülkenberg elected to keep their powder dry, Pastor Maldonado did an outlap but returned to the garage, and of the remaining seven, Hamilton was quickest of all, followed by Button, Webber, Massa, Alonso, Vettel and Rosberg. But this was only the hors d'oeuvre: after a brief visit to the pitlane the field reassembled with two minutes left on the clock. With the chequered flag flying, times came thick and fast. Webber took provision pole, then was knocked off by Hamilton, then Button grabbed P2 pushing the Australian down to third. Meanwhile Fernando Alonso had come through more than half a second off the pace. All eyes were on Vettel, he was setting his personal best sector times but crucially not challenging the leaders for ultimate pace. The last to cross the line he could do no better than fourth. That is his worst performance in qualifying since Monza – but crucially it was better than Alonso who could do no better than eighth – though that improved to seventh when Pastor Maldonado was penalized for this third reprimand of the season – the latest for missing a visit to the weighbridge – and demoted ten places.
It's McLaren's first front-row lock-out since Monza and given both drivers have looked the quicker at various times in practice, both will be confident of a first Brazilian Grand Prix victory. "We both want to win the race tomorrow, that's the aim for both of us," said Button afterwards in the FIA press conference. " The car seems to be working very well in the dry, our long-run pace is pretty good, but there's a massive chance of rain tomorrow and that just throws it up in the air for us, it's quite exciting for two people, their stress levels are going to be through the roof."
We've just set the car to attack the qualifying and we don't know what the hell is going to happen tomorrow."
Lewis Hamilton
"We need to keep our eyes open tomorrow and be ready for everything because that's what can happen around here," added Webber. "It's going to be a good final grand prix of the year."
The final order on the grid has Hamilton and Button on row one, followed by Vettel and Webber on two. Felipe Massa was fifth, continuing his fine end of season form, and alongside him will be Pastor Maldonado. Nico Hülkenberg is ahead of Alonso on row four, while Kimi Räikkönen and Rosberg complete the top ten.
The talk of rain always brings with it questions of setup but a delighted Hamilton dismissed those: "Generally nowadays you don't even really have much of a wet set-up. We've just set the car to attack the qualifying and we don't know what the hell is going to happen tomorrow."