Hamilton outpaces Rosberg at the Hungaroring
Mercedes top first practice in Hungary ahead of the Ferraris of Raikkonen and Alonso.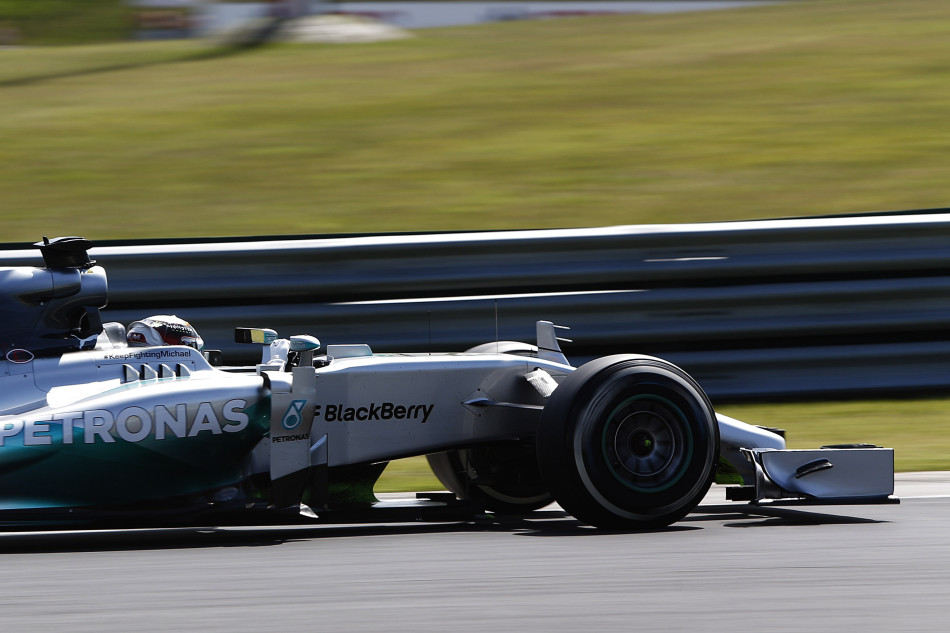 Mercedes Lewis Hamilton went quickest in the opening practice session of the Hungarian Grand Prix weekend, beating team-mate Nico Rosberg to top spot by just under two tenths of a second.
Hamilton recorded a best lap of 1:25.814 to outpace Rosberg by 0.183s. Kimi Raikkonen was third for Ferrari with a time of 1:26.421, six tenths down on Hamilton. On a decent morning for Ferrari, Fernando Alonso was fourth, a further four tenths back. Red Bull Racing's Sebastian completed the top five, though he was a further four tenths back and 1.4s adrift of the best Mercedes time.
Kevin Magnussen took sixth spot for McLaren ahead of Jean-Eric Vergne's Toro Rosso, the second Red Bull of Daniel Ricciardo, and the second McLaren of Jenson Button.
Following his second-place finish at last weekend's German Grand Prix, Williams' Valtteri Bottas said the tight and twisting Hungaroring circuit might be "a bit difficult for us" and this morning team-mate Felipe Massa finished in 10th place, with Bottas only 15th, behind Esteban Gutierrez in the best of the Saubers in P11, Nico Hulkenberg's Force India, Daniil Kvyat's Toro Rosso, and Pastor Maldonado in the best of the Lotus cars.

2014 Hungarian Grand Prix – Free Practice 1 Times
1 Lewis Hamilton Mercedes 1:25.814 27
2 Nico Rosberg Mercedes 1:25.997 0.183 31
3 Kimi Räikkönen Ferrari 1:26.421 0.607 29
4 Fernando Alonso Ferrari 1:26.872 1.058 23
5 Sebastian Vettel Red Bull Racing 1:27.220 1.406 28
6 Kevin Magnussen McLaren 1:27.357 1.543 28
7 Jean-Eric Vergne Toro Rosso 1:27.683 1.869 30
8 Daniel Ricciardo Red Bull Racing 1:27.782 1.968 16
9 Jenson Button McLaren 1:27.804 1.990 27
10 Felipe Massa Williams 1:27.960 2.146 24
11 Esteban Gutierrez Sauber 1:27.967 2.153 25
12 Nico Hulkenberg Force India 1:28.101 2.287 28
13 Daniil Kvyat Toro Rosso 1:28.208 2.394 32
14 Pastor Maldonado Lotus 1:28.266 2.452 28
15 Valtteri Bottas Williams 1:28.330 2.516 21
16 Sergio Perez Force India 1:28.376 2.562 24
17 Romain Grosjean Lotus 1:28.593 2.779 24
18 Adrian Sutil Sauber 1:29.025 3.211 23
19 Kamui Kobayashi Caterham 1:30.363 4.549 30
20 Marcus Ericsson Caterham 1:30.892 5.078 24
21 Max Chilton Marussia 1:31.004 5.190 5
22 Jules Bianchi Marussia 1:31.248 5.434 20