Hamilton leads Mercedes one-two finish in Malaysia
Dominant Mercedes duo claim marque's first one-two finish since 1955 Italian Grand Prix, as Vettel finishes third.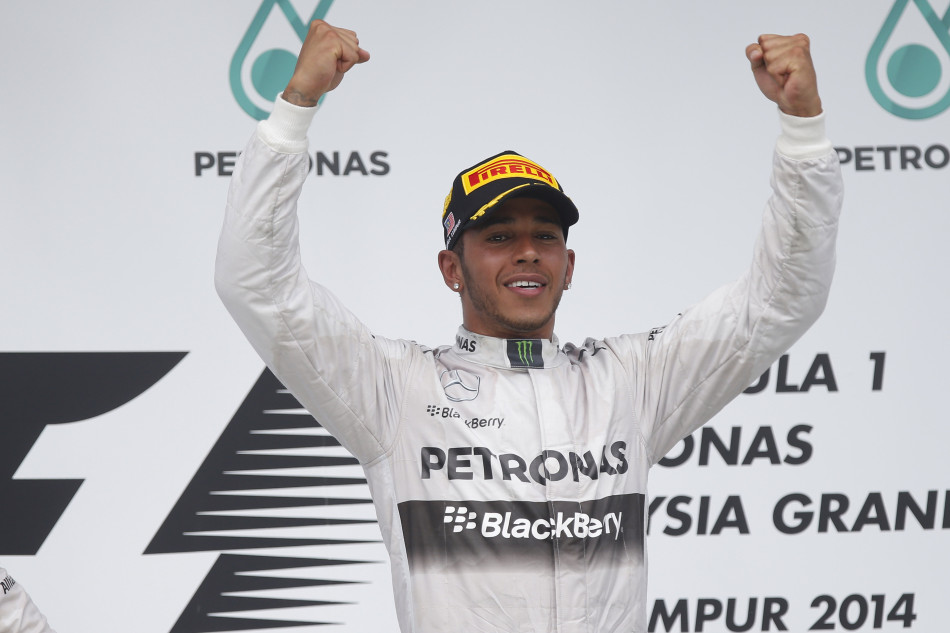 Lewis Hamilton took his first victory of 2014, with Nico Rosberg finishing second to hand Mercedes its first one-two finish since the 1955 Italian Grand Prix. Sebastian Vettel finished third for Red Bull Racing.
After starting from pole Hamilton dominated the race, eventually claiming his 23rd career win some 17 seconds ahead of his team-mate.
"I'm incredibly happy," said Hamilton afterwards. "It's my eighth year here and I finally got that win. I really just owe it all to the team. They did a fantastic job, the guys back at the factory have been pushing non-stop to get the car to where it is. To get a one-two… it's quite special when you get a one-two. I've not had many in my career and so that makes it even more special. A great day."
Hamilton, starting from pole position, comfortably held his lead away from the lights, but Vettel, who had started second, was surprised by the hard-charging Rosberg. The Red Bull Racing driver attempted to close the door by forcing Rosberg towards the track limits but the Mercedes driver to sneak past and took second.
Daniel Ricciardo also profited at the start. From fifth on the grid he first muscled past Fernando Alonso to claim fourth and then found a way by Vettel as the German tussled with Rosberg who made a mistake in turn three.
Behind them, Alonso was down to fifth and being harried by Force India's Nico Hulkenberg, a battle that would be reversed later in the race.
It was Alonso's Ferrari team-mate Kimi Raikkonen who was in the bigger trouble however. The Finn had a right rear puncture, caused in a coming together with Kevin Magnussen's McLaren. Raikkonen limped back to the pits for a replacement but Magnussen, with front wing damage, stayed out and was soon stable in eighth place behind team-mate Jenson Button.
Vettel, meanwhile, was soon making his way back up the order, comfortably passing Ricciardo for third position.
At the front, though, Hamilton was carving out an impressive lead. With just nine laps on the board, the Mercedes driver had a 5.4-second advantage over team-mate Rosberg, who in turn had 3.8 seconds in hand over Vettel.
Magnussen headed to the pits at the end of the same lap for new tyres and a new nosecone but almost as soon as the Dane rejoined the race he was hit with a five-second stop/go penalty for causing the collision with Raikkonen at the start.
Kvyat was the next man into the pit lane, the Toro Rosso driver making his first stop at the end of lap 10. That triggered the first round of visits to the pit lane for new rubber. Alonso pitted on lap 11 for medium tyres and he was followed a lap later by Ricciardo and Williams' Felipe Massa.
Ricciardo emerged into the path of Alonso and the two battled hard through the next few corners before the Red Bull Racing driver gained the upper hand. Vettel pitted from third place on lap 13, again for mediums, and came out just ahead of his team-mate, who immediately tucked in behind the champion.
At the front, Hamilton pitted at the end of lap 15 and when Nico Hulkenberg pitted on lap 16, the order had become Hamilton, followed 9.4 seconds later by Rosberg and then Vettel a further 1.9s back. Ricciardo was comfortable in fourth ahead of Alonso, with Hulkenberg sixth. Almost 10 seconds further back was Button, with Massa eighth, ahead of Toro Rosso's Daniil Kvyat and the second Williams of Valtteri Bottas.
Following the second round of stops, again triggered by Kvat on lap 22, Vettel closed right up on second-placed Rosberg. On lap 35 the gap between the two dropped to half a second and Vettel surely thought he'd have a chance of reclaiming second. The Mercedes driver responded, however, and within two laps he'd opened up his advantage to 1.2s.
"At some stage it looked like we were pretty evenly matched but then it was like he found another gear, he was just pulling away," said Vettel. "In the end I was just trying to get the car home."
Behind the pair Alonso, in fifth. was beginning to reel in Ricciardo, his deficit to the Red Bull Racing car dropping to 1.5s by lap 38. Pace wasn't what promoted the Ferrari driver past the Australian, however.
On lap 40 Ricciardo headed to pit lane for his final stop but his crew failed to correctly attach his front left wheel. The Australian halted in the pit lane and called for the crew to bring him back. They did so, but in the confusion Ricciardo's front wing was damaged by a jack and soon after he rejoined the race his wing broke and began to cut through his front right tyre.
He returned to the pit lane again for repairs but his woes didn't end there. He went out again but was soon handed a 10-second stop/go penalty for an unsafe release. After serving the penalty with his fifth visit of the afternoon to the pit lane he was dropped to 16th place. He eventually retired from the race on lap 50.  
Following the race the stewards also hit Ricciardo with a 10-place grid penalty at next weekend's Bahrain GP.
His misfortune meant that Alonso jumped ahead of the Red Bull driver, but not into fourth place. That was now occupied by Hulkenberg, who was gambling on a two-stop race.
Alonso was over 10 seconds adrift of the Force India driver but with the German's tyres degrading, Alonso swiftly began to close in and with seven laps to go the gap was halved.
Ahead, the front runners were all holding out on medium tyres in the hope that the rain that had been forecast for the end of the race would come. On lap 49 Red Bull Racing blinked and Vettel was called in for the prime hard tyres. Rosberg responded and a lap later he too pitted for the orange banded Pirelli. Race leader Hamilton followed on lap 51.
Alonso, meanwhile, was now hounding Hulkenberg for fourth place and on lap 53, the Spaniard muscled his way past out of turn two. There was a big battle taking place for seventh place between Williams team-mates Massa and Bottas,
The Brazilian was told that the Finn was faster and should be let through but Massa chose not to heed the request and battled hard to keep hold of his six points.
At the front though the Mercedes drivers were cruising. Hamilton was setting fastest laps, 15 seconds ahead of Rosberg, while the German was a comfortable 10 seconds ahead of Vettel and it was in that order that the trio took the flag.
Alonso duly claimed fourth, agead of Hulkenberg, with Jenson Button sixth for McLaren. With Massa finishing ahead of Bottas, the final two points-scoring places were claimed by Magnussen and Kvyat.
2014 Malaysian Grand Prix – Race result
1 Lewis Hamilton Mercedes 56 1:40:25.974 25
2 Nico Rosberg Mercedes 56 +17.3 secs 18
3 Sebastian Vettel Red Bull Racing 56 +24.5 secs 15
4 Fernando Alonso Ferrari 56 +35.9 secs 12
5 Nico Hulkenberg Force India 56 +47.1 secs 10
6 Jenson Button McLaren 56 +83.6 secs 8
7 Felipe Massa Williams 56 +85.0 secs 6
8 Valtteri Bottas Williams 56 +85.5 secs 4
9 Kevin Magnussen McLaren 55 +1 Lap 2
10 Daniil Kvyat Toro Rosso 55 +1 Lap 1
11 Romain Grosjean Lotus 55 +1 Lap
12 Kimi Räikkönen Ferrari 55 +1 Lap
13 Kamui Kobayashi Caterham 55 +1 Lap
14 Marcus Ericsson Caterham 54 +2 Lap
15 Max Chilton Marussia 54 +2 Lap
Ret Daniel Ricciardo Red Bull Racing 49 +7 Lap
Ret Esteban Gutierrez Sauber 35 +21 Laps
Ret Adrian Sutil Sauber 32 +24 Laps
Ret Jean-Eric Vergne Toro Rosso18 +38 Laps
Ret Jules Bianchi Marussia 8 +48 Laps
Ret Pastor Maldonado Lotus 7 +49 Laps
DNS Sergio Perez Force India 0 +56 Laps