Hamilton fastest at slippery KIC
Mercedes driver edges Red Bulls in first Korean Grand Prix practice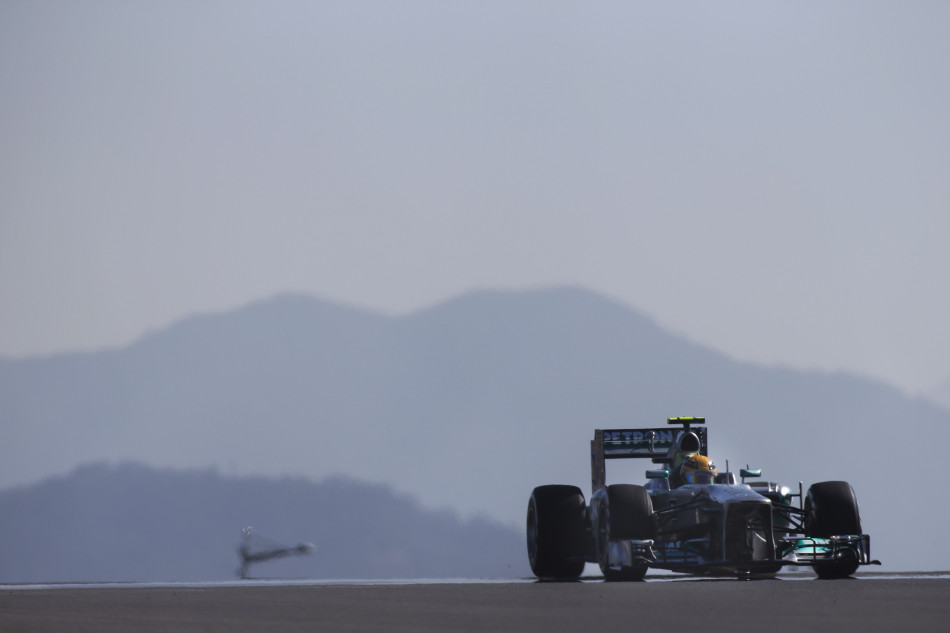 Before the Korean Grand Prix's first free practice session the talk in the F1 paddock was of the track looking very slippery due to its lack of recent use. That proved to be true with a number of drivers having slides and spins in the first 90 minutes of practice. Among those ending up facing the wrong way was Mercedes' Lewis Hamilton – though that did not stop the Briton posting the fastest time of the session.
Hamilton set his time of 1:39.630 shortly before the hour mark. It was enough to keep him ahead of the Red Bulls, though only by a tiny margin. Drivers' Championship leader Sebastian Vettel finished FP1 just four-hundredths of a second adrift, while team-mate Mark Webber was a tenth further back. Behind them Nico Rosberg was fourth quickest in the second Mercedes, ahead of Jenson Button's McLaren. Sixth was Fernando Alonso for Ferrari and behind him the Lotus pair with Romain Grosjean three-tenths faster than Kimi Räikkönen. Sergio Pérez and Felipe Massa, respectively in the second McLaren and Ferrari, completed the top ten.
The session was dominated by teams carrying out aerodynamic work, as has become common in FP1 this year, with cars abundantly smeared with flo-vis paint and carrying various items of testing paraphernalia.
Force India and Marussia also used the session to give their reserve drivers a run, with James Calado substituting for Paul di Resta at the former and Rodolfo González replacing Jules Bianchi at the latter. It was González who made the early running, setting the first time of the day with 1:52.294, 17 minutes in. Others were reluctant to risk their cars so early in the session, and the Venezuelan did little to assuage their doubts with a series of slides, which culminated in a spin at Turn 13 that saw him into the wall and returning to the pits minus the nose of his car.
The track eventually did fill, with, first, Pérez and then Alonso heading the table but at the halfway mark Mercedes and Red Bull were on track. Vettel took P1 before being demoted by Rosberg and then Hamilton. With an hour gone only Hamilton and Webber had broken into the 1m39s, though Vettel would join them as the session drew to its conclusion.
Faster times may have come in the last minute but a heavy impact for Räikkönen brought the yellow flags out shortly before the end. The Finn ran wide in the final section, got onto the kerb, spun and thudded into the barriers. His Lotus sustained considerable damage but he emerged uninjured for a short walk back to his garage.
2013 Korean Grand Prix Free Practice One times
1 Lewis Hamilton Mercedes 1:39.630
2 Sebastian Vettel Red Bull Racing 1:39.667 +0.037
3 Mark Webber Red Bull Racing 1:39.816 +0.186
4 Nico Rosberg Mercedes 1:40.117 +0.487
5 Jenson Button McLaren 1:40.215 +0.585
6 Fernando Alonso Ferrari 1:40.374 +0.744
7 Romain Grosjean Lotus 1:40.396 +0.766
8 Kimi Räikkönen Lotus 1:40.677 +1.047
9 Sergio Pérez McLaren 1:40.860 +1.230
10 Felipe Massa Ferrari 1:40.880 +1.250
11 Nico Hülkenberg Sauber 1:40.899 +1.269
12 Adrian Sutil Force India 1:41.432 +1.802
13 Pastor Maldonado Williams 1:41.482 +1.852
14 Esteban Gutiérrez Sauber 1:41.626 +1.996
15 Jean-Eric Vergne Toro Rosso 1:41.924 +2.294
16 Valtteri Bottas Williams 1:42.002 +2.372
17 Daniel Ricciardo Toro Rosso 1:42.043 +2.413
18 James Calado Force India 1:43.008 +3.378
19 Charles Pic Caterham 1:43.660 +4.030
20 Giedo van der Garde Caterham 1:43.883 +4.253
21 Max Chilton Marussia 1:44.100 +4.470
22 Rodolfo Gonzalez Marussia 1:46.810 +7.180