Hamilton dominates wet qualifying to take China GP pole
Mercedes driver lands third pole position of season, as Ricciardo beats team-mate Vettel to final front row spot.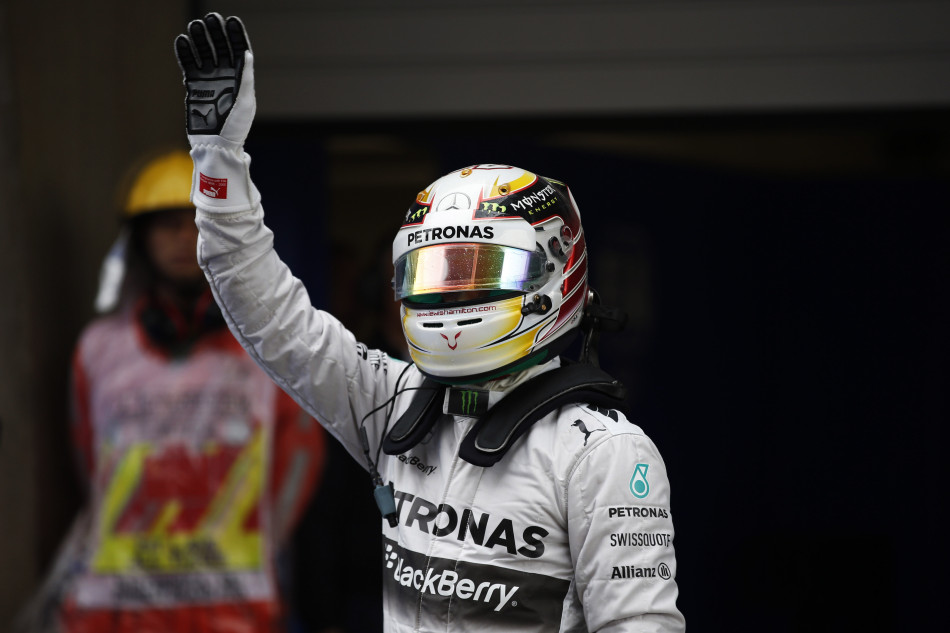 Lewis Hamilton marched to a dominant Chinese Grand Prix pole position at a rain-soaked the Shanghai International Circuit, finishing six tenths clear of Daniel Ricciardo of Red Bull Racing, who in turn beat third-placed team-mate Sebastian Vettel by half a second.
"It was so slippery out there, trying to find the grip, obviously not making mistakes on your lap, and really putting it together, especially when you have these guys [Red Bull] pushing you," he said of third pole position of the season so far. "It was a tough session. I really enjoyed it. The car was feeling great. It's a good position for the race and I hope we can follow through tomorrow."
Ricciardo edged closest to the Briton in the final moments of the session but the Australian admitted afterwards that he had not got the best out of the session.
"To be honest, I struggled a bit throughout the session, at least personally I didn't feel like I was getting on top of the conditions," he said. "But then the last set of inters, right at the end of Q3, we managed to get a bit more out of it and I put a good lap together, so pretty pleased to be on the front row. A good day."
Vettel, meanwhile, finished just under five tenths behind Ricciardo and admitted that the Australian's better record in qualifying so far was far from pleasing.
"Daniel is doing a very good job, he has not just had one good weekend, he had good weekends and so far he seems to be able to get the maximum out of the car," said the defending champion. "On my side, maybe I'm struggling a little bit more, but at the end of the day we have the same car – there's nothing between cars, so if he manages to beat me, then he beats me on the circuit, fair and square. Of course, that's not to my liking but equally, I know that I have to do a little bit better."
Steady rain at the start of the first made wet Pirellis the tyre of choice but as the 18-minute segment reached its final minutes a number of drivers gambled on a switch to intermediate rubber and as the Sauber drivers began to put in good sector times it looked the right move for those who might otherwise be bounced out in Q1.
Toro Rosso's Jean-Eric Vergne made himself safe by jumping to ninth place (which was eventually good enough for 11th) but Sauber's Esteban Gutierrez was the man caught out, the Mexican failing to improve enough. He was pushed to 17th and out of the session by Lotus' Romain Grosjean. Behind Gutierrez, the Caterhams of Kamui Kobayashi (P18) and Marcus Ericsson (P20) and the Marussias of Jules Bianchi (P19) and Max Chilton (P21) were also eliminated. Pastor Maldonado, meanwhile, had already bowed out, Lotus unable to ready his car following the problems that caused him to stop on track during the morning's final practice session.
Intermediates remained the tyre of choice in Q2 too, with all 16 remaining drivers opting for the green-banded Pirellis. The top of the table took on a familiar look as the Mercedes cars of Hamilton and Rosberg occupied first and third places respectively with the Red Bull of Sebastian Vettel and Daniel Ricciardo second and fourth. Ferrari's Fernando Alonso also looked solid, the Spaniard eventually taking fifth spot. Behind that quintet the battle for the remaining top 10 places was a fluid affair, largely dependent on the shifting conditions. Late in the segment, Vergne jumped to seventh spot with a good lap but he was the last driver to make a significant improvement and as the rain briefly intensified in the final minute, other failed to make a similar leap.
It meant that Nico Hulkenberg's earlier lap of 1:58.847 was good enough to see him through in 10th spot, ahead of Felipe Massa, Vergne and the impressive looking Grosjean. However, out went the second Ferrari of Kimi Raikonen (P11), the McLarens of Jenson Button (P12) and Kevin Magnussen (P15), the Toros Rosso of Daniil Kvyat in 13th place and, suprisingly perhaps, the Force Indias of Adrian Sutil (P14) and Sergio Perez (P16).
The left the battle for pole and once again Hamilton was untouchable. The Mercedes driver posted a lap of 1:54.348 with his first run to take provisional pole, with Rosberg slotting into second spot ahead of the Red Bulls. Rosberg then attempted to put pressure on his team-mate but a brief lock-up put paid to that ambition. Ricciardo jumped into P2 with the first lap of his final run but Hamilton's time of 1:53.864 was untouchable and the Briton claimed his third pole of the season.
2014 Chinese Grand Prix – Qualifying Result
1 Lewis Hamilton Mercedes 1:53.860 21
2 Daniel Ricciardo Red Bull Racing-Renault 1:54.455 23
3 Sebastian Vettel Red Bull Racing-Renault 1:54.960 23
4 Nico Rosberg Mercedes 1:55.143 22
5 Fernando Alonso Ferrari 1:55.637 21
6 Felipe Massa Williams-Mercedes 1:56.147 24
7 Valtteri Bottas Williams-Mercedes 1:56.282 24
8 Nico Hulkenberg Force India-Mercedes 1:56.366 23
9 Jean-Eric Vergne STR-Renault 1:56.773 23
10 Romain Grosjean Lotus-Renault 1:57.079 22

11 Kimi Räikkönen Ferrari 1:56.860 17
12 Jenson Button McLaren-Mercedes 1:56.963 17
13 Daniil Kvyat STR-Renault 1:57.289 18
14 Adrian Sutil Sauber-Ferrari  1:57.393 17
15 Kevin Magnussen McLaren-Mercedes 1:57.675 17
16 Sergio Perez Force India-Mercedes 1:58.264 17

17 Esteban Gutierrez Sauber-Ferrari 1:58.988 10
18 Kamui Kobayashi Caterham-Renault 1:59.260 10
19 Jules Bianchi Marussia-Ferrari 1:59.326 10
20 Marcus Ericsson Caterham-Renault 2:00.646 10
21 Max Chilton Marussia-Ferrari 2:00.865 10
DNQ Pastor Maldonado Lotus-Renault No time 0