Hamilton claims fourth win of season in Barcelona
Second place for Rosberg completes fourth consecutive Mercedes 1-2. Red Bulls finish third and fourth.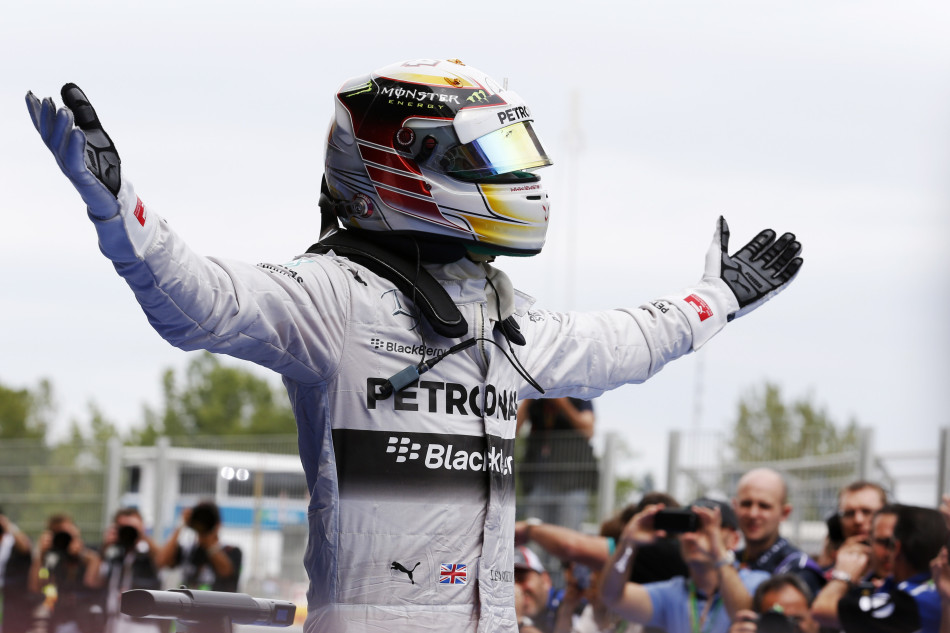 Lewis Hamilton took his fourth straight win of the season fending off a late-race challenge from team-mate Nico Rosberg as the pair sealed Mercedes fourth 1-2 finish in a row.
Red Bull Racing's Daniel Ricciardo was best of the rest, claiming a lonely third, some 50 seconds adrift of Hamilton. Team-mate Sebastian Vettel had a more eventful race, the champion delivering a superb drive to climb from 15th on the grid to fourth place at the chequered flag.
Starting from pole, Hamilton led comfortably through the first stint, though with Rosberg in close attendance. In the duo's first pit stop, however, while Hamilton took on a second set of medium tyres, Rosberg opted for a different strategy, taking on hard tyres in a bid to set himself up for a late charge when Hamilton would be on the slower prime rubber.
Just as in Bahrain Rosberg was indeed the quicker man in the closing stages but whereas that circuit had allowed the German to mount several attacks on his team-mate, Barcelona's hard-to-pass on layout meant that Hamilton was more comfortably able to prevent any attacks taking place.
Afterwards, though, the Briton, whose win now puts him in charge of the Drivers' World Championship, with 100 points to Rosberg's 97, admitted that the German had been faster.
"I wasn't fast enough really today; Nico was quicker," he said. "I struggled a lot with the balance and really had to rely on my engineers a lot more to give me the gaps and to try to find where I could find time. Also, with all my settings, I was moving them up and down, up and down really trying to find extra time. But Nico was just generally quicker this weekend but fortunately I was able to keep him behind. My first win here in Spain, it means everything to me.  "
Rosberg, meanwhile, believed he would have been able to pass his team-mate had the race last a lap longer than the 66 scheduled.
"I think one more to be honest; one more and I could have given it a good go. I wasn't close enough to give it a go there but next lap I would have," he said. "But unfortunately that was it. So, I'm a bit gutted but still, second place, still close to the championship and many more races to go."
Ricciardo's race was a largely solitary affair. Starting third, the Australian made a poor getaway and that allowed William's Valtteri Bottas to move ahead. Ricciardo spent the opening laps chasing down the Finn, only to be told by his pit wall to leave a two-second gap in order to preserve his tyres as they looked to pass the Williams on strategy. Ricciardo, though, sensed an opportunity and made repeated assaults on the Finn only for Bottas to cleverly position his car to fend off the assaults. Eventually Ricciardo relented, informing his crew that he would "cool it for a few laps".
Red Bull then brought Ricciardo into the pit lane early, on lap 14, undercutting Bottas. Ricciardo was then able to use the clear air in front and his greater pace to make the necessary time to pass the Finn when he stopped six laps later.
Thereafter, it was a lonely race for Ricciardo as he looked after his medium compound tyres through a long second stint and then managed the final laps to land his second podium finish of the season, but the first from which he'll take home points after his disqualification at the season opener in Australia.
"They [Mercedes] were a long way ahead," he said. "I think coming into the race today we knew a boring race would be a pretty good one for us. We knew we didn't really have the pace for Mercedes. We looked like a third-place car and in the end that's what it was. We had a pretty comfortable third place and we just had to focus on getting the tyres to last two stops and that was it. Really nice to be on the podium and I'm sure I'll be able to keep it this time."
Early stops were of benefit, too, to Vettel. After qualifying 10th on Saturday when his car suffered a mechanical problem, the defending champion was handed a five-place penalty for the start when the gearbox of his RB10 had to be replaced.
He dropped a place at the start but soon began to move forward. By lap 12 he was up to 13th but he was clearly losing time as he became stuck behind McLaren's Jenson Button.
He dived for the pit, took on hard tyres and then used the clean air the out-of-sequence stop gave him to claw back time on his rivals ahead. The strategy worked well and by the time he started the in-lap ahead of his second stop on lap 32 he was eighth. He then used two rapid stints on the medium tyres to push on and claim the scalps of Ferrari's Kimi Raikkonen and Valtteri Bottas in the closing stages and claim fourth place.
Raikkonen's team-mate Fernando Alonso, also made a three-stop race work and after spending much of the race trailing the Finn. He used the greater pace his fresh mediums gave him to pass his team-mate at the end and take sixth behind Bottas.
With Raikkonen seventh, Romain Grosjean finished an excellent eighth for the improving Lotus team, while the final two points-scoring places were taken by the Force Indias of Sergio Perez in ninth and Nico Hulkenberg in tenth.
2014 Spanish Grand Prix – Race Result
1 Lewis Hamilton Mercedes 66 1:41:05.155 25
2 Nico Rosberg Mercedes 66 +0.6 secs 18
3 Daniel Ricciardo Red Bull Racing 66 +49.0 secs 15
4 Sebastian Vettel Red Bull Racing 66 +76.7 secs 12
5 Valtteri Bottas Williams 66 +79.2 secs 10
6 Fernando Alonso Ferrari 66 +87.7 secs 8
7 Kimi Räikkönen Ferrari 65 +1 Lap 6
8 Romain Grosjean Lotus 65 +1 Lap 4
9 Sergio Perez Force India 65 +1 Lap 2
10 Nico Hulkenberg Force India 65 +1 Lap 1
11 Jenson Button McLaren 65 +1 Lap
12 Kevin Magnussen McLaren 65 +1 Lap
13 Felipe Massa Williams 65 +1 Lap
14 Daniil Kvyat Toro Rosso 65 +1 Lap
15 Pastor Maldonado Lotus 65 +1 Lap
16 Esteban Gutierrez Sauber 65 +1 Lap
17 Adrian Sutil Sauber 65 +1 Lap
18 Jules Bianchi Marussia 64 +2 Laps 
19 Max Chilton Marussia 64 +2 Laps
20 Marcus Ericsson Caterham 64 +2 Laps
Ret Kamui Kobayashi Caterham 34 Brakes
Ret Jean-Eric Vergne Toro Rosso 24 Exhaust