Grosjean on top in mixed conditions in Barcelona
Lotus continue good form as weather begins to clear in Barcelona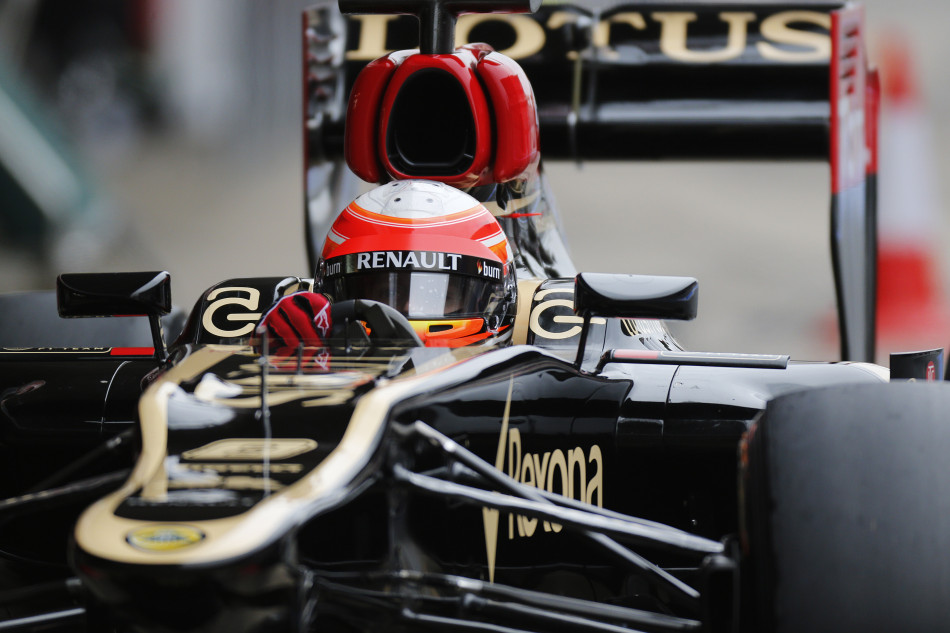 Romain Grosjean continued to underline Lotus' good pre-season form with the fastest time of the second day of Formula One's final test in Barcelona.
"It's certainly a better feeling to end the session with the fastest time on the board rather than the slowest."
Romain Grosjean
After a wet morning, the Frenchman took advantage of drier afternoon conditions to bolt on a set of soft tyres and duly claimed top spot with a lap of 1:22.716. Jenson Button was second with a time of 1:23.181, though the McLaren man's best lap was set on medium compound tyres.
"Even though the weather was far from ideal it was a pretty good day for us and it's certainly a better feeling to end the session with the fastest time on the board rather than the slowest," said Grosjean. "We had strong reliability again today and the E21 feels good in all conditions, which is very promising for the season ahead."
With Button second, third place went to William's Pastor Maldonado, the Venezuelan finishing just under five tenths of a second behind the McLaren driver. It wasn't all plain sailing for last year's Spanish Grand Prix winner, however, and Maldonado was forced to park his FW35 at the first corner in the final minutes of the afternoon session, a fuel-scavenging run the likely cause of the stoppage.
Red Bull Racing's Sebastian Vettel was fourth quickest with a lap of 1:23.743 and after completing 65 laps the champion admitted the conditions had been tough.
"I didn't do that many laps today, but to be honest the weather wasn't great and it was a pretty rough day in terms of the wind," said Vettel. "It's very cold as well. The tyres aren't really working properly and I think everybody is suffering the same problem, struggling to make the tyres last for more than a lap. It's difficult to compare things you are testing and also to compare yourself to others."
Nico Hulkenberg was fifth for Sauber and the German's replacement at Force India, Adrian Sutil, was a creditable sixth on his first full day back as Formula One race driver.
"It was a very interesting day with such a variation in track conditions, but it was ideal for me to practice in the sort of conditions we might experience in Australia or Malaysia," said Sutil. "I ran the full wets, the intermediates and it was good to discover the crossover point with the slick tyres. Overall I felt positive today and whenever I went out on track the lap times were competitive."
At the foot of the timesheet were tenth-placed Nico Rosberg and Ferrari's Fernando Alonso, who backed up the field with the day's 11th-fatest time. Both were focused on race simulations, however, and Rosberg said he had enjoyed his first outings in the wet in the W04.
"It was great to run in the wet today which I have not done so far during our pre-season testing programme," said Rosberg who completed 120 laps. "The car felt good in those conditions and it's important to have had this experience as there is always the chance of rain in Melbourne. This afternoon, we did some race simulation work which was very productive."
Barcelona Test Day 2
1.Romain Grosjean Lotus 1m22.716s 88
2.Jenson Button McLaren 1m23.181s + 0.465s 72
3.Pastor Maldonado Williams 1m23.628s + 0.912s 75
4.Sebastian Vettel Red Bull 1m23.743s + 1.027s 65
5.Nico Hulkenberg Sauber 1m23.744s + 1.028s 79
6.Adrian Sutil Force India 1m24.215s + 1.499s 62
7.Daniel Ricciardo Toro Rosso 1m25.483s + 2.767s 61
8.Max Chilton Marussia 1m25.598s + 2.882s 75
9.Giedo van der Garde Caterham 1m26.316s + 3.600s 48
10.Nico Rosberg Mercedes 1m26.655s + 3.939s 120
11.Fernando Alonso Ferrari 1m27