Grosjean on top in Jerez as Hamilton crashes
Lotus driver tops day two timesheet as Mercedes' testing troubles continue.
Mercedes' pre-season testing woes continued this morning as Lewis Hamilton crashed out on his debut with the team. Lotus, meanwhile, continued its good form, with Romain Grosjean heading the day two timesheet with a time of 1:18.218.
Mercedes' day one running had been cut short when Nico Rosberg suffered an electrical problem after 14 laps and Hamilton's time in the repaired W04 lasted just a lap longer this morning. The former McLaren driver suffered a rear brake failure that sent him spinning into the barriers. The team later traced the problem to the hydraulic brake line connecting to the right-rear caliper. The repairs meant Hamilton was unable to take to the circuit again for the remainder of the day.
"From the few short laps that I completed this morning, my general feeling was very positive."
Lewis Hamilton
"These things happen and it's all part of testing," said Hamilton. "Of course, it's better that we get these small issues out of the way sooner rather than later, and the guys are working really hard to overcome them.
"From the few short laps that I completed this morning, my general feeling was very positive," he added. "I got a good understanding of where the base of the car is and, whilst we need to do work in certain areas, it was good to have some laps to get a feel for what those areas are. I've told the guys that we just need to keep pushing and I know that we all will be doing that."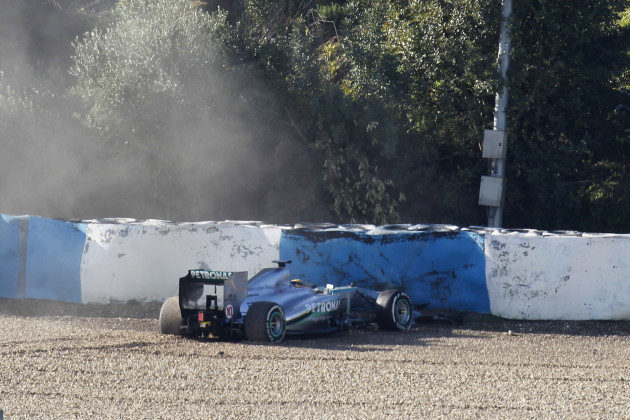 Grosjean, meanwhile, was thriving. On yesterday's opening day of testing the Frenchman completed 54 laps of the Jerez circuit and after scoring the day's third-best time said that he would "go even better tomorrow".
He was as good as his word and over the course of 95 laps set a field-leading lap time of 1:18.218, eight tenths of a second clear of second-fastest man Paul Di Resta.
"For me, the whole test has gone well which bodes well for the year ahead," he said. "My feeling in the car is good and it was great to be at the top of the times. Even if it doesn't mean anything during testing, it's still good to be at the front. We used the soft, medium and hard compounds and whilst we're not 100 per cent yet on the differences between each we have a good idea."
Force India's Di Resta enjoyed a similarly trouble-free run, also racking up 95 laps on his way to a time of 1:19.003. Toro Rosso's Daniel Ricciardo also had a comfortable day ay the wheel of the STR8, lapping 83 times on his way to fourth spot, just over tenth adrift of Di Resta.
Mark Webber was fourth-fastest, though the Red Bull racing driver insisted the team had not been chasing lap time.
"People always ask about the times being done up and down the pitlane but to be honest I haven't looked," said Webber who completed 101 laps to add to the 73 done on day one. "We can only look at we're doing, and so far we're very satisfied with where we are.
"I'm very happy with the car and myself," he added. "I might have bombed a few laps here and there but I've done 170 or more, which is a good total for the first two days with a new car. Overall, it's been very good. The car gives me the confidence to push pretty hard and that's always an indication that you have something you can build on."
Fifth place was taken by Sauber's Nico Hulkenberg, while Hamilton's best morning time was still good enough to keep sixth place at the end of the day's running.
That left seventh place to the 2008's replacement at McLaren, Sergio Pérez. The Mexican has been through an intensive simulator programme at the team's Woking base and at the wheel of a real MP4-28, the former driver looked assured and comfortable, if sensibly conservative.
Elsewhere, Marussia announced the identity of its second driver, Luiz Razia, by immediately installing 2012's GP2 runner-up in the cockpit of the MR02. While The Brazilian's first outing wasn't as troubled as new team-mate Max Chilton's yesterday, he was only able to complete 31 laps before an engine problem saw the car garage-bound for the afternoon.