Formula E - Master of Monaco - Nick Cassidy climbs to top of table with second consecutive triumph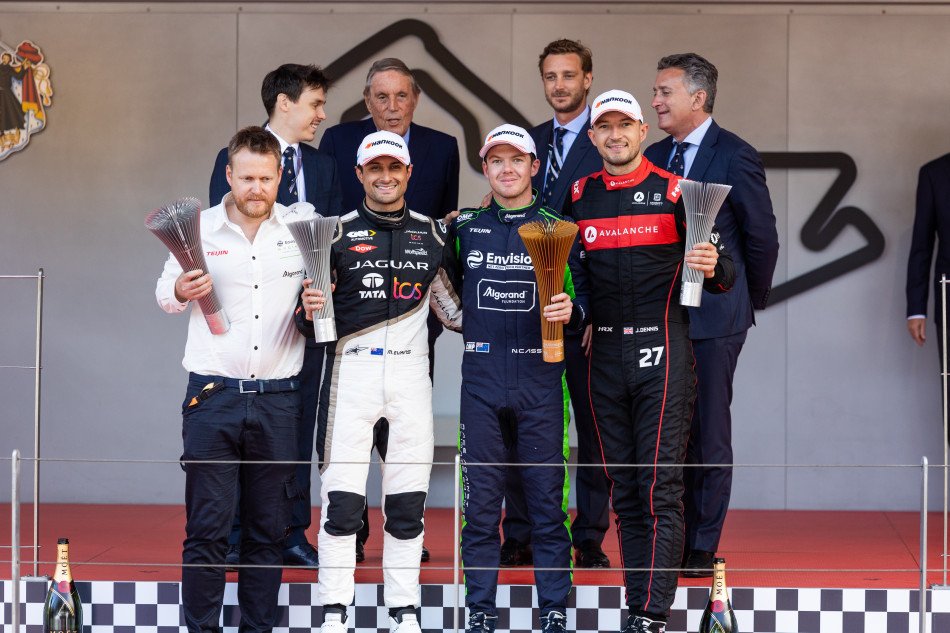 Envision Racing driver makes up eight places in the Principality to stamp his authority on ABB FIA Formula E World Championship title battle.
Nick Cassidy vaulted to the top of the ABB FIA Formula E World Championship title chase with a second consecutive victory today (6 May), mastering the unforgiving streets of Monaco and artfully keeping his pursuers at bay with a superb display of defensive driving.
Cassidy's early laps in the Principality, however, were all about attack rather than defence, as the Envision Racing ace immediately set about making up ground from ninth on the grid. Following a bright start, he then drove boldly around the outside of both Mitch Evans (Jaguar TCS Racing) and former championship leader Jake Dennis (Avalanche Andretti) at the hairpin to climb to sixth.
By the beginning of lap seven, the New Zealander was into the top three, after pulling off quick-fire passes on Dan Ticktum (NIO 333 Racing) and Norman Nato (Nissan Formula E Team). Next time around – as the front-runners began to deploy their first Attack Modes – he assumed the lead.
Once the opening round of Attack Modes had played out, Cassidy was still at the head of the order from countryman Evans and Dennis. The Jaguar driver seized the initiative at Sainte Dévote on lap 16, but two laps later, the roles were reversed as his Envision rival repaid the favour at the same corner.
As the E-Prix entered its final third, the field closed back up and the pressure mounted, with Evans and Dennis offering Cassidy no opportunity to relax and little to choose between the top three in terms of outright speed.
A safety car intermission caused by a collision between Ticktum and Maserati MSG Racing's Maximilian Günther going up Beau Rivage on lap 22 briefly cooled the pace, and when the action resumed, the leader was instructed over his team radio to push as hard as possible. In a race in which the rhythm was frenetic right from the start, he responded with a new fastest lap to crank the tempo up another notch again.
Despite Evans' ever-present threat, Cassidy looked to have proceedings under control and when the safety car re-emerged with barely a lap left to run to deal with Nico Müller's stranded ABT CUPRA Formula E Team machine at Sainte Dévote – following a contretemps with Jaguar TCS Racing's Sam Bird – the result was no longer in doubt.
The 28-year-old Aucklander's third career triumph – on only his second appearance in Monaco – also made history in ensuring New Zealand becomes the first nation ever to claim four victories in a row in the all-electric single-seater series.
The winner of the other two of those four E-Prixs, of course, was Evans, but this time, the Jaguar star was obliged to settle for second – his third visit to the podium in Monte-Carlo in as many seasons as he increasingly builds his title bid, having now risen to fourth in the championship standings.
Evans is just two points behind Dennis, who completed the rostrum in third after starting outside of the top ten – the Briton grabbing an additional point for posting fastest lap along the way to confirm his return to form following a difficult four-race streak.
Sacha Fenestraz – denied pole position by a penalty for over-power use in qualifying – ran up at the sharp end throughout and briefly led for Nissan, ultimately taking the chequered flag fourth to cement his finest Formula E finish to-date.
Pole-sitter Jake Hughes (NEOM McLaren Formula E Team) faded to fifth after setting the early pace, with Ticktum – another driver to lead the race – matching his best result of Season 9 so far in sixth, surviving contact with not only Günther but also Fenestraz that left him nursing a damaged front wing.
Double champion Jean-Éric Vergne made up no fewer than 15 places to secure seventh for DS Penske, ahead of two-time Monaco winner Sébastien Buemi (Envision Racing) and defending title-holder Stoffel Vandoorne (DS Penske), with Pascal Wehrlein (TAG Heuer Porsche) the final scorer in tenth. The German – who topped the points table going into the weekend – now sits 20 points adrift of the summit of the standings.
Others who failed to score included Maserati MSG Racing's Edoardo Mortara – who lost his front wing after running into the back of the sister car of Günther in the team's home race – and Nato, who featured as high as second before pitting with damage on lap 22. Oliver Rowland was a hard-charger early on for Mahindra Racing until he similarly incurred damage, while Günther's challenge was curtailed by the coming-together with Ticktum that brought out the first safety car.
The 2022/23 Formula E campaign continues with a double-header in the Indonesian capital of Jakarta in south-east Asia on 3-4 June.
Nick Cassidy, Envision Racing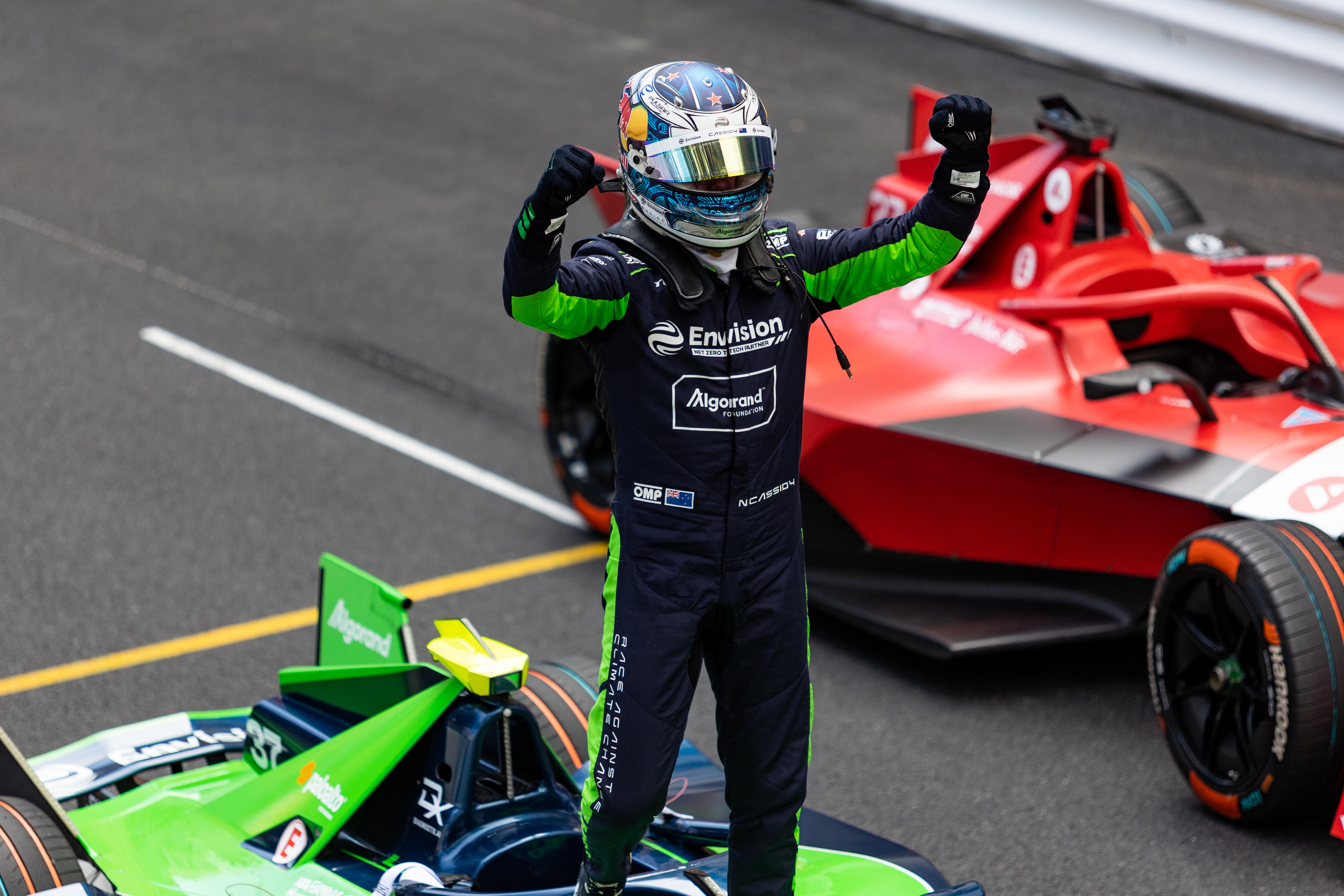 "It's insane, I've got nothing against Berlin - but this feels amazing! This is so, so special. I'm lost for words. It is going to take a bit to sink in, man we had such a tough day, I was 21st I think in both Free Practices which struck me a lot. I qualified 10th and I was really happy with that, so that was kind of how our day was going. Credit to our guys, both car crews and everyone in our garage helped out with the issues. I am so happy we got the reward after the work. There is a long way to go, this guy right here Mitch (Evans) he showed today how bloody strong he is. It is going to be a really cool fight, but for the moment lets just enjoy the fact we won in Monaco."
Mitch Evans, Jaguar TCS Racing
"Not the right position but I gave it my best today. Full credit to Nick and Envision, they did a great job - Nick passed me at the right time. I thought I had him but he made a good move on me and that was it. Another podium, we are on a good roll - so good points and that's the main thing. Passed Cassidy without the safety car? I'm not too sure, I kind of became locked out a bit after the safety car. There's a few moments in the race I wish I could do again, and may have had a different outcome, but it is what it is. Full credit to Nick and his team, but also my team - we have been doing a really good job but we just missed out today."
Jake Dennis, Avalanche Andretti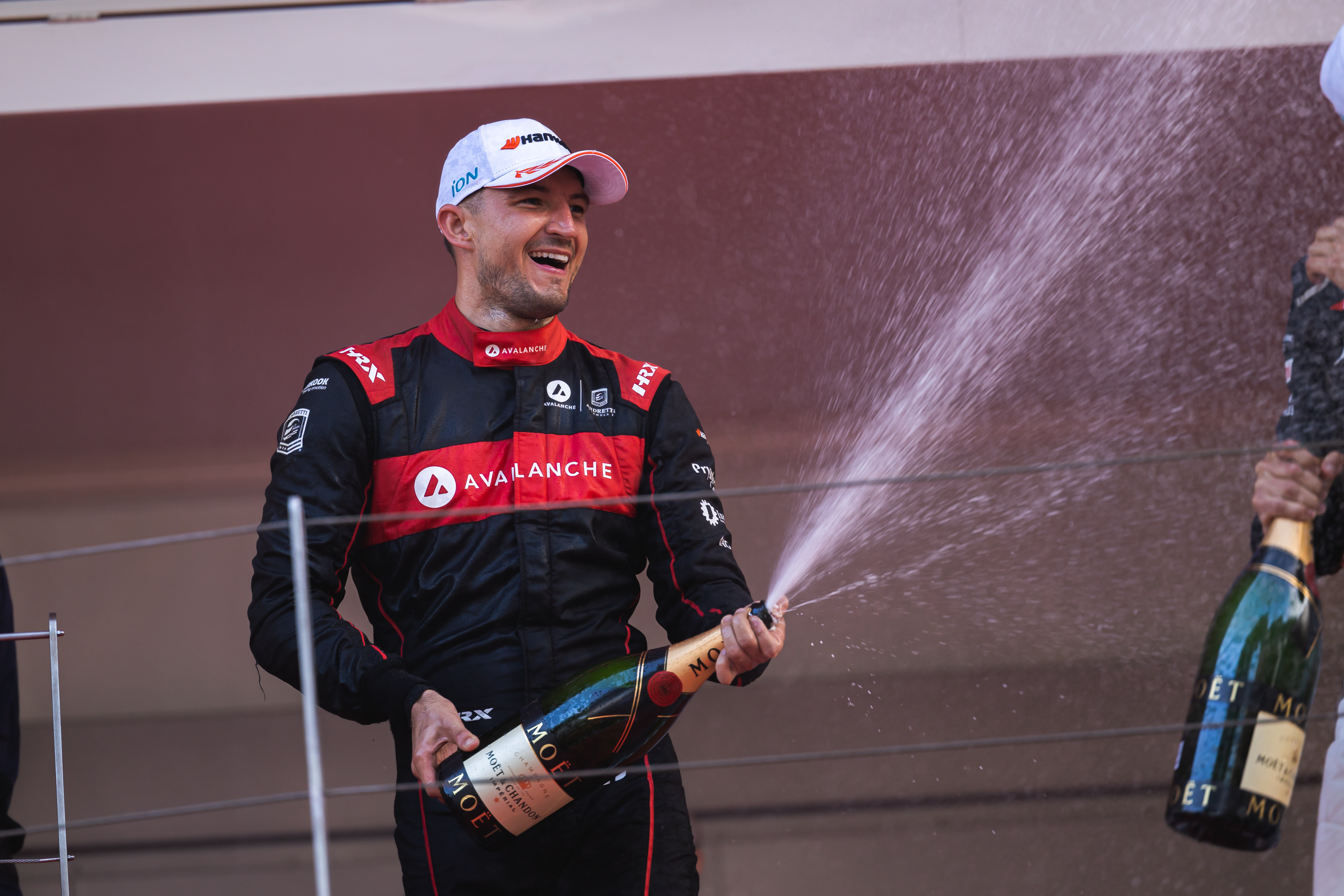 "Back on the podium, two races in a row again. I think I had to make it up to the boys after hitting the wall in my first lap. We had a car to start in the front two rows today. Mistake on my behalf, so I think I have some beer money for sure tonight to repay them! Super happy but a little disappointed in certain ways, we had the most efficient car but we didn't quite optimise it with leading at the right point. It is a bit frustrating that you have 2% more than the cars in front but can't do anything about it. Nevertheless really happy and we are back in the title hunt for sure - looking forward to celebrating with the boys tonight and enjoying it."