This page contains archived information and may not display perfectly
Formula E - Imperious Wehrlein doubles up in Diriyah as Porsche extends early-season dominance
It was a case of copy-and-paste for Wehrlein and Dennis in Saudi Arabia, with the Porsche-powered pair scything through the field to the top two positions again
In a carbon-copy of Friday's result, TAG Heuer Porsche's Pascal Wehrlein and Avalanche Andretti rival Jake Dennis maintained their Season 9 ABB FIA Formula E World Championship dominance with another one-two finish in today's Diriyah E-Prix (28 January), as the German's third career victory catapulted him to the summit of the standings.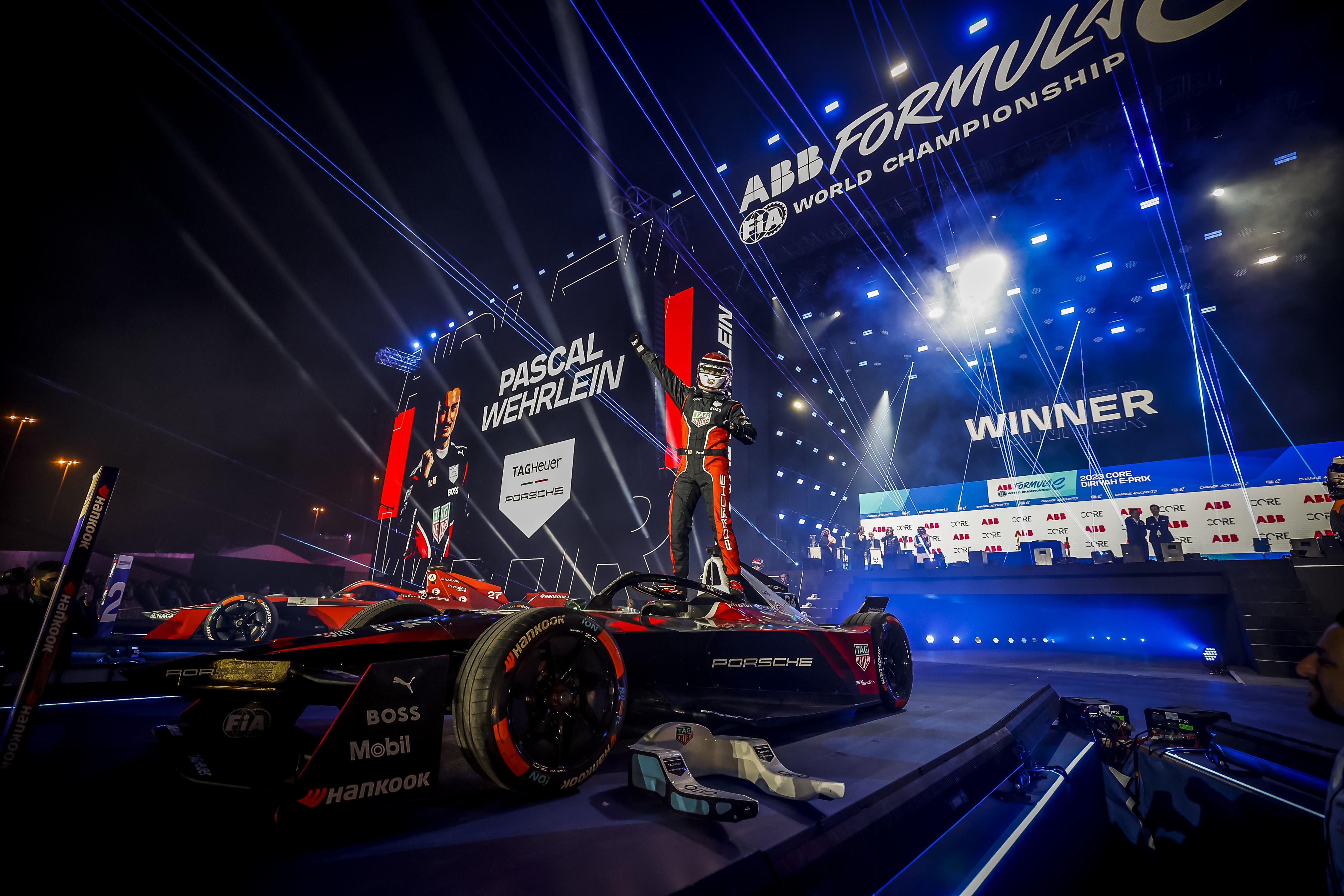 Yesterday, Wehrlein and Dennis had to fight their way through from the tail-end of the top ten; 24 hours later, they lined up alongside one another in fifth and sixth on the grid, but while that made their task easier, it was by no means a foregone conclusion.
When the lights went out, it was Jaguar TCS Racing's Mitch Evans – from the dirty side of the track – who got the jump on pole-sitter Jake Hughes (NEOM McLaren Formula E Team), the latter in only his third Formula E outing. René Rast made it two McLarens inside the top three, but already Wehrlein was on the march, with both the German and Maserati MSG Racing's fast-starting Edoardo Mortara demoting Sébastien Buemi (Envision Racing) for fourth and fifth.
Dennis, conversely, lost a place as the British driver slipped to seventh ahead of compatriot Sam Bird (Jaguar TCS Racing). The two title protagonists' divergent early fortunes would prove decisive in the final result.
Fastest lap on the third tour showed that Wehrlein meant business again, and while the top three exchanged positions during the opening flurry of Attack Mode activations – Rast leapfrogging both Evans and Hughes to snatch the lead for the first time in Formula E – behind them, the Porsche driver was stalking his prey. As soon as Hughes' Attack Mode expired, he pounced – third.
Next on his strike list was Evans, who was swiftly swept aside for second, but by then, Rast – in his 25th race in the all-electric single-seater series – had established a margin of almost two-and-a-half seconds at the head of the order. It would not stay that way for long.
On lap 15, Wehrlein took Attack Mode for the first time without losing any positions, and when Rast responded two laps later with his second Attack Mode, the Porsche man seized the initiative.
As he focussed on repeating Friday's result, Wehrlein confidently held sway until an accident for ABT CUPRA Formula E Team's Nico Müller at the chicane on lap 27 threatened to throw a curve ball into the mix, bringing out the safety car and eradicating his advantage. What's more, by this stage, it was no longer Rast closest to him, but his early-season nemesis, Dennis.
Having conceded ground at the start, the Avalanche Andretti ace kept his powder dry during the opening half of the race as he sat patiently in a queue behind Evans – until, shortly after mid-distance, he decided that waiting was no longer for him. After relieving Mortara of fifth, Hughes' second Attack Mode promoted him to fourth and then Evans and Rast were despatched in quick succession.
That meant when the action was neutralised, Dennis was right in Wehrlein's wheeltracks, with two minutes more Attack Mode allowance remaining. Not only that, but up to third was Bird, who had carved his own way through the field in similarly assertive fashion while conserving energy better than any of his adversaries. Suddenly, it appeared to be game on.
Only, if that was the case, then Wehrlein had clearly not read the script. Shrugging off the pressure of having to keep an eye in his mirrors for the first time rather than looking ahead, the 28-year-old maintained his composure and even when Dennis deployed his second Attack Mode, he had enough time in hand to remain comfortably in front. As the top two once more checked out from the chasing pack, Wehrlein held firm to round off an almost perfect Saudi Arabian weekend.
Behind the Porsche-powered pair, the action was hotting up. Bird's Attack Mode activation dropped him behind Rast, and an attempt to regain the place into Turn One saw the Jaguar driver overshoot the exit. After regrouping, he set about re-launching his assault but Rast would not crack, putting up a staunch defence to deservedly secure his third career podium.
Having tried every which way to prise open the door, on this occasion, Bird was obliged to settle for fourth, but worse luck befell his Jaguar team-mate, Evans. As fifth-placed Hughes found himself struggling on energy use in the closing stages, the New Zealander looked primed to take advantage, but when the McLaren began coasting out of the final corner, Evans had nowhere to go and the opportunistic Buemi was able to zip past and separate the pair in sixth position.
Sacha Fenestraz celebrated his first Formula E points for Nissan in eighth, with Edoardo Mortara getting Maserati MSG Racing off the mark in ninth and NIO 333's Dan Ticktum completing the scorers in tenth.
The 2022/23 Formula E campaign continues in a fortnight's time with round four in Hyderabad (11 February) – the championship's maiden appearance in India.
Pascal Wehrlein, No.94, TAG Heuer Porsche Formula E Team, said: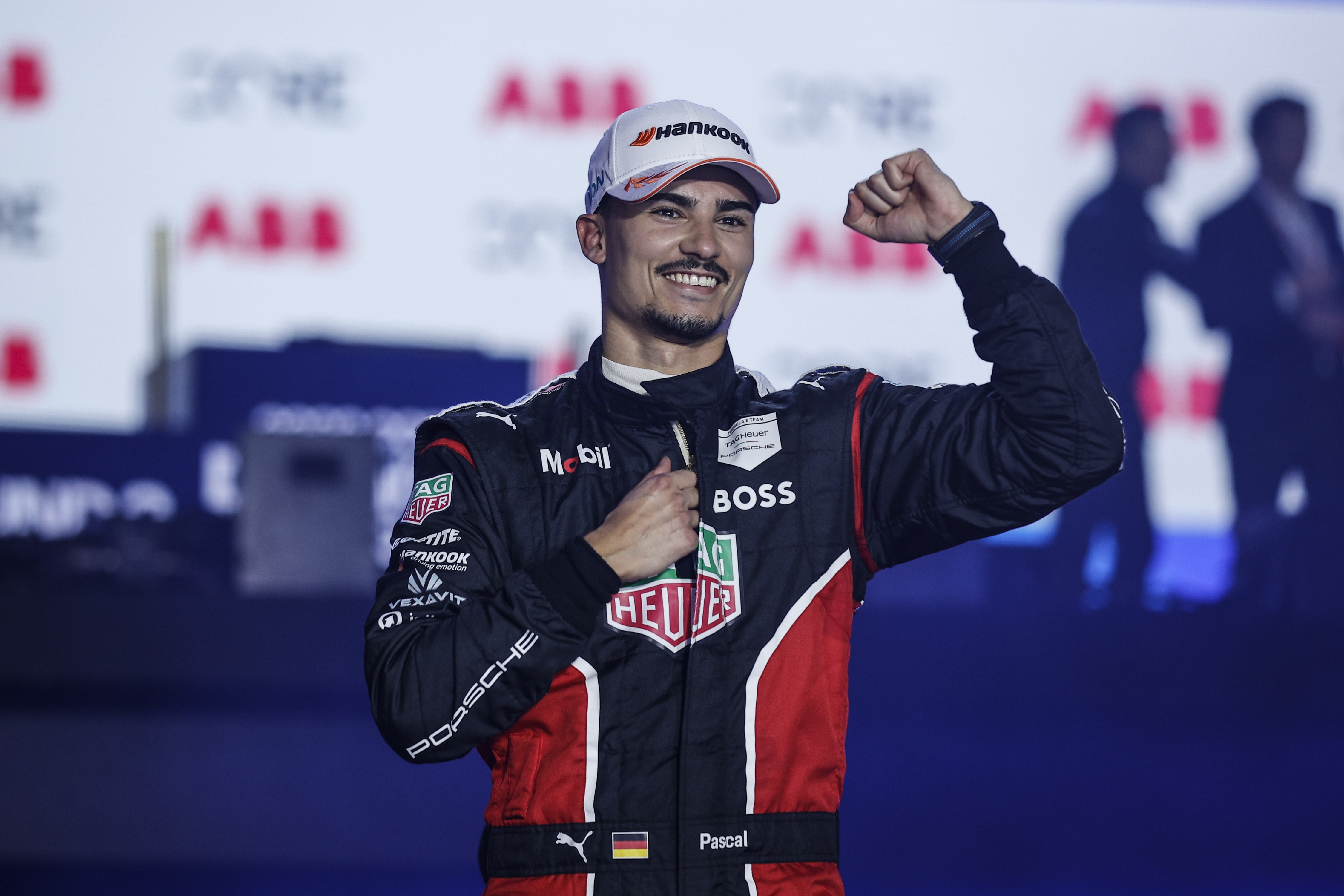 "This weekend has been incredible, a double victory. Our race pace was incredible again and today we had the perfect strategy, using the ATTACK MODES at the right time and not having to use it again after the safety car - that was crucial. What can I say, just amazing for my team - all their hard work has finally paid off and I am so proud of them. This weekend is one I will never forget. I would say yesterday was a bit more exciting as I had more cars to pass. Today was not easy and I would say it was even a bit more difficult. Obviously, the others learned from yesterday, Sam Bird had quite a lot of energy in the end but still had to take his ATTACK mode - so that probably saved us a lit bit. But you could clearly see they made steps forward today and that made it a bit more difficult."
Jake Dennis, No.27, Avalanche Andretti Formula E Team, said: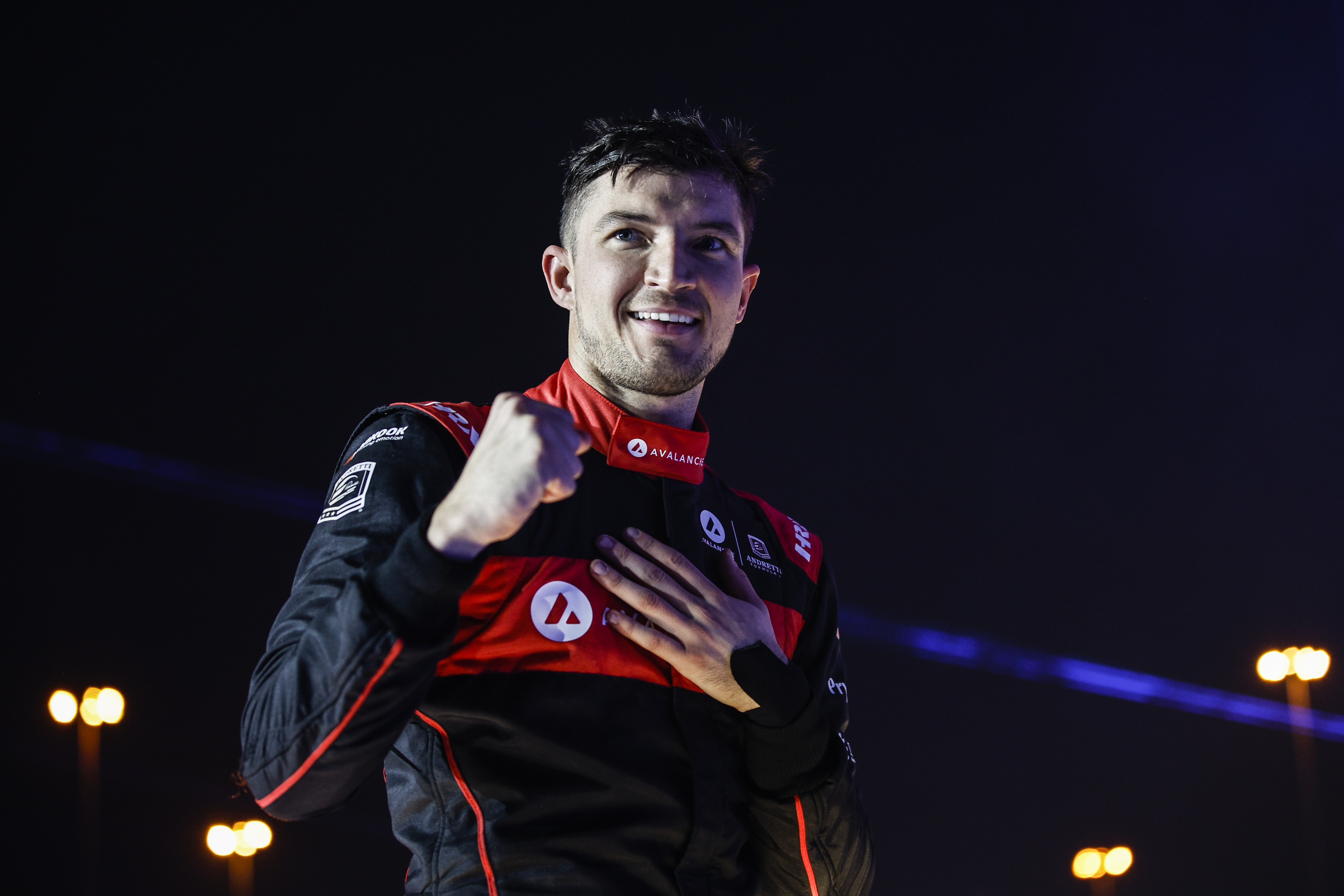 "You know you're having a really good season when you're a little bit disappointed with P2! We just didn't have a great start, Pascal had a good one and we had a bad one - and then there was just so much work to do once I got past Buemi. But a great job by the boys, we had such an efficient powertrain again, once I cleared Buemi I could move forward quite quickly, but by that point Pascal was too far away to beat. He can have this one, but we are going to come out swinging in India and try and take the Championship lead off him. I think they [McLaren] deserve the podium, I think they had the quickest car today over one lap - it is great to see them up on the podium. The Jaguar is really fast as well - Sam [Bird] was 2% up on us - it seems like they turned their efficiency around, so don't expect this to happen each race. We need to collect the points while we can and try build the biggest lead we can because they are definitely going to start to close the gap."
René Rast, No.58, NEOM McLaren Formula E Team, said: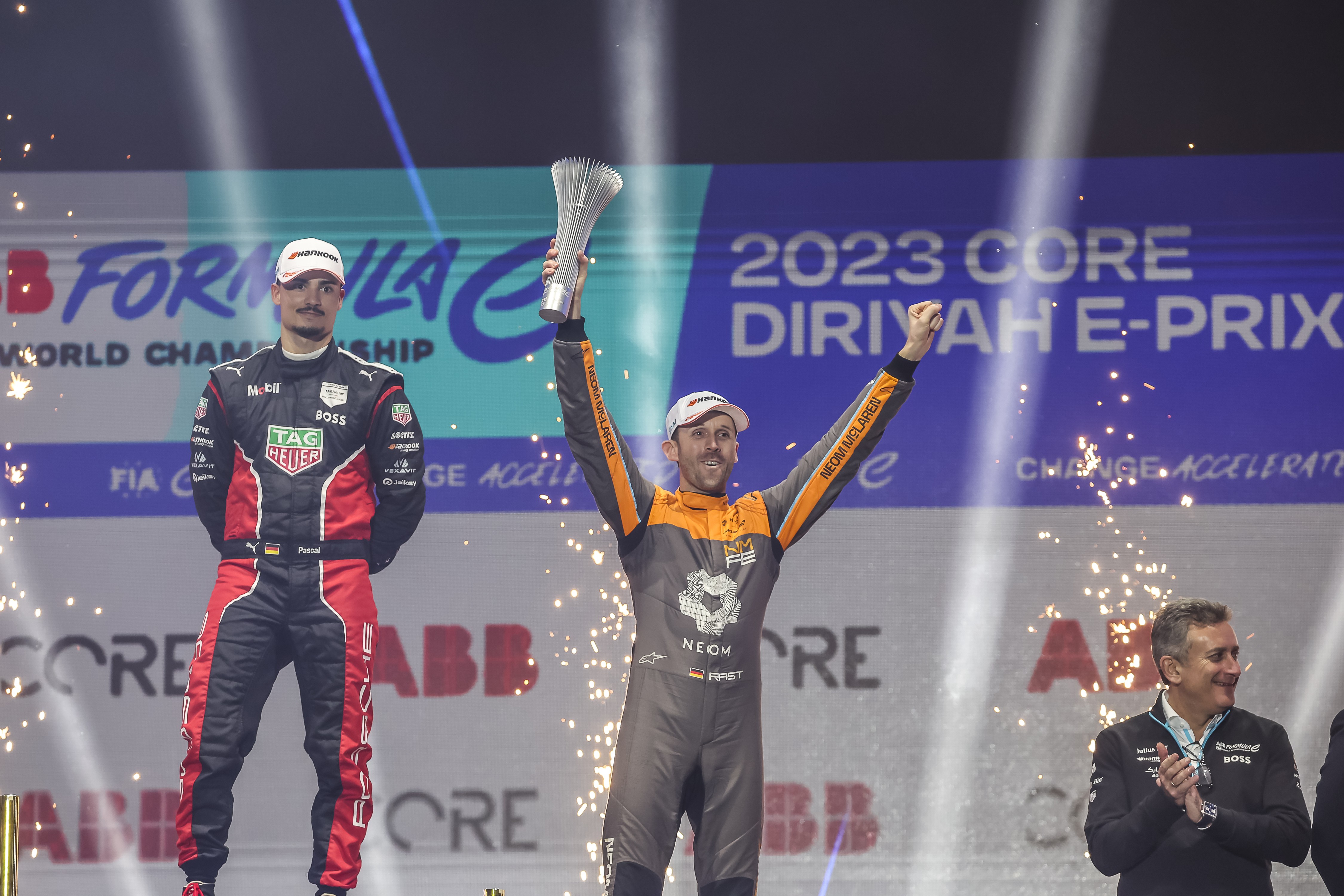 "I am over the moon to be honest. The team deserved it as they put so much hard work into this and we were executing so well the whole weekend, especially from where I came from in Mexico and on Thursday when we had no pace, to now being on the podium defending against Sam who had 2% more energy. It feels like a victory, and I cannot thank the boys and girls enough at NEOM McLaren, they did an awesome job and it is a lot of fun working with them. I am very happy. Before the safety car I was not about to fight him [Sam Bird] because he had much more energy, and then all of a sudden the safety car changed everything and I thought we had a chance for the podium, and I started fighting him - and it worked out in the end."