Formula E – Electric series lands in Berlin for first double-header of the season
The FIA Formula E Championship returns to the iconic Templehof Airport circuit for Rounds 7 and 8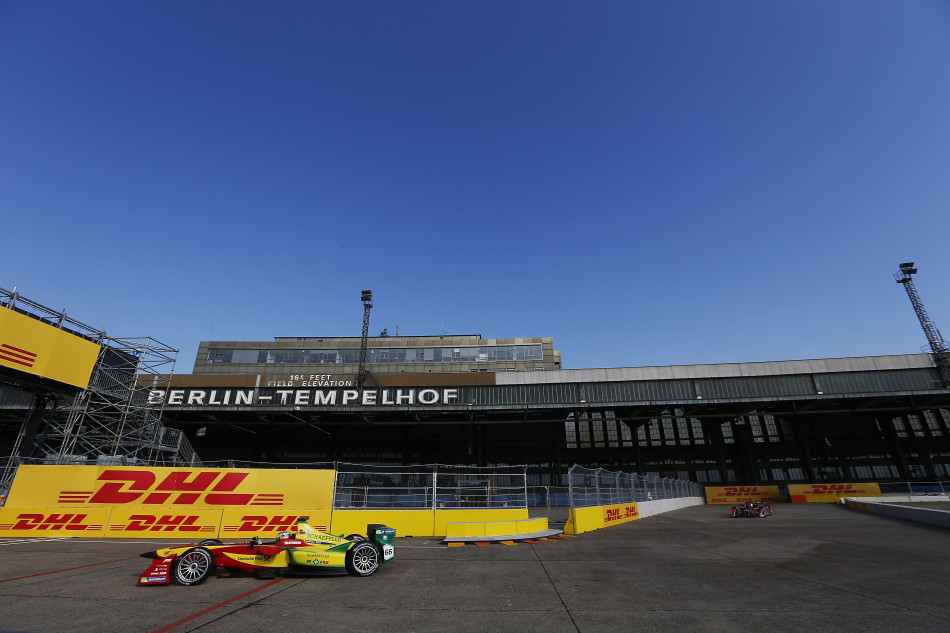 Fresh from its first ever back-to-back rounds in Monaco and Paris, the FIA Formula E Championship lands at the iconic Templehof Airport in Berlin for the first of three double-header events that will decide the 2016/17 title.
Returning to the former airport just a few minutes from the centre of Germany's capital city but on a different track layout, the 20 Formula E drivers will do battle in two races across an action packed weekend. The track is now shorter, 2.277km, and has fewer corners to negotiate, creating a layout that should be more exciting for fans and provide great overtaking opportunities.
The double-header format this weekend sees twice the usual track action, as the packed Saturday schedule is repeated identically on Sunday. This means that if a driver makes a mistake in the first qualifying session or has a difficult race, the playing field is completely reset for the following day and everyone gets another opportunity to grab the initiative. The only difference between the two days is in the race distance, with Sunday's contest being two laps longer so teams and drivers will have to recalculate their energy strategies overnight based on what they learned over the first 44-lap ePrix.
Fresh from a home victory in Paris, Renault e.dams will have their sights set on another strong weekend to bolster their healthy 75-point lead in the teams' standings. Championship leader Sebastien Buemi will be hoping to extend his lead in the drivers' standings, which currently stands at 43 points, yet further, and having won both of the back-to-back rounds the Swiss driver is riding a wave of confidence into Berlin.
The pressure is on Buemi's main title rival Lucas di Grassi, who failed to score last time out at the Paris ePrix. It is a home event for his ABT Schaeffler Audi Sport team, and both he and team-mate Daniel Abt have fond memories of racing in Berlin in the 2015/16 season where they finished third and second respectively. Abt will be hoping that support from his home fans will give him the edge and bring a first podium this year.
Fellow German star driver Nick Heidfeld will undoubtedly draw a lot of attention from the fans at Templehof, especially as he has recently been in fine form with podiums in both Monaco and Paris. Together with Mahindra stable-mate Felix Rosenqvist, the pairing brought home Mahindra's best ever points haul three weeks ago, and will be pushing hard to maintain this momentum.
Maro Engel completes the trio of German drivers taking to the old airport tarmac this weekend. With a strong showing in Monaco, the Venturi driver has two opportunities to shine in front of his home fans.
With 58 points on offer, this weekend presents an opportunity for real championship upset on the track, and the new track layout will ensure that the FIA Formula E Championship will once again be anything but predictable.
Away from the racing action, the FIA Smart Cities programme is conducting a number of activities in Berlin. On Thursday, two ground-breaking cycling mobility initiatives will be showcased – CycleRAP and Carvelo2go. CycleRAP is a method that is designed to assess the safety of cycling infrastructure. It is currently being developed by the Royal Dutch Touring Club ANWB, together with SWOV (the Dutch National Road Safety Institute) and EuroRAP, while Carvelo2go is the world's first public eCargo-Bikesharing launched in Switzerland by TCS Mobility Academy.
The FIA Smart Cities Forum then takes place this Friday, focusing on New Directions in Urban Mobility. With panel sessions which feature FIA Region I President Thierry Willemarck, Formula E Holdings CEO Alejandro Agag and ABT Schaeffler Audi Sport driver Daniel Abt, as well as industry leading experts in urban mobility and the FIA Smart Cities Startup programme, the Forum is a shining example of how this electric racing series is helping to shape a sustainable mobility future.
Event Timetable
SATURDAY, JUNE 10

08:00 - 08:45: PRACTICE 1

10:00: Qualifying group lottery, Podium / Allianz eVillage

10:30 - 11:00: PRACTICE 2

12:00 - 12:06: QUALIFYING GROUP 1
12:10 - 12:16: QUALIFYING GROUP 2
12:20 - 12:26: QUALIFYING GROUP 3
12:30 - 12:36: QUALIFYING GROUP 4
12:45 - 13:00: SUPER POLE

13:45 - 14:00: eRace, Gaming Zone / Allianz eVillage
14:00 - 14:30: Autograph session, Gaming Zone / Allianz eVillage

15:00 - 15:10: Driver parade
16:00: Berlin ePRIX (44 laps)
17:05: Podium ceremony, Podium
SUNDAY, JUNE 11

08:00 - 08:45: PRACTICE 1

10:00: Qualifying group lottery, Podium / Allianz eVillage

10:30 - 11:00: PRACTICE 2

12:00 - 12:06: QUALIFYING GROUP 1
12:10 - 12:16: QUALIFYING GROUP 2
12:20 - 12:26: QUALIFYING GROUP 3
12:30 - 12:36: QUALIFYING GROUP 4
12:45 - 13:00: SUPER POLE

13:45 - 14:00: eRace, Gaming Zone / Allianz eVillage
14:00 - 14:30: Autograph session, Gaming Zone / Allianz eVillage

15:00 - 15:10: Driver parade
16:00: Berlin ePRIX (46 laps)
17:05: Podium ceremony, Podium
Championship standings
 

Drivers' Championship

Teams' Championship

Driver

Points

Team

Points

1

Sebastien Buemi

132

Renault e.dams

190

2

Lucas di Grassi

89

ABT Schaeffler Audi Sport

115

3

Nicolas Prost

58

Mahindra Racing

87

4

Nick Heidfeld

47

DS Virgin Racing

63

5

Jean-Eric Vergne

40

NEXTEV NIO

48

6

Felix Rosenqvist

40

Techeetah

45

7

Sam Bird

35

Andretti Formula E

26

8

Nelson Piquet Jr.

33

Panasonic Jaguar Racing

19

9

Jose Maria Lopez

28

Faraday Future Dragon Racing

19

10

Daniel Abt

26

Venturi Formula E

18
Entry List
| | | | |
| --- | --- | --- | --- |
|  N° | TEAM | CAR | DRIVER |
| 2 | DS Virgin Racing (GBR) | DS Virgin DSV-02 | Sam Bird (GBR) |
| 3 | NEXTEV NIO (GBR) | NextEV TCR Formula 002 | Nelson Piquet Jr. (BRA) |
| 4 | Venturi Formula E Team (MCO) | Venturi VM200-FE-02 | Tom Dillmann (FRA)* |
| 5 | Venturi Formula E Team (MCO) | Venturi VM200-FE-02 | Maro Engel (GER) |
| 6 | Faraday Future Dragon Racing (USA) | Penske 701-EV | Loïc Duval (FRA) |
| 7 | Faraday Future Dragon Racing (USA) | Penske 701-EV | Jérôme d'Ambrosio (BEL) |
| 8 | Renault e.dams (FRA) | Renault Z.E. 16 | Nicolas Prost (FRA) |
| 9 | Renault e.dams (FRA) | Renault Z.E. 16 | Sébastien Buemi (CHE) |
| 11 | ABT Schaeffler Audi Sport (DEU) | ABT Schaeffler FE02 | Lucas di Grassi (BRA) |
| 19 | Mahindra Racing (IND) | Mahindra M3Electro | Felix Rosenqvist (SWE) |
| 20 | Panasonic Jaguar Racing (GBR) | Jaguar I-Type 1 | Mitch Evans (NZL) |
| 23 | Mahindra Racing (IND) | Mahindra M3Electro | Nick Heidfeld (DEU) |
| 25 | TECHEETAH (CHN) | Renault Z.E. 16 | Jean-Eric Vergne (FRA) |
| 27 | Andretti Formula E (USA) | Andretti ATEC-02 | Robin Frijns (NED) |
| 28 | Andretti Formula E (USA) | Andretti ATEC-02 | Antonio Felix da Costa (PRT) |
| 33 | TECHEETAH (CHN) | Renault Z.E. 16 | Stéphane Sarrazin (FRA)* |
| 37 | DS Virgin Racing (GBR) | DS Virgin DSV-02 | José Maria Lopez (ARG) |
| 47 | Panasonic Jaguar Racing (GBR) | Jaguar I-Type 1 | Adam Carroll (GBR) |
| 66 | ABT Schaeffler Audi Sport (DEU) | ABT Schaeffler FE02 | Daniel Abt (DEU) |
| 88 | NEXTEV NIO (GBR) | NextEV TCR Formula 002 | Oliver Turvey (GBR) |
 *: Subject to approval by the Stewards