This page contains archived information and may not display perfectly
Formula E drivers and Billy Monger to support disabled racing drivers at Paris karting event
Jean-Eric Vergne to organise charity race with support from Formula E and FIA Disability and Accessibility Commission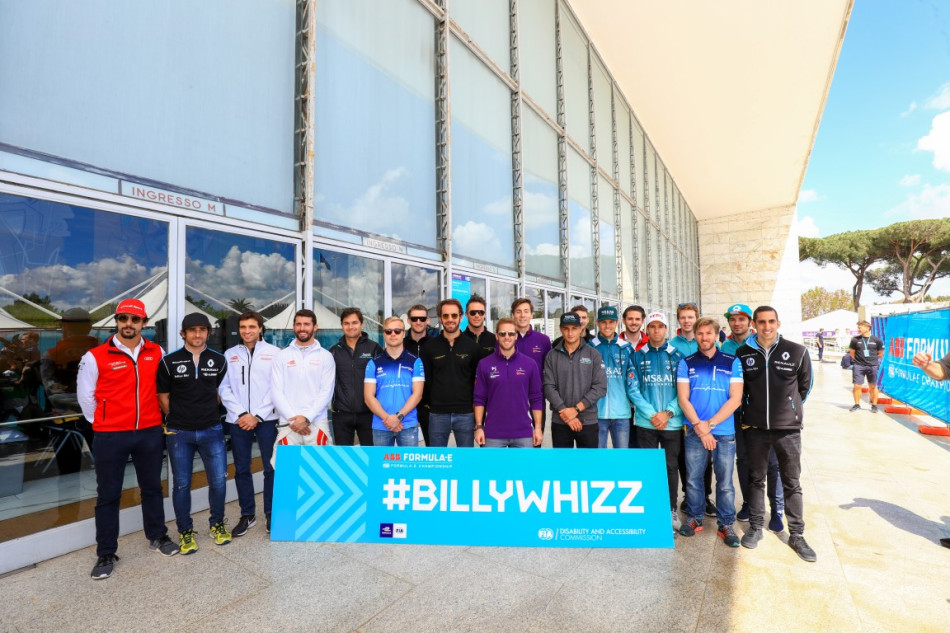 Drivers from the 2017/18 ABB FIA Formula E Championship will be racing electric karts prior to the Paris E-Prix in support of Billy Monger, who was injured in a Formula 4 crash last year, losing both his legs.
The first edition of this event took place shortly after the incident in 2017, however at the time, the injuries Billy sustained meant that he was unable to attend. Since then, however, the young British driver has made a remarkable recovery and this year will take part in the event using a specially modified kart.
The race has been organised by current Formula E championship leader Jean-Eric Vergne, with the support of the championship promoter and blessing of the newly formed FIA Disability and Accessibility Commission.
"Less than 12 months after his crash, Billy returned to single-seater racing using a specially-adapted car, finishing third in his first race back!" enthuses Vergne. "This outstanding news proved to us all that no one should ever give up on his or her dream and that if we all stand and work together, we can make a difference. We make the impossible, possible, and last but not least, we can motivate others to follow the same path.
"On April 25th 2018, Billy will come and race with us at RKC, my karting track on the outskirts of Paris, for the #BillyWhizz Charity eKart Race thanks to the support of SODIKART who has built 25 Electric karts for this occasion."
The objectives of this initiative are to raise awareness about disabled professional and non-professional racing drivers by promoting the newly-established FIA Disability and Accessibility Commission with the support of its President Nathalie McGloin, the Formula E community and fans around the world. As Billy builds on the success of his recent podium in looking to secure sponsorship to fund the rest of the season, he is also supporting the UK based charity Spinal Track who give disabled drivers an opportunity to experience their first ever track or rally day in specially adapted cars. Billy is looking to offer his race expertise to other disabled drivers through instructing on a Spinal Track event as he makes plans to gain his ARDS instructors license.
"I'd love to give back to the motorsport community and this is a great way to do this. It'll be great experience for me as I plan the next stage of my career to instruct other racing drivers in single seaters and saloon cars once I have my ARDS instructors license," explained Billy. Funds raised through this event will be donated to the charity Spinal Track founded and run by Nathalie McGloin.
You can access the donation* page here and the ekarting event page here
The FIA Disability and Accessibility Commission is focused on improving accessibility for all in both motor sport and general mobility in the broader community. In motor sport, this largely centres on ensuring that people with disabilities can compete fairly and safely in motor sport. Regarding mobility, there is a much broader array of factors affecting society's access - which often change significantly depending on geography. Commission President Nathalie McGloin will be in attendance in Paris to show support for the initiative and encourage more disabled people to follow the remarkable example of Billy Monger.
*No financial contribution will be made by the FIA