This page contains archived information and may not display perfectly
Formula E – Di Grassi seals championship in Montreal while Jean-Eric Vergne takes his first win
Renault e.dams secure third consecutive teams' title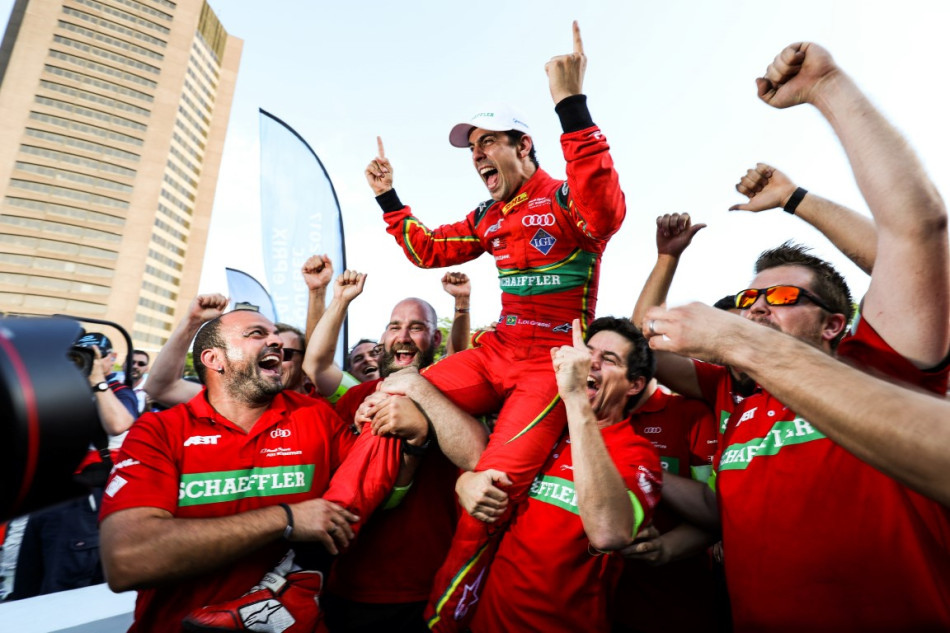 Lucas di Grassi has today (30 July) become the third different FIA Formula E Champion in as many seasons, overhauling a ten-point deficit to season-long leader Sebastien Buemi to win by 24 points after two flat-out races in Montreal.
The two title protagonists had polar opposite weekends, with the Abt Schaeffler Audi Sport driver di Grassi turning the tables with a near-faultless Round 11 whilst Renault e.dams' Buemi never recovered from a run of bad luck which began with a big crash in practice on Saturday morning.
A measured drive to seventh place in today's finale (Round 12) ensured that the Brazilian driver would be crowned champion.
"This journey started three years ago, when we started Season 1," said di Grassi. "We got a lot of good results, arrived in London fighting for the championship, even though I was disqualified from winning a race. Season 2, it was the same situation. Again I got disqualified from winning a race and now, finally, I came here as an underdog, 10 points behind and I had the nerves to keep it calm and did the job yesterday. And today, I managed to bring it home, I am so happy for the team, so happy for the Abt Schaeffler Audi Sport guys, they really deserve it. This season was our toughest I would say. I had to do one race with a broken fibula, I really had luck on my side in some races, Hong Kong and Mexico for example, so I guess this was our year and it is extremely satisfying and I am going to celebrate and party a lot tonight."
After being drawn in qualifying Group 1, Buemi found himself on the back foot once more, and a mistake on his flying lap meant he started 13th giving him an even bigger challenge in the race.
His tough weekend continued when he was involved in opening lap contact which, despite being minimal, damaged the right rear wheel guard. With the bodywork lose, the Renault e.dams driver was shown the black and orange flag, which indicates a mechanical problem. Buemi was instructed to pit for repairs, and as the part dislodged itself on-track, it took only a moment for the team to check the car before he was back on the track.
In typically determined fashion he fought his way back from 11th, but any hopes of the title were gone.
"I'm a bit disappointed, honestly," said Buemi. "When you see the speed we had this year, to not win the championship is a bit hard to accept. But I'd like to congratulate Lucas for the job he's done. I think he's done a great job this year. They've done a better job than us, we got disqualified twice and we missed two races, so it's difficult to fight like that."
Up at the front, Felix Rosenqvist led the way after taking pole position. The Mahindra driver was running clear at the front, but he was also using more energy than Jean-Eric Vergne who was in second after jumping DS Virgin Racing's Sam Bird at the start.
The Techeetah driver's better energy consumption meant he was able to stop a lap later than Rosenqvist, but when he emerged from the mandatory car swap he was over six seconds behind. But with more energy to play with he soon closed that lead right down.
Rosenqvist, with an eye on third in the championship, was more concerned with beating Bird than getting into a battle with Vergne, and could not prevent the Frenchman's charge. Once ahead, Vergne quickly established a lead that allowed him to bring home his and the team's first Formula E win.
"It is an amazing result for the team in our first year," he said. "We've had a few ups and downs. Obviously, a win was in reach many times this season but for some reason we could not quite get it, I think this weekend everything went quite smoothly, everything was perfect. To get this first win for the team, for myself, right at the end of the season before the summer break is something amazing. All the people who have worked so hard, it was nice to reward them with something like this. As for myself, to score my maiden win, as well as the first win of the team is only going to make my relationship with the team even stronger. Hopefully it is the first of many of them and I think it puts us in a completely different position for next year."
After starting back in 11th, Jose Maria Lopez wasn't thinking of a podium finish before the start of the race, but his DS Virgin Racing car was in flying form and he carved his way up the order. Making overtaking look easy on the fantastic Montreal Street Circuit, he ended his season on a high with his second podium and third place.
Bird bent his steering with an early brush with the wall, but was still able to take fourth, while Nick Heidfeld spent most of the race swapping places with the DS Virgin drivers before finally finishing fifth.
In the closing stages di Grassi backed off and allowed his team-mate Daniel Abt to retake the sixth place he had conceded to the new champ after the pitstops, while Sarrazin charged back up to eighth after his opening lap misfortune, which had also left him with suspension damage.
Jerome D'Ambrosio was ninth, Tom Dillmann was 10th, while Nico Prost picked up a point by setting the Visa Fastest Lap. This meant that Renault e.dams kept up its amazing record of having scored a point in every Formula E race but more importantly, that for the third season in a row it secured the Teams' championship.
Alain Prost, co-team owner, said: "From myself and on behalf of the team I want to congratulate Jean-Eric Vergne on his first win and Lucas di Grassi on his first Championship. I think he deserves to be Champion. During the last three years, he has been very consistent and we have a nice Champion, we must recognise that. We can be happy with a lot of points in the Constructors' Championship and we thought it would be easier than this and in the end, it was not."
The Montreal ePrix was a huge success, with packed grandstands, enthusiastic fans and a track that the drivers loved. The FIA Formula E Championship now embarks on a summer off-season, before bursting back into action with the Hong Kong ePrix, which kicks off Season 4 on December 2/3.
2017 Montreal ePrix (Round 12) - Race results
Jean-Eric Vergne, TECHEETAH, 54:12.606s (25)
Felix Rosenqvist, Mahindra Racing, +0.896s (21)
Jose Maria Lopez, DS Virgin Racing, +4.468s (15)
Sam Bird, DS Virgin Racing, +7.114s (12)
Nick Heidfeld, Mahindra Racing, +21.933s (10)
Daniel Abt, ABT Schaeffler Audi Sport, +24.444s (8)
Lucas di Grassi, ABT Schaeffler Audi Sport, +24.855s (6)
Stephane Sarrazin, TECHEETAH, +26.038s (4)
Jerome D'Ambrosio, Faraday Future Dragon Racing, +28.282s (2)
Tom Dillmann, Venturi Formula E, +28.591s (1)
Sebastien Buemi, Renault e.dams, +35.170s
Mitch Evans, Panasonic Jaguar Racing, +36.548s
Robin Frijns, Andretti Formula E, +36.826s
Adam Carroll, Panasonic Jaguar Racing, +36.972s
Antonio Felix da Costa, Andretti Formula E, +39.720s
Nelson Piquet Jr, NextEV NIO, +46.751s
Oliver Turvey, NextEV NIO, +49.116s
Maro Engel, Venturi Formula E, +1:33.530s
Loic Duval, Faraday Future Dragon Racing, 3 laps
Nico Prost, Renault e.dams, DNF (1)
Driver standings
Lucas di Grassi, ABT Schaeffler Audi Sport – 181
Sebastien Buemi, Renault e.dams – 157
Felix Rosenqvist, Mahindra Racing – 127
Sam Bird, DS Virgin Racing – 122
Jean-Eric Vergne, TECHEETAH – 117
Nico Prost, Renault e.dams - 93
Team standings
Renault e.dams – 268
ABT Schaeffler Audi Sport – 248
Mahindra Racing – 215
DS Virgin Racing – 190
TECHEETAH – 156
NextEV NIO – 59
Andretti Formula E – 34
Faraday Future Dragon Racing – 33
Venturi Formula E – 30
Panasonic Jaguar Racing - 27