This page contains archived information and may not display perfectly
Formula E - Dennis does it again on home soil as Vandoorne distances himself from championship rivals
Twelve months on from his last ABB FIA Formula E World Championship triumph, Jake Dennis left his pursuers trailing once more in London with a peerless performance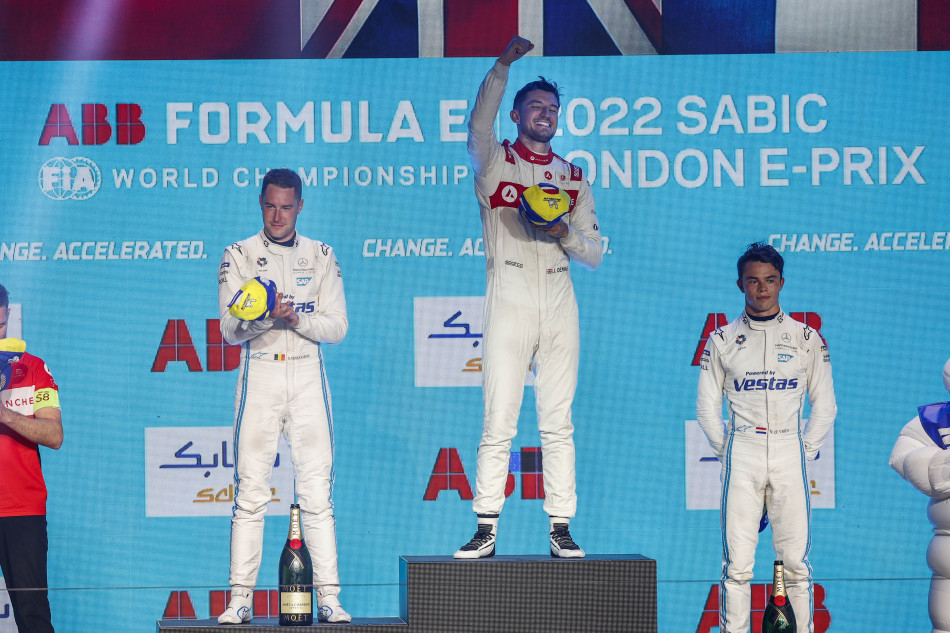 History repeated itself in the London E-Prix today (30 July), as for the second year in a row, Jake Dennis delivered a dominant victory on home soil – while Stoffel Vandoorne took a giant step towards clinching a maiden ABB FIA Formula E World Championship crown.
Dennis might have dismissed his chances heading into the weekend, but the fastest time in FP2 suggested he was underplaying his potential – and indeed it would prove, as he soared to a second career pole position for Avalanche Andretti in the all-electric single-seater series.
The Briton's palpable affinity with the indoor/outdoor ExCeL circuit continued into the race, which he controlled from the outset, fending off early pressure from Mercedes-EQ duo Vandoorne and Nyck de Vries before stretching his legs to take the chequered flag more than two seconds clear of the championship leader. A bonus point for fastest lap was the icing on the cake of Dennis' perfect day.
Vandoorne admitted after the E-Prix that he'd had no answer to his rival's prodigious pace, but he nonetheless kept the winner honest throughout and the Belgian's seventh podium finish of the 2021/22 campaign – allied to drama for two of his closest competitors – enabled him to extend his advantage at the summit of the standings to a commanding 24 points with only three races remaining.
The top two wound up some way ahead of an enthralling 'Nyck vs. Nick' duel for third that intensified in the final laps, as reigning champion de Vries robustly defended his position against a hard-charging Nick Cassidy (Envision Racing).
The New Zealander – who broke his Formula E duck in New York last time out – expertly exploited a late Attack Mode strategy to climb the order from his seventh-place starting slot, trying every which way to unseat de Vries but ultimately falling just under three tenths-of-a-second short. A post-race five second penalty for de Vries (for having Defended his position on the straight with more than one move) meant Cassidy was promoted to third place, whilst de Vries dropped to sixth.
Dennis' Avalanche Andretti team-mate Oliver Askew produced a superb performance to finish fourth, as the series rookie ran confidently up at the sharp end en route to his first points since the Saudi Arabia curtain-raiser back in January.
Jaguar TCS Racing's Mitch Evans made up for a mistake in qualifying that had left him down in 14th on the grid with a gritty recovery to fifth that has elevated him to second in the championship classification.
Former title-winner António Félix da Costa was another driver to make gains, converting 11th at the start into a seventh-place finish despite an early coming-together with DS TECHEETAH stablemate Jean-Éric Vergne, while eighth for Maximilian Günther represented the German's finest result of a difficult season with Nissan e.dams, but he lost some late ground after running low on energy.
Notwithstanding a five-second penalty for causing a collision, 2016/17 champion Lucas Di Grassi (ROKiT Venturi Racing) fought from the rear of the grid to a points-paying finish in ninth, ahead of TAG Heuer Porsche's Pascal Wehrlein in tenth.
Vergne's title hopes were dealt a hefty blow in a race that saw the Frenchman caught up in contact on a number of occasions, restricting him to 14th at the flag. The DS TECHEETAH ace now sits 45 points adrift of the championship lead in his quest for a third career crown.
Robin Frijns (Envision Racing) slipped to 16th in the final reckoning after picking up a five-second penalty for moving under braking, while former championship leader Edoardo Mortara's bid for title glory continued to unravel. Following a tardy launch, the Swiss star came off worst in the opening lap midfield mêlée, obliging him to pit for repairs to his ROKiT Venturi Racing single-seater from where – with no safety car interventions – he could salvage only 18th place.
Jaguar TCS Racing's Sam Bird – a winner of the London E-Prix in the race's previous home in Battersea Park – fell victim to the same first lap incident as Mortara, but arguably the unluckiest driver of all was Sérgio Sette Câmara (Dragon / Penske Autosport).
After qualifying an excellent fourth, the Brazilian boldly relieved de Vries of third into Turn One several laps in and despite subsequently fading as he struggled to conserve as much energy as his adversaries, he still looked set to score his first points of the season before coming to a halt on the race's last lap.
The action resumes tomorrow (31 July) with Round 14 of the campaign, which will get underway at 15:00 local time (16:00 CET).
JAKE DENNIS, AVALANCHE ANDRETTI, #27 said:
"Honestly it was one of the hardest races I've ever done just physically. As the rubber gets down on the surface, it's an indoor surface, it's so hard to turn the steering wheel. But we managed 45 minutes, and honestly the car was amazing. So it was a technical race trying to manage Stoffel and Nyck, obviously two teammates working together. So I had to manage that and the team did a great job, the car was incredible, and the strategy was strong. And then it was just a case of bringing it home in the last 15 laps and being careful of Stoffel's Fanboost. But yeah, insane race and honestly when I crossed the chequered flag hearing the fans was one of the best experiences of my life – so, so cool. So big thank you to all the fans out here and the British support. I've never experienced anything like it. And obviously being in the indoor and the lights and seeing everyone stand up – it was just a lifetime memory. We've got to do a job tomorrow and obviously we've got to try to repeat this."
STOFFEL VANDOORNE, MERCEDES-Q FORMULA E TEAM, #5 said:
"It was a good day today finishing second. Well done to Jake – I think he had an incredible day. Already in the practice sessions he was very fast and managed to get Pole Position, and then he drove a very intelligent race. For us, there was really no answer to him. I tried to stay as close as possible for as long as I could, but on this circuit it wasn't enough to get him. But great team results second and third. So yeah, let's keep pushing - three to go, and tomorrow is another opportunity. There was simply no opportunity to take him so if I would have known his strategy a little bit better before the race, maybe I would have had an opportunity to get to make a move. But yeah, it happened now, so nothing to say - Jake had a great race."