Formula E - Changing weather conditions make for an eventful race on the Parisian streets
Robin Frijns becomes the eighth different winner in as many races this season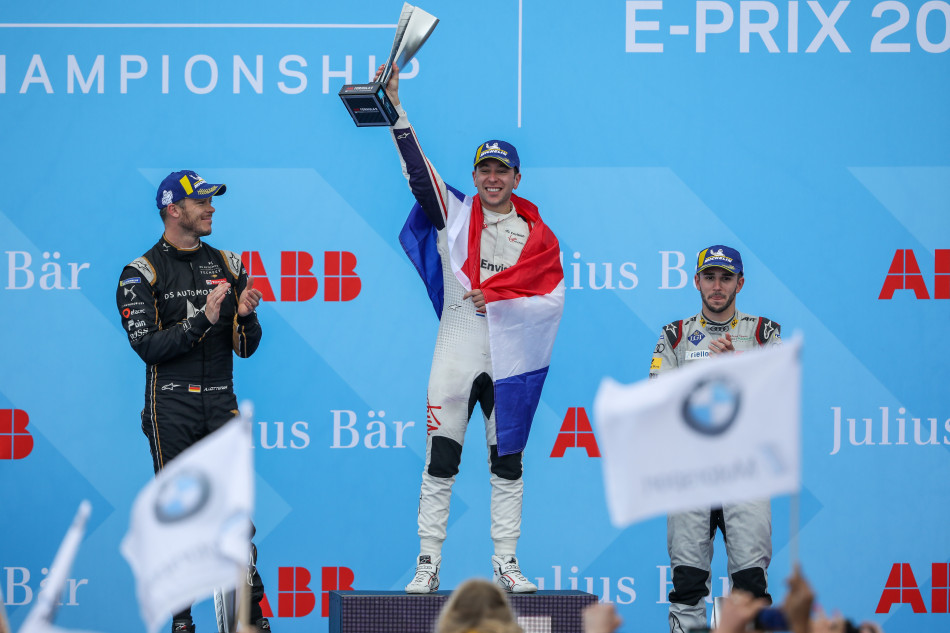 In front of a huge Parisian crowd, Robin Frijns of Envision Virgin Racing managed to win his maiden race in the ABB FIA Formula E Championship. Starting from third place, Frijns managed the changing weather conditions the best and ended an eventful race on top of the podium. Still without a repeat winner this season, the Dutchman extends the list of consecutive different race winners to eight.    
Frijns moved to the front of the field following mistakes and misfortune from both Nissan e.dams cars in the early phase of the race. After the cars were released behind the safety car at the start due to wet conditions, pole-sitter Oliver Rowland crashed out of the lead, locking-up and hitting the barrier at Turn 10.
Rowland recovered and dropped down the order to last place, while team-mate Sebastien Buemi suffered a puncture shortly after and pitted for a tyre change, handing the lead to Frijns. The adverse weather conditions, which led to incidents causing four full-course yellow periods and an outing of the safety car, kept the whole grid on its toes. The leading group remained in close proximity until the chequered flag, putting a first win tantalisingly within reach of Lotterer.
Successive second place finishes lift Lotterer just behind Frjins in the points table. Daniel Abt rounded-out the top-three positions, earning his second appearance on the podium this season. Audi Sport ABT Schaeffler team-mate Lucas di Grassi finished a place further back in fourth, ahead of Maximilian Günther for GEOX DRAGON RACING with a career-best fifth in Formula E.
Reigning champion Jean-Eric Vergne was not able to replicate last season's success on home soil and could only manage to collect eight points for sixth. Antonio Felix da Costa was next over the line in seventh for BMW i Andretti Motorsport, one place in front of HWA RACELAB's Gary Paffett in eighth.
Felipe Massa, who was running as high as third, avoided damage after spinning on the exit of Turn 2 and added to VENTURI Formula E's points haul in ninth. MAHINDRA RACING's Pascal Wehrlein completed the top-10, despite losing pole position and starting last on the grid due to not respecting the minimum tyre pressures in qualifying.
Robin Frijns now leads the driver's championship standings, just one point clear of Andre Lotterer, courtesy of an extra point for setting the fastest lap. BMW i Andretti Motorsport driver Antonio Felix da Costa is in third on equal points to Lucas di Grassi in fourth. Jerome D'Ambrosio, who came to Paris leading the championship, has dropped to fifth.
The ABB FIA Formula E Championship heads to Monte Carlo next. The ninth round of the 2018/19 season will feature some iconic street racing around the Monaco harbour on 11 May.
Quotes:
Robin Frijns, Envision Virgin Racing:
"The last thing you want in a race is rain and it was very slippery for everyone - everybody went off at some point. I crashed as well, so it was very tricky conditions and difficult to know what the rain would do to the track. You're surviving really and knowing that you're leading, you're the first car and anticipating the grip in the corners. Andre was behind me and he was waiting for me to make mistakes. So, the pressure was on all race long. I didn't have much time to rest, only during Full Course Yellows, but it was definitely one of the toughest races."
Andre Lotterer, DS TECHEETAH:
"It was a good start and we managed to avoid many things. At the beginning I thought - ok, we can do something because I was quite good in the morning in the free practice. But somehow there wasn't grip, or the tyres didn't have grip. For me, the safest thing to do was take it home, and then it started to rain more and visibility was bad. I tried to stay there and sometimes put a bit of pressure just in case he made any mistake."
Daniel Abt, Audi Sport ABT Schaeffler:
"I think it was a pretty good race in the dry - I felt super quick, super confident and I had some good battles, especially with Massa… although it was a fun and fair one. I felt really confident and the shower came of course, and it changes the perspective which goes from trying to close the gap and push to win - to trying to survive more or less. All of us were really on a knife-edge. So, bringing third home I think is positive."
2019 Paris E-Prix (Rd 8)
| | | | | |
| --- | --- | --- | --- | --- |
| 1 | Robin Frijns | Envision Virgin Racing | 47:50.510s | (26) |
| 2 | Andre Lotterer | DS TECHEETAH | +1.373s | (18) |
| 3 | Daniel Abt | Audi Sport ABT Schaeffler | +3.175s | (15) |
| 4 | Lucas di Grassi | Audi Sport ABT Schaeffler | +3.666s | (12) |
| 5 | Maximilian Gunther | GEOX DRAGON | +5.456s | (10) |
| 6 | Jean-Eric Vergne | DS TECHEETAH | +6.694s | (8) |
| 7 | Antonio Felix da Costa | BMW i Andretti Motorsport | +7.238s | (6) |
| 8 | Gary Paffett | HWA RACELAB | +7.901s | (4) |
| 9 | Felipe Massa | VENTURI Formula E Team | +10.522s | (2) |
| 10 | Pascal Wehrlein | MAHINDRA RACING | +10.998s | (1) |
| 11 | Sam Bird | Envision Virgin Racing | +11.488s |   |
| 12 | Oliver Rowland | Nissan e.dams | +19.451s | (3) |
| 13 | Jose Maria Lopez | GEOX DRAGON | +24.023s |   |
| 14 | Oliver Turvey | NIO Formula E Team | +1:22.226s |   |
| 15 | Sebastien Buemi | Nissan e.dams | 1 Lap |   |
| 16 | Mitch Evans | Panasonic Jaguar Racing | 1 Lap |   |
| 17 | Jerome D'Ambrosio | MAHINDRA RACING | 3 Laps |   |
|   |   |   |   |   |
| DNF | Alex Lynn | Panasonic Jaguar Racing | 23 Laps |   |
| DNF | Edoardo Mortara | VENTURI Formula E Team | 23 Laps |   |
| DNF | Alexander Sims | BMW i Andretti Motorsport | 18 Laps |   |
| DNF | Stoffel Vandoorne | HWA RACELAB | 18 Laps |   |
| DNF | Tom Dillmann | NIO Formula E Team | 17 Laps |   |
Driver standing
Robin Frijns

Envision Virgin Racing

81

Andre Lotterer

DS TECHEETAH

80

 

Antonio Felix da Costa

BMW i Andretti Motorsport

70

 

Lucas di Grassi

Audi Sport ABT Schaeffler

70

 

Jerome D'Ambrosio

MAHINDRA RACING

65

 

Jean-Eric Vergne

DS TECHEETAH

62

 

Mitch Evans

Panasonic Jaguar Racing

61

 

Daniel Abt

Audi Sport ABT Schaeffler

59

 

Sam Bird

Envision Virgin Racing

54

 

Edoardo Mortara

VENTURI Formula E Team

52

 

Pascal Wehrlein

MAHINDRA RACING

38

 

Oliver Rowland

Nissan e.dams

38

 

Sebastien Buemi

Nissan e.dams

30

 

Stoffel Vandoorne

HWA RACELAB

18

 

Alexander Sims

BMW i Andretti Motorsport

18

 

Felipe Massa

VENTURI Formula E Team

17

 

Maximilian Gunther

GEOX DRAGON

10

 

Gary Paffett

HWA RACELAB

8

 

Oliver Turvey

NIO Formula E Team

6

 

Jose Maria Lopez

GEOX DRAGON

2

 

Nelson Piquet Jr.

Panasonic Jaguar Racing

1

 

Tom Dillmann

NIO Formula E Team

0

 

Alex Lynn

Panasonic Jaguar Racing

0

 

Felipe Nasr

GEOX DRAGON

0

 

Felix Rosenqvist

MAHINDRA RACING

0

 

 
 
 
 
 
Team standing
| | |
| --- | --- |
| DS TECHEETAH | 142 |
| Envision Virgin Racing | 135 |
| Audi Sport ABT Schaeffler | 129 |
| MAHINDRA RACING | 103 |
| BMW i Andretti Motorsport | 88 |
| VENTURI Formula E Team | 69 |
| Nissan e.dams | 68 |
| Panasonic Jaguar Racing | 62 |
| HWA RACELAB | 26 |
| GEOX DRAGON | 12 |
| NIO Formula E Team | 6 |