Formula E - Buemi wins Berlin scorcher
Formula E - 2017 Berlin ePrix - Sunday race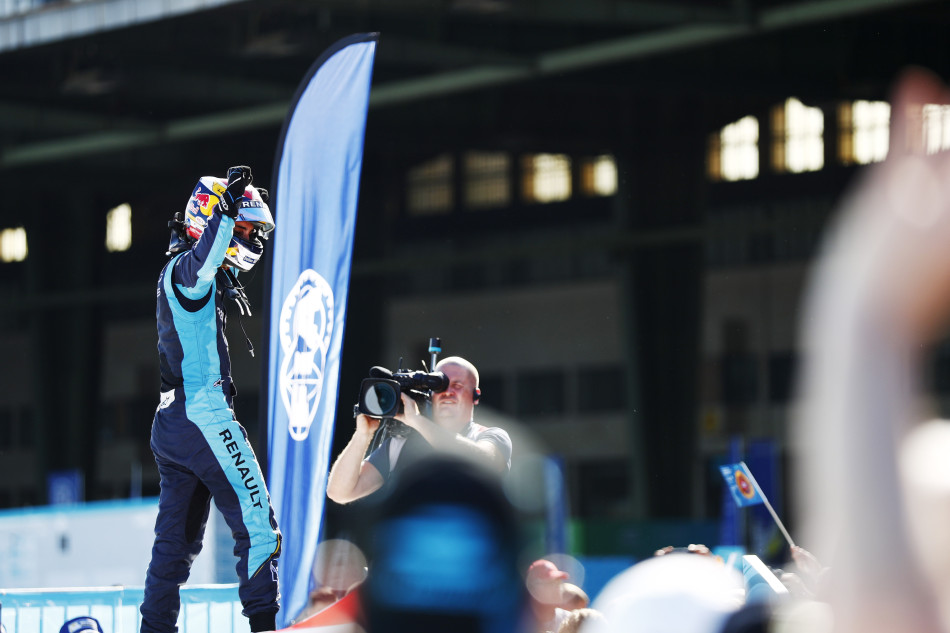 Sebastien Buemi has claimed his sixth victory of the 2016/17 FIA Formula E Championship season in Berlin despite crossing the line second behind yesterday's race winner Felix Rosenqvist. The Mahindra driver had started from pole and led every lap, however a ten-second penalty for an unsafe release from the pit garage dropped him down to second in the final classification. ABT Schaeffler Audi Sport's Lucas di Grassi completed the podium.
It was a near-flawless drive from Rosenqvist, who managed the gap to Buemi throughout and maintained his lead despite the confusion in pit lane as he was released while team-mate Nick Heidfeld was about to enter the garage. The German driver had been making impressive progress having started from the back of the grid following an issue in qualifying, and indeed despite losing time in the pits, he managed to cross the line inside the points in tenth.
With Rosenqvist and Buemi out front, the battle for the final podium position raged for the full 46-lap contest, the longest race distance in all-electric Formula E history at 104.7km. In the early running it was the two DS Virgin Racing cars of Jose Maria Lopez and Sam Bird who were nose to tail in third and fourth. After fifteen laps, Bird had closed right in on the three-time FIA World Touring Car Champion and on the run down to Turn One on lap 17 he attempted a move around the outside. The two made slight contact, with Bird sliding wide and dropping down two places and Lopez also losing momentum.
Techeetah's Jean-Eric Vergne made a strong move to take third place soon after, but the battle was far from over. Di Grassi capitalised on Lopez' lost rhythm and took fourth at the Turn 9 hairpin, with his team-mate Daniel Abt also making is past the DS Virgin car half a lap later.
Following the pit stop car change phase at mid-distance, di Grassi pushed hard to overtake Vergne who was making his Techeetah car as wide as possible. In the end, the pressure was enough to force a slight mistake from the Frenchman into Turn One on lap 32. With Abt also finding a way through to take fourth by the chequered flag, it was a strong 3-4 finish for the German squad's home race.
With the lead pair far a long way down the road, di Grassi was unable to close the gap to under ten seconds to Rosenqvist, meaning Buemi now has a 32-point advantage with four races left to run this season.
Sebastien Buemi said: First of all, congratulations to Felix, I feel like he's the one who deserved the victory today. We try to bring new updates and sometimes it can be quite difficult to put them into proper race condition. Yesterday it didn't work so we came back to what we had in Paris and Monaco, and it worked quite well. It's quite difficult to practice outside of the races and bring things that work straight away, so I'm happy that we managed to have a good pace in the race. The car was very quick - I think we were more or less the same pace [as Rosenqvist]. I'm very happy with that result, it just tastes a little bit different than normal."
Felix Rosenqvist said: "I think in a couple of hours when I look back at this weekend it will be as a very positive one, both for me and the team. Obviously, the result is very disappointing, it would have been very cool to take another win but it's just a fantastic weekend overall. Today, we were under pressure from Sebastien, we knew that we would be close as they looked very strong compared to yesterday. I knew that I had to drive a perfect race, every corner we had to drive perfect. I think we did a great job."
Lucas di Grassi said: "I think the event was amazing, the track was well designed. For us this weekend, we didn't have the performance to match the Mahindra especially. I had a lot of fun with JEV [Jean-Eric Vergne]. He is very difficult to overtake. We had better pace today - yesterday we found some pace, which meant we could keep up a little bit with these guys, but we need to improve. There is still a couple of tenths we need to find to be able to fight [for the win]."
Rounds 9 and 10 will be a hugely significant moment in motor sport history, as the FIA Formula E Championship will achieve another world-first and become the first championship ever to race on the streets of New York City on 15-16 July.
2017 Berlin ePrix (Rd 8) - Race results
Sebastien Buemi, Renault e.dams, 56:02.155s (25)
Felix Rosenqvist, Mahindra Racing, +7.195s (21)
Lucas di Grassi, ABT Schaeffler Audi Sport, +10.862s (15)
Daniel Abt, ABT Schaeffler Audi Sport, +13.631s (12)
Jose Maria Lopez, DS Virgin Racing, +20.324s (10)
Jean-Eric Vergne, TECHEETAH, +20.751s (8)
Sam Bird, DS Virgin Racing, +21.959s (6)
Nico Prost, Renault e.dams, +22.155s (4)
Oliver Turvey, NextEV NIO, +34.949s (2)
Nick Heidfeld, Mahindra Racing, +35.814s (1)
Antonio Felix da Costa, Andretti Formula E, +44.057s
Nelson Piquet Jr, NextEV NIO, +44.439s
Jerome D'Ambrosio, Faraday Future Dragon Racing, +47.336s
Stephane Sarrazin, TECHEETAH, +51.653s
Tom Dillmann, Venturi Formula E, +56.977s
Adam Carroll, Panasonic Jaguar Racing, +1:05.426s
Mitch Evans, Panasonic Jaguar Racing, +1:07.018s
Robin Frijns, Andretti Formula E, +1:12.083s
Loic Duval, Faraday Future Dragon Racing, DNF
Maro Engel, Venturi Formula E, DNF (1)
Driver standings

Sebastien Buemi, Renault e.dams - 157
Lucas di Grassi, ABT Schaeffler Audi Sport - 125
Felix Rosenqvist, Mahindra Racing - 86
Nico Prost, Renault e.dams - 72
Nick Heidfeld, Mahindra Racing - 63
Jean-Eric Vergne, TECHEETAH - 52

Team standings
Renault e.dams - 229
ABT Schaeffler Audi Sport - 171
Mahindra Racing - 149
DS Virgin Racing - 97
TECHEETAH - 57
NextEV NIO - 51
Andretti Formula E - 26
Venturi Formula E - 21
Panasonic Jaguar Racing - 20
Faraday Future Dragon Racing - 19