This page contains archived information and may not display perfectly
Formula E - Breathless in Brazil: Evans times it right to triumph in thrilling São Paulo E-Prix
Jaguar TCS Racing finally delivers on its early-season promise with a double podium finish at the end of a captivating South American contest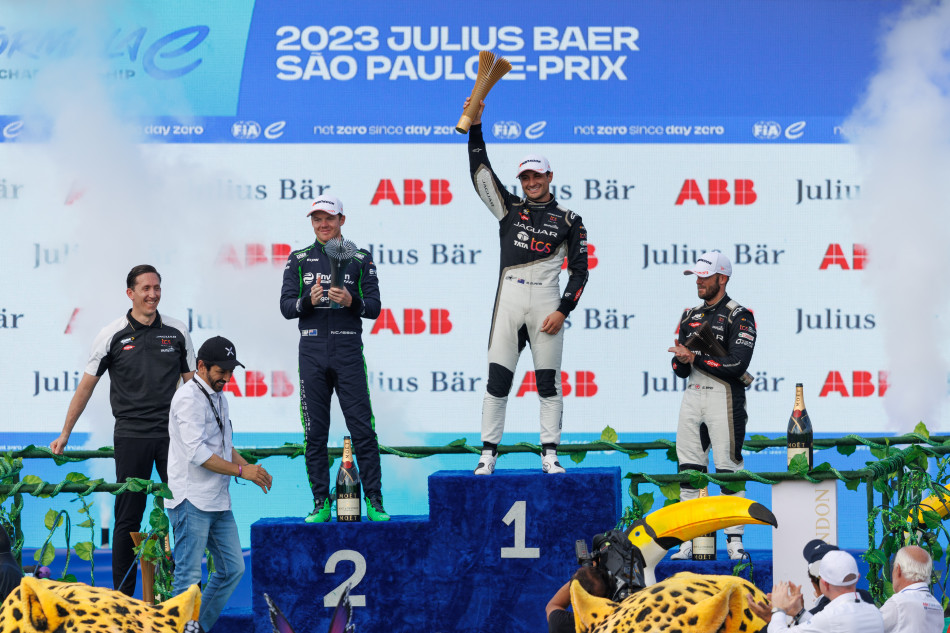 Two races ago, Mitch Evans and Sam Bird endured a tough afternoon in India at the Hyderabad E-Prix; today (25 March), the pair delivered redemption for Jaguar TCS Racing in style, with a superb one-three finish in São Paulo.
The ABB FIA Formula E World Championship's eagerly-awaited debut in Brazil was an electrifying affair from lights-to-flag. Pole-sitter Stoffel Vandoorne led the early laps for DS Penske ahead of 2019/20 champion António Félix da Costa (TAG Heuer Porsche), eventual winner Evans and Nick Cassidy (Envision Racing).
Engaging in an enthralling cat-and-mouse battle, the pace-setting quartet provided almost non-stop entertainment for the enthusiastic fans packing the city's Anhembi Sambadrome, with countless lead changes over the opening half of the E-Prix.
After judiciously keeping his powder dry, Evans finally hit the front on lap 21 before conceding the top spot to countryman Cassidy three tours later when he deployed his second Attack Mode. That gifted his fellow New Zealander what appeared to be a healthy margin – but in Formula E, nothing can ever be taken for granted.
With a handful of laps remaining, Evans started coming back at his Envision rival, whose mirrors were now filled by not just one but two Jaguars – Bird having similarly joined the party. The Briton had initially qualified directly behind his team-mate in fifth, but a grid penalty for the Hyderabad contact relegated him to tenth. He did not let it hold him back.
After immediately gaining two spots to eighth, Bird made short work of NEOM McLaren Formula E Team duo Jake Hughes and René Rast to infiltrate the top six. Conserving his energy well, the 36-year-old subsequently demoted DS Penske pairing Jean-Éric Vergne and Vandoorne – while benefitting from a mistake by da Costa – to rise to third, at which point he began exploiting his energy advantage to zero in on the two leaders.
By lap 32, the trio were running nose-to-tail, but the swift arrival of Bird prompted Evans to turn up the wick, as he dived past Cassidy into Turn One to seize the initiative. Despite a late counter-attack from the Envision driver, last season's championship runner-up held on to register his seventh career victory and climb into the top ten in the overall standings – in so doing, putting an emphatic end to his troubled start to the campaign.
Cassidy tracked his compatriot across the line in second – the 28-year-old's third consecutive rostrum appearance – to close to within a single point of the same position in the title table. The result also marked the first double podium finish for New Zealanders in the all-electric single-seater series.
Bird was ultimately forced to settle for third – and fastest lap – as the leading trio flashed past the chequered flag blanketed by barely half-a-second, with Jaguar celebrating a top three powertrain lockout in the South American metropolis.
Three seconds further back, Cape Town winner da Costa recovered from his lap 25 mishap – locking up and skating straight on at Turn One, dropping several spots in the process – to secure fourth following a late charge. Vergne was a solid presence throughout on his way to fifth, with Vandoorne winding up a disappointed sixth, consuming too much energy at the front of the field early on to be able to maintain the same tempo race-long.
Having started down in 18th, Porsche's Pascal Wehrlein extended his championship lead by tallying six points for seventh position – the German scything through the pack and at one stage featuring as high as fourth. Chief rival Jake Dennis (Avalanche Andretti), conversely, found his challenge curtailed when he was hit from behind by NIO 333 Racing's Dan Ticktum shortly before mid-distance.
The top ten finishers were completed by Hughes, Rast and Sébastien Buemi (Envision), latter fighting back from a coming-together with Maserati MSG Racing's Maximilian Günther on lap two that sent him tumbling down the order to 19th.
The German's team-mate Edoardo Mortara, meanwhile, was a high-profile casualty from fourth on the grid, coming unstuck on the opening tour and retiring later in the race. Lucas Di Grassi was the best-placed home hero in 13th, on a tough day for Mahindra Racing.
The championship will travel next to Berlin's Tempelhof Airport Street Circuit for a double-header contest and the beginning of the European leg of Season 9 on 22/23 April.
Mitch Evans, No. 9, Jaguar TCS Racing, said: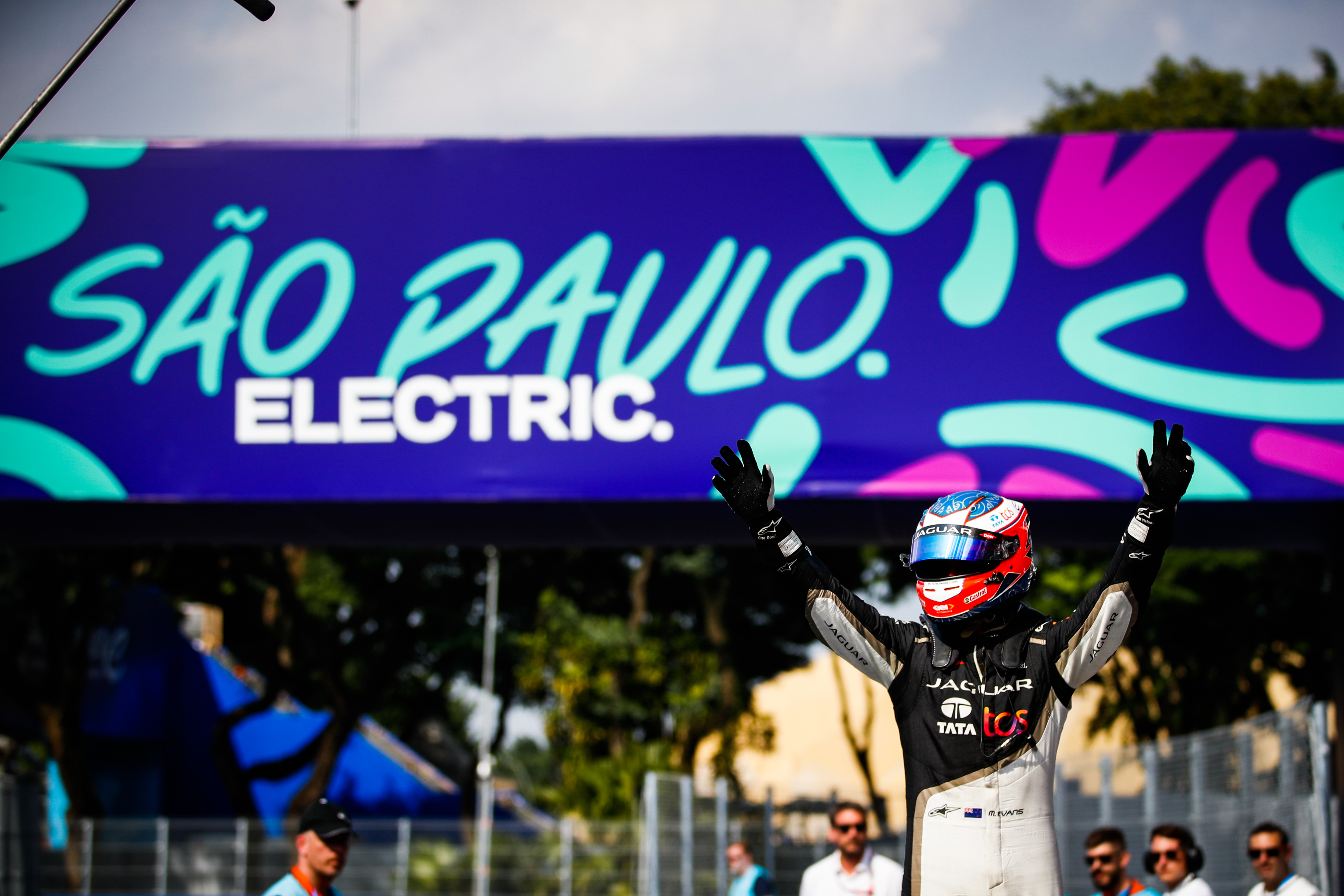 "This has come at the perfect time. We had a tough start but the car has been quick so to finally get the victory and some points is incredible. A Jaguar 1-2-3. Nick pushed me all the way - we pushed each other - both teams executed brilliantly. This is down to a lot of hard work, there is a lot of graft that goes in with simulations, to try and put these races together regarding strategy is not easy. I wouldn't have wanted it much closer than that. We obviously thought about track position and where you want to be at certain phases in the races. I had a good energy advantage from quite early on, but it was just about trying to find the right time to use the energy advantage. I thought I maybe went a bit too early, once Nick got behind me he was able to accumulate some energy and he was able to stick to my toe, but we got the victory so we obviously managed to do the right job. Super happy to get some big points on the board."
Nick Cassidy, No. 37, Envision Racing, said: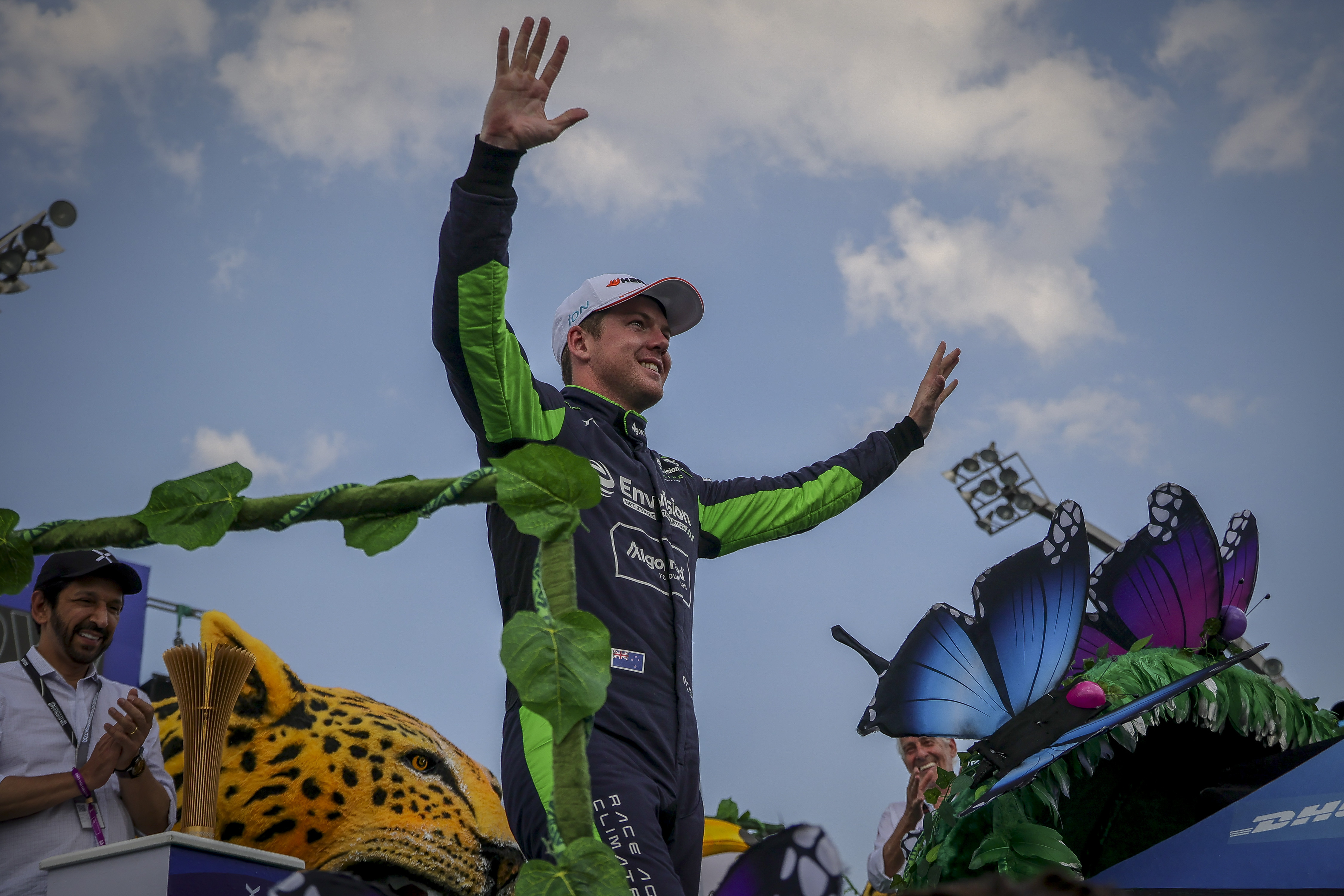 "I am super happy with the podium today, with a race like that you can't not be happy right - that was Formula E at its best, so much fun in the car, I hope it was a good watch. Very strategic, Sam did a great job as well. 1-2-3 Jaguar, pretty cool. I knew [how much energy Sam Bird had], that was a lot of the reason for getting Mitch to go on. I knew to get the win would be pretty difficult and that I would have to do something special on Mitch to turn that round, but I was at a high risk of finishing third. We all want to win, I tried my best to win. But that's the way the cookie crumbled, and I think we got one of the best outcomes."
Sam Bird, No. 10, Jaguar TCS Racing, said:
"Amazing day for Jaguar TCS Racing and Jaguar globally as a group to get the podium locked out. I am not sure whether that has been done before, so a massive hats off to everyone here and back at the base, it's a brilliant result. I am super stoked for the team and for myself. I am a little bit disappointed because I rocked up to the back of the lead with 2% more energy, but I had repercussions of India going on in my head, so I thought to settle in and not do anything silly and just bring home the points, I think I got fastest lap as well. It is good points for the team, we roll onto Berlin."