This page contains archived information and may not display perfectly
Former winners Al Rajhi & Vasilyev top entry for Baja World Cup opener in Russia
Yazeed Al-Rajhi and Vladimir Vasilyev head an impressive entry for Baja Russia Northern Forest, the opening round of the 2022 FIA World Cup for Cross-Country Bajas and the first event in the new FIA Eurasia Zone Cross-Country Rally World Cup.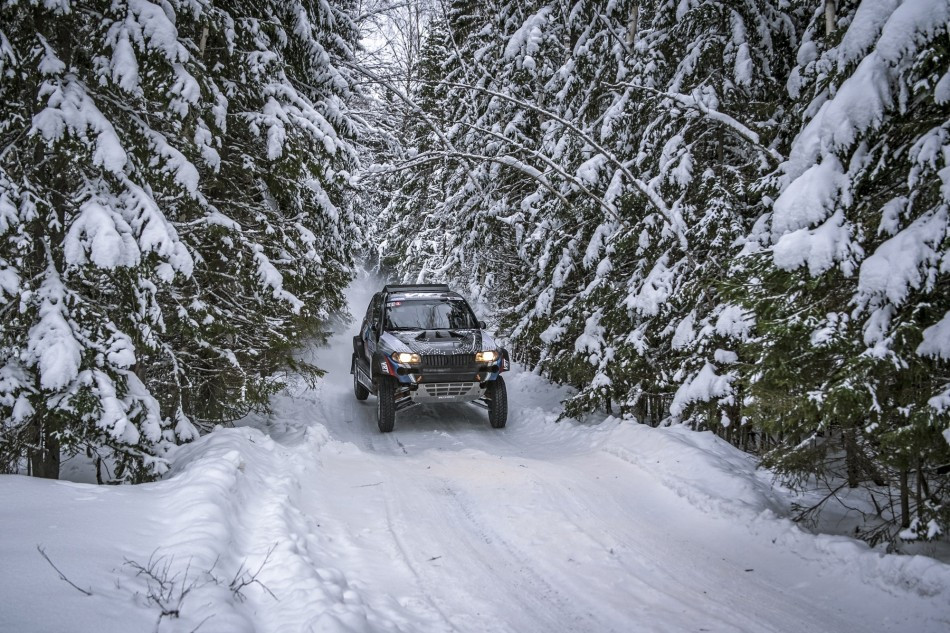 Based at the Igora Drive Sports and Entertainment Complex - 54km from Saint Petersburg - for a third successive season, the 18th running of the only snow and ice Baja in the world will be fought out over three days and nine stages on February 11th-13th.
Al-Rajhi won the event on his only visit in 2014 with German co-driver Timo Gottschalk and will tackle this year's Baja with Northern Ireland's Michael Orr. The duo finished third at the recent Dakar Rally and will be hoping to give Overdrive Racing a fifth victory on the icy classic to follow on from wins for Tapio Suominen, Aron Domzala and Nasser Saleh Al-Attiyah at the wheel of Toyota Hiluxes in 2015, 2017 and 2018.
Saint Petersburg driver Vladimir Vasilyev won his home event in 2013 in a G-Force Proto and for the last two seasons in a BMW X3. The former FIA World Cup and FIA World Cup for Cross-Country Bajas winner teams up with Oleg Uperenko on this occasion in a VRT Mini Cooper Countryman. They finished 10th overall together at the recent Dakar Rally.
Main T1 competition to the leading two crews comes from Andrey Rudskoy in his NG-Energo G-Force BARS, the two Gaz Raid Sport GAZelle NEXT prototypes of Aleksey Ignatov and Evgenii Sukhovenko, Sergey Uspenskiy (Toyota Hilux) and Pawel Molgo's Nac Rally Team Ford F-150.
Ten crews will compete for FIA T3 category honours: Spaniard Fernando Alvarez leads the way in his South Racing Can-Am and faces competition from a trio of Saudi Arabian drivers, four Russian crews and two from Spain.
Alvarez's team-mate Dania Akeel won the FIA T3 category in last year's FIA World Cup for Cross-Country Rallies and competes alongside fellow Saudi Arabian drivers, Saleh Al-Saif and Mashael Al-Obaidan. Enrique Reyes and Ramilo Suarez represent Spain in a pair of Can-Ams and Vadim Fedotov, Anastasiya Nifontova, Armen Puzian and Pavel Silnov drive the four Russian Can-Ams.
Six Can-Ams and one Polaris will tussle for honours in the FIA T4 category. Poland's Tomasz Bialkowski drives the sole Polaris RZR Pro XP against Can-Am rivals from five nations. Lithuania's Egidijus Valeisa, Saudi Arabia's Yousef Al-Dhaif, Portugal's Filipe Nascimento, Russia's Sergei Remennik and Brazil's Cristiano De Sousa Batista round off the FIA field.
Remennik is a regular competitor in international special stage rallies within the ERC and Russia Cup and has switched to the off-road discipline for this event. He will be co-driven in the Snag Racing Team Can-Am by Sergei Kariakin, who normally sits in the driving seat on international cross-country events and has supplied the SSV for Remennik.
With temperatures likely to plummet as low as -10˚C to -30˚C and ice and heavy snow prevalent, competitors will be permitted to use tyres with studs up to 1.5cm.
Scrutineering checks will take place on Thursday afternoon (February 10th) and Friday morning, before competitors tackle a 16.00km Qualifying Stage on Friday afternoon.
Saturday's action takes place over two stages run three times. The opener runs for 36.20km between Krutaya Gora and Razdolye, with the second 16.00km section taking place within the Igora Drive complex - the largest of its kind in the Russian Federation.
The longer of Sunday's two selective sections runs for 121.30km between Romashki and Druzhnoye, while the second one loops around Druzhnoye for 93.60km.
In a route of 600.50km, competitors will tackle 387.50km over the nine stages.
Baja Russia Northern Forest  – leading entries:
201. Yazeed Al-Rajhi (SAU)/Michael Orr (GBR), Toyota Hilux Overdrive
202. Vladimir Vasilyev (RUS)/Oleg Uperenko (RUS), Mini Cooper Countryman
203. Andrey Rudskoy (RUS)/Andrei Rudnitski (RUS), G-Force BARS
204. Sergey Uspenskiy (RUS)/Alexander Zheludov (RUS), Toyota Hilux
205. Alexsey Ignatov (RUS)/Evgenii Pavlov (RUS), GAZelle  NEXT
206. Evgenii Sukhovenko (RUS)/Kirill Chapaev (RUS), GAZelle NEXT
207. Pawel Molgo (POL)/Maciej Marton (POL), Ford F-150
208. Fernando Alvarez (ESP)/José Luis Diaz (ARG)   Can-Am Maverick X3
209. Saleh Al-Saif (SAU)/Egor Okhotnikov (RUS)   Can-Am Maverick X3
210. Dania Akeel (SAU)/Laurent Lichtleuchter (FRA)  Can-Am Maverick X3
TIMETABLE OF EVENTS
Friday, February 11
Qualifying Stage (SS1 - 16.00km)   First car 16.00hrs
Start ceremony      18.25hrs
Pre-event press conference   19.30hrs
Saturday, February 12
Stages 2-7 (36.20km and 16.00km x 3)  08.00hrs-14.30hrs
Sunday, February 13
Stage 8 (Romashki - Druzhnoye – 121.30km)  First car 10.27hrs
Stage 9 (Druzhnoye - Druzhnoye – 93.60km)  First car 13.15hrs
Podium ceremony     16.00hrs
Post-event press conference and prize giving 20.00hrs
For more information, please visit the event website. More details on the FIA World Cup for Cross-Country Bajas can be found on fia.com.