This page contains archived information and may not display perfectly
First European "Mountaineers" meeting at St-Jean-du-Gard
Hill Climb: The FIA European Hill Climb Championship starts up again on 16-17 April 2016 in France and continues a week later in Austria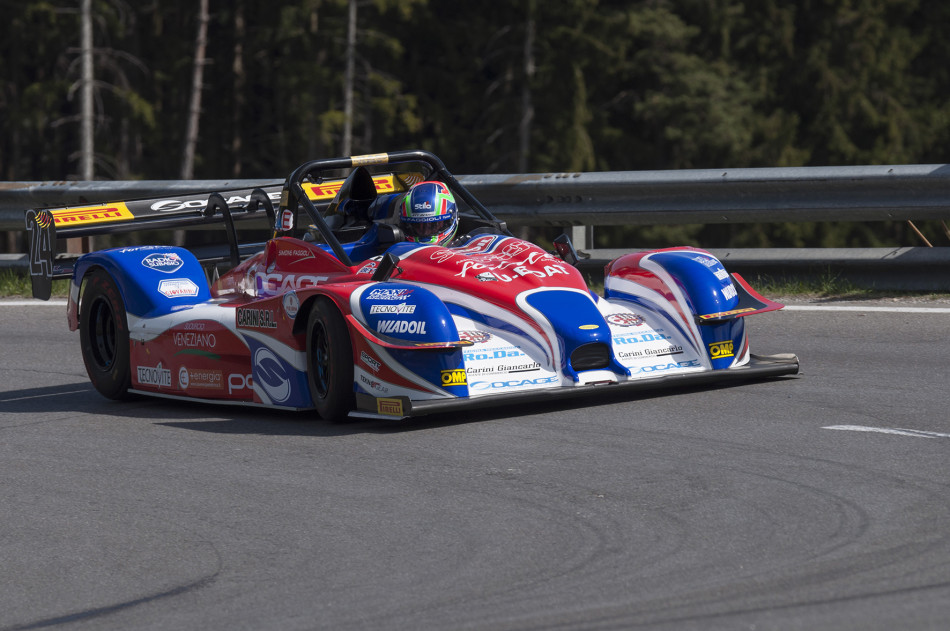 On one weekend a year for the past 44 years, the picturesque "Corniche des Cévennes" route linking Saint-Jean-du-Gard with Col Saint-Pierre has been transformed into a race track, and once again in 2016 the stunning course will play host to the stars and cars of the FIA European Hill Climb Championship. Characterised by a succession of quick hairpins which open up into wide bends around mountain slopes, this majestic ribbon of tarmac leading into Col Saint-Pierre is undeniably a favourite among many drivers and the perfect place to start a new season.

The hill climb, usually 5.28km long, has been shortened by 200m this year in order to avoid a final section that has been deemed too fast to comply with safety requirements.

As always, the town of Saint-Jean-du-Gard, home to just under 3,000 people, is the base camp of the event. Almost 200 teams from around ten different countries will be given a warm welcome as they start arriving mid-week to prepare for the scrutineering checks on Friday. Indeed, all championship categories combined (the second rounds of the French Hill Climb and Historic Hill Climb Championships are also scheduled for that weekend), Saint-Jean-du-Gard is expected to play host to no fewer than 192 drivers, of whom 42 are in the historic division.

The ambience of the event is unique, as all the streets and squares of this Cévennes town live and breathe a passion for motor sport. Over the course of three days the cars are finely prepared and tuned in the open air to the delight of spectators, and once the competition begins the organisers provide free shuttle buses so that they can easily make the 4km journey from the town to the course.

Eight-time European Champion, Italian Simone Faggioli has his sights set on yet another title and new records at the wheel of his E2/SC category Norma M20FC. He will face stiff competition from main opponent Christian Merli – also his long-time rival in Italy – who plans to focus on the European Championship this year. Merli will drive the single-seater prototype Osella FA30 (E2/SS category) that brought Faggioli so much success, now powered by an original V8 RPE engine.

In a similar Osella model with a Zytek engine, the promising young driver Paride Macario will make his debut in the European Championship in 2016. Though most of the 12 courses scheduled for the season will be new to him (with the exception of the Ascoli event in Italy), he is likely to regularly score podium points. Fellow Italian drivers Fausto Bormolini and Renzo Napione, who have been stalwarts of the European Championship for years, will continue to race their Reynard K02s.

The E2/SH category promises to develop nicely in 2016 with an increase in the number of competitors. Czech drivers Dan Michl (Lotus Evora V8) and Vladimir Vitver (Audi TT R DTM), who are often the class of the field, will have to contend with the more consistent participation throughout the entire season of talents including Jiri Los (formerly in Group N, driving a Mitsubishi Lancer Evo 9), Oskar Benes (Ford Fiesta), Fulvio Giuliani (Lancia Delta Evo) and Yann Heche (original Mazda 3 with rotary engine).

Two-time Category 1 closed car European Championship winner – Macedonian driver Igor Stefanovski – will not return to defend his title as he moves to the ETCC, but the field remains strong in his absence.

Of course the European title should not be without a Mitsubishi driver, whether they be registered in Group A (Jaromir Maly, Christian Schweiger, Lukas Vojacek) or in Group N (Antonio Migluiolo, Tomas Vavrinec, Nikola Miljkovic). With successful seasons behind him, Czech driver Martin Jerman has swapped his Lancer for the unusual choice of a Lamborghini Gallardo that he will pilot in the GT category.

As in 2015, the FIA European Hill Climb Championship will include 12 events and visit 12 different countries. There is only a single change of venue compared with last season's calendar, as the Italian event moves from Trento to Ascoli. Just a week after the opening weekend at Saint-Jean-du-Gard, the championship will travel to Austria for the famous Rechbergrennen event which usually attracts over 20,000 spectators.

Click here to view the full events calendar for 2016.