FIA Women Officials' Exchange Programme: A memorable experience for 24 women at the Singapore Grand Prix
The Formula 1 Singapore Airlines Singapore Grand Prix 2022 (30 September – 2 October) hosted the first International Women Officials' Exchange program, allowing 24 women from around the world to step up to the role of race officials at the highest level of the sport.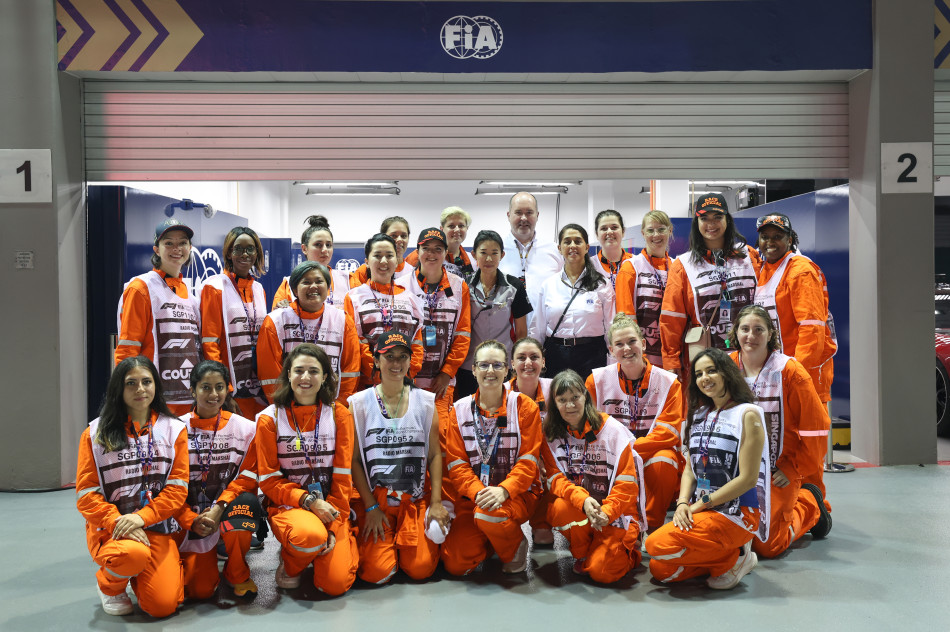 The Women Officials' Exchange programme is a joint initiative of FIA Women in Motorsport and FIA Volunteers and Officials Commissions aiming to promote and encourage participation of female motor sports officials around the world.
Following an extensive application campaign, 24 women representing six regions of the world were selected from 300 applicants to gain their first experience of volunteering outside their country and at a world championship.
To qualify for the programme each of the volunteers was required to have at least one year of experience of officiating at motor sport events. Upon arrival at Marina Bay Street circuit, the participants were trained to ensure they are in possession of the necessary skills to safely perform their duties. Allocated to different trackside positions for the weekend, they had the opportunity of working in a wide variety of roles, including flag marshal, track marshal and observer. They were also circulated into pitlane, paddock, scrutineers, or the starter position to get the maximum experience of a world class event and an understanding of the process and procedures relevant to Formula 1. Throughout the duration of their missions, they were mentored by local experienced officials who assisted them in their roles and passed on much of their experience and knowledge.
All of the regular Singapore Grand Prix officials who worked with the exchange programme members praised their dedication, seriousness, and professionalism. The 24 volunteers showed a common enthusiasm and willingness to learn in all their activities and strengthened by this memorable experience, they now return to their home country to further develop their officiating skills while being a local ambassador for women in motor sport.
Robert Reid, FIA Deputy President for Sport met with the participants at the Marina Bay Street Circuit to hear about their experience, the mission of volunteers and their vision for women's increased participation in motor sport.
Robert Reid, FIA Deputy President for Sport, said: "Growing women's participation at all levels of our sport is at the heart of our commitment for Equality, Diversity and Inclusion. Volunteers are key players in motor sport, and to see these women coming from all regions of the world to take on this responsibility in Formula 1 is a major and promising step forward. I congratulate all the participants who are a credit to their clubs and their home country and thank our members for their involvement in this important programme for the FIA."
Deborah Mayer, FIA Women in Motorsport Commission President, said: "I am delighted with the success of our programme and its added value for the promotion of women in motor sport. The 24 participants have demonstrated their commitment, qualities, and legitimacy in the essential role of race officials. This programme in Singapore, built hand in hand with the FIA VOC, met our main objective: encourage new vocations in Asia and worldwide. With the development of such initiatives, the Commission aims to become a lighthouse for every woman interested in a career in motor sport".
Janette Tan, Asia-Pacific Representative of the FIA WIM Commission and member of the FIA VOC  said: "It has been many months of planning from sourcing of hotels to flights and other logistics. I hope this program will benefit all of them so they can go back to their home country and promote the sport. I want to take this opportunity to thank everyone involved in the exchange program for all their commitment and passion without which, this program would not be possible! "