FIA smart cities, an opportunity to imagine the cities of the future
In an age of rapid global urbanisation, it becomes ever more pressing to redefine a new model for sustainable urban mobility. Today, at the Geneva Motor Show, the International Automobile Federation (FIA) launched a new initiative – the FIA Smart Cities– with the aim of helping cities to define solutions best suited to tackle new scenarios in which mobility has a central role.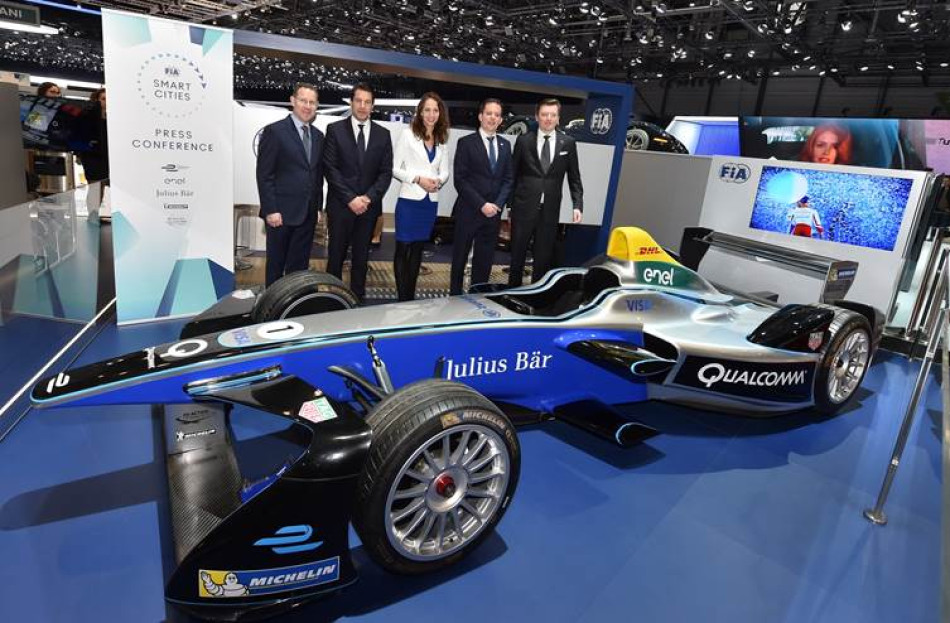 Caption: From left, Andrew McKellar FIA Secretary General for Automobile Mobility and Tourism, Marco Parroni, Head Global Sponsoring Bank Julius Baer, Katarina Metzger, Chairwoman at Digital Leaders Ventures, Robert Denda, Head of Network Technology at ENEL's Global Infrastructure and Networks division and Monty C. M. Metzger, Partner at Digital Leaders Ventures.
The launch platform for this initiative is the FIA Formula E Championship, the first race series for single-seaters entirely powered by electricity, with events held in the heart of some of the most important cities in the world, since 2014.
"The FIA Smart Cities is something entirely new for our Federation," said FIA President Jean Todt. "We wanted to come up with an initiative that could bring together the best aspects of sustainable mobility, to make a mark on the cities that host rounds of the FIA Formula E Championship, a series that presents the best opportunities for synergies between the two pillars on which the FIA stands, sport and mobility. We have the support of the city councils, of our clubs and also important players from the industry and the finance, who have opted to support us in this initiative. Solving the mobility challenge will require bold, coordinated actions from the private and public sectors: it is my hope that the FIA Smart Cities initiative can contribute to design better cities for those who live in them now and for future generations."
The first part of the FIA Smart Cities will come to life in conjunction with four rounds of the third Formula E season, those held in Mexico City, Berlin and Montreal, as well as a special event in Paris. Each Friday before the race day, there will be a Forum which will bring together speakers from national and local authorities, research institutes, important industry players and FIA members to reflect on how innovations have paved a way for safer, more connected and more sustainable mobility solutions in various cities worldwide.
Alejandro Agag, Founder & CEO of Formula E, said: "I am delighted that the FIA has chosen Formula E to partner them on the FIA Smart Cities Initiative. It is an ambitious task to address the issues city centres are facing such as air pollution and e-mobility, and I am proud that together with the governing body and our partners we are celebrating those who are creating new technologies in the fight against climate change. As the automotive industry is moving toward electrification, Formula E is a platform that can accelerate and promote the change to sustainable mobility."
Alongside these Forums, there will be two further activities on the initiative: the FIA Smart Cities Awards and the FIA Smart Cities Startup. The first involves cities that host rounds of the current Formula E season being invited to come up with a sustainable mobility project. A panel of high-profile judges will pick the 2 most innovative projects in mobility services and mobility solutions, which will be recognised at a gala event in Montreal, the city that hosts the final round of the championship. The FIA Smart Cities Startup is a competition set up in conjunction with investment fund company Digital Leaders Ventures, which sets out to identify, support and invest in the world's most innovative and impactful technology companies in the smart cities ecosystem. Projects put forward to the panel for review will focus on technologies that advance safe and sustainable mobility solutions in cities.
"Our society is more mobile than ever, leading to completely new challenges for cities and transportation infrastructure," said Monty C. M. Metzger, Partner at Digital Leaders Ventures. "Startups will deliver quick solutions to these challenges while creating new business opportunities. Digital Leaders Ventures is excited to launch the Global Startup Contest in teamwork with the FIA and to award the first FIA Smart Cities Startups."
The Founding Partners of the FIA Smart Cities are ENEL, Julius Baer and Michelin.
"We are pleased to be part of the FIA Smart Cities initiative, which is a unique opportunity to create an intersectorial platform for best practice sharing on energy, innovation, connectivity and Smart Urban Services," said Robert Denda, Head of Network Technology at Global Infrastructure and Networks division at multinational energy company ENEL, Formula E's Official Power Partner. "We will contribute our technology and leadership in Smart Grids development, leveraging on our partnership with Formula E, to help shape a global smart community which promotes efficiency, sustainability and smart mobility to make our cities better places to live in."
"Our global partnership with the FIA Formula E Championship supports to raise awareness towards innovative technologies for more sustainable means of transport. Being one of the founding partners, the FIA Smart Cities initiative is a logical step as this will enable us to contribute to the discussion of the future of mobility. Our Next Generation philosophy revolves around an exploration of the global megatrends set to affect our lives in years to come and it seeks out sustainable growth opportunities based on those megatrends, one of which is definitely energy transition and its interlinked topic mobility," commented Marco Parroni, Head Global Sponsoring Bank Julius Baer.
 "As Michelin is committed to all initiatives that improve road safety and to construct the mobility of tomorrow, it is only natural that the company stands alongside the Fédération Internationale de l'Automobile (FIA) and supports the Smart Cities initiative", said Claire Dorland-Clauzel, a member of Michelin's Executive Committee. "In accordance with its sustainable development policy, Michelin is committed to facilitating the development of sustainable mobility in all its activities. We are therefore delighted that the FIA wishes to recognise cities which implement actions and put in place structures that allow for mobility that is more ecological, intelligent and efficient energy-wise."
Calendar for the first edition of the FIA Smart Cities:
30 & 31 March '17     Mexico City
19 April '17                Paris*
8 & 9 June '17            Berlin
28 & 29 July '17         Montreal
*Special event
FIA smart cities, une opportunité pour imaginer les villes du futur
Dans un contexte d'urbanisation mondiale croissante, il devient toujours plus pressant de définir un nouveau modèle de mobilité urbaine durable. Ce jour, au Salon de l'automobile de Genève, la Fédération Internationale de l'Automobile (FIA) a lancé une nouvelle initiative - FIA Smart Cities - visant à aider les villes à développer les solutions les plus adaptées pour faire face aux nouveaux scénarios dans lesquels la mobilité joue un rôle central. La plate-forme de lancement de cette initiative est le Championnat de Formule E de la FIA, première série pour monoplaces entièrement propulsées à l'électricité, avec des manifestations organisées au cœur de grandes villes du monde entier depuis 2014.
"FIA Smart Cities est un concept tout nouveau pour notre Fédération," a déclaré le Président de la FIA Jean Todt. "Nous avons voulu proposer une initiative à même de réunir les meilleurs aspects de la mobilité durable et mettre à l'honneur les villes accueillant les manches du Championnat de Formule E de la FIA, une série qui présente de formidables opportunités de synergies entre les deux piliers sur lesquels se fonde la FIA, le sport et la mobilité. Nous bénéficions de l'appui des mairies, de nos clubs mais également d'acteurs importants de l'industrie et de la finance qui ont choisi de nous soutenir dans cette initiative. Relever le défi de la mobilité nécessitera des actions audacieuses et coordonnées des secteurs privé et public : j'ai bon espoir que l'initiative FIA Smart Cities contribue à concevoir de meilleures villes pour ceux qui y vivent aujourd'hui et pour les générations futures."
La première partie de FIA Smart Cities verra le jour à l'occasion de quatre manches de la troisième saison de Formule E, celles disputées à Mexico, Berlin et Montréal, mais aussi d'un événement spécial à Paris. Chaque vendredi avant le jour de la course, un Forum rassemblera des représentants des autorités nationales et locales, des instituts de recherche, des acteurs de premier plan de l'industrie ainsi que des membres de la FIA pour réfléchir sur la manière dont certaines innovations ont ouvert la voie à des solutions de mobilité plus sûres, plus connectées et plus durables dans différentes villes du monde.
Alejandro Agag, Fondateur et CEO de Formula E, a déclaré : "J'apprécie que la FIA ait choisi Formula E comme partenaire de l'initiative FIA Smart Cities. C'est une tâche ambitieuse que de vouloir s'atteler aux problèmes que connaissent les centres-villes, comme la pollution de l'air et l'e-mobilité, et je suis fier qu'avec l'instance de réglementation et nos partenaires, nous célébrions ceux qui créent de nouvelles technologies pour lutter contre le changement climatique. L'industrie automobile évoluant vers l'électrification, la Formule E constitue une plate-forme permettant d'accélérer et de promouvoir la transition vers une mobilité durable."
Parallèlement à ces Forums, deux autres activités seront mises en place dans le cadre de l'initiative : FIA Smart Cities Awards et FIA Smart Cities Startup. La première consiste à inviter les villes qui accueillent des manches de la saison de Formule E à présenter un projet de mobilité durable. Un jury prestigieux sélectionnera les deux projets les plus innovants en termes de services et de solutions de mobilité, lesquels seront récompensés lors d'un gala à Montréal, la ville où se déroulera la dernière manche du championnat. FIA Smart Cities Startup est un concours organisé en collaboration avec la société de fonds de placement Digital Leaders Ventures, qui vise à identifier et à soutenir, notamment via des investissements, les entreprises technologiques les plus innovantes et les plus pertinentes dans l'écosystème des villes intelligentes.
Les projets présentés au jury mettront l'accent sur les technologies qui proposent des solutions de mobilité sûres et durables dans les villes.
"Notre société est plus mobile que jamais, ce qui pose des défis totalement nouveaux pour les villes et les infrastructures de transport," a déclaré Monty C. M. Metzger, Associé chez Digital Leaders Ventures. "Les start-up fourniront des solutions rapides à ces défis tout en créant de nouvelles opportunités commerciales. Digital Leaders Ventures se réjouit de lancer le Global Startup Concept en collaboration avec la FIA et de récompenser les premières FIA Smart Cities Startups."
Les partenaires fondateurs de FIA Smart Cities sont ENEL, Julius Baer et Michelin.
"Nous sommes heureux de participer à l'initiative FIA Smart Cities ; c'est là une occasion unique de créer une plate-forme intersectorielle de partage des meilleures pratiques en matière d'énergie, d'innovation, de connectivité et de services urbains intelligents," a déclaré Robert Denda, Responsable Technologies de Réseau, Division Infrastructures et Réseaux, chez ENEL, groupe international du secteur de l'énergie, Partenaire officiel de la Formule E. "Dans le cadre de notre partenariat avec Formula E, nous mettrons notre technologie et notre leadership au service du développement de réseaux intelligents dans le but d'aider à façonner une communauté mondiale favorisant l'efficacité, la durabilité et la mobilité intelligente pour rendre nos villes plus agréables à vivre."
"Notre partenariat mondial avec le Championnat de Formule E de la FIA vise à sensibiliser l'opinion à des technologies innovantes en faveur de moyens de transport plus durables. L'initiative FIA Smart Cities est une étape logique dans la mesure où elle nous permettra, en tant que partenaire fondateur, de contribuer au débat sur l'avenir de la mobilité. Notre philosophie Next Generation prône l'exploration des grandes tendances mondiales susceptibles de changer nos vies dans les prochaines années. Nous sommes à la recherche d'opportunités de croissance durable fondées sur ces grandes tendances, dont l'une est assurément la transition énergétique, thème connexe de la mobilité," a commenté Marco Parroni, Responsable Global Sponsoring, Banque Julius Baer.
"Parce que Michelin s'engage dans toutes les actions permettant d'améliorer la sécurité routière et de construire la mobilité de demain, c'est tout naturellement que le Groupe se tient aux côtés de la Fédération Internationale de l'Automobile et soutient l'initiative Smart Cities," a déclaré Claire Dorland-Clauzel, membre du Comité Exécutif du Groupe Michelin.
"En accord avec sa politique de développement durable, Michelin s'engage à favoriser le développement de la mobilité durable dans toutes ses activités. Nous sommes donc ravis que la FIA souhaite reconnaître les villes qui réalisent des actions et s'équipent de structures permettant une mobilité plus écologique, plus efficace sur le plan énergétique et plus intelligente."
Calendrier pour la première édition de FIA Smart Cities :
30 et 31 mars 2017     Mexico
19 avril 2017               Paris*
8 et 9 juin 2017           Berlin
28 et 29 juillet 2017    Montréal
*Evénement spécial