This page contains archived information and may not display perfectly
FIA President salutes Nico Rosberg as new F1 World Champion announces retirement at FIA Prize Giving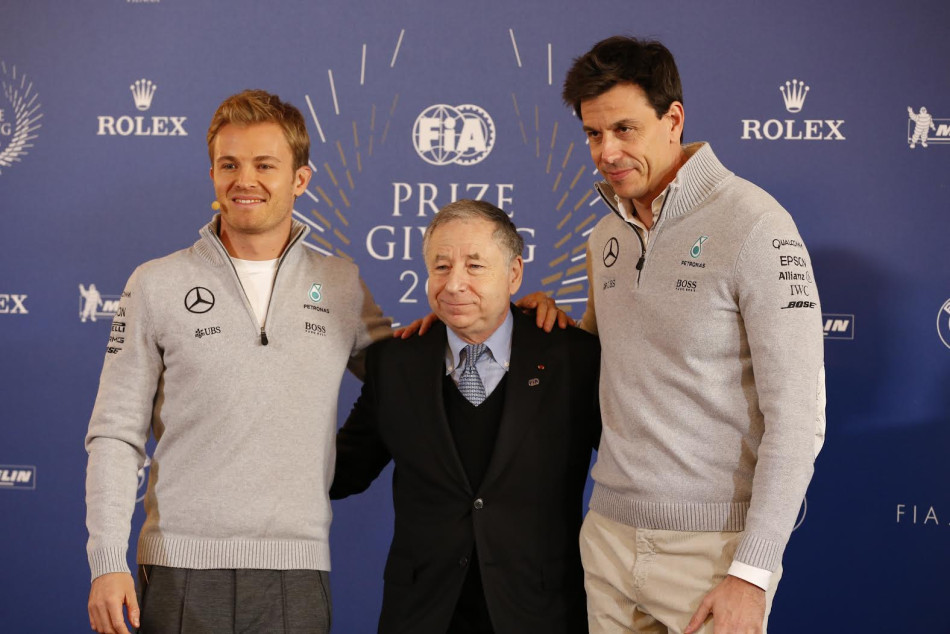 FIA President Jean Todt hailed the achievement of Nico Rosberg in winning the 2016 Formula One World Championship as the Mercedes driver used the occasion of this year's FIA Prize Giving in Vienna to announce his immediate retirement from the sport.
Rosberg, who won the Formula One Drivers' World Championship title in Abu Dhabi last Sunday, made the announcement just hours before he will receive his trophy at the FIA's star-studded annual awards ceremony at the Hofburg Palace in the Austrian capital.
Speaking at a pre-event FIA press conference, Rosberg said: "I have decided to end my Formula One career here. It's been an incredible experience for me that I will remember forever. At the same time it has been very tough as well. The last two years losing to Lewis [Hamilton] were extremely difficult and fuelled my motivation to fight back and to achieve my dream finally.
"This year was extremely tough because I put absolutely everything into it," he added. "I left no stone unturned after Austin last year really where I suffered a lot when I lost [the championship]. I pushed like crazy in all directions.
"I've achieved this childhood dream now and I'm not willing to do that sort of commitment again. I've decided to follow my heart and my heart has told me to stop and go on to other things. It's been wonderful but it just feels right."
With Rosberg at the afternoon press conference was FIA President Jean Todt who paid tribute to winner of 23 grands prix, saying: "I am very proud of Nico, he is an amazing champion.
"I speak with a lot of emotion, because I knew him as a small boy. He was five, at the time I was head of Peugeot Motorsport and his father was one of the drivers of the 905 Peugeot, so I had friendly links with his father, with his mother and the little boy that was there. He has had an amazing career since then.
"I was privileged to receive a call from [Mercedes F1 team boss] Toto Wolff this morning informing me of Nico's decision," added the FIA President. "I was very surprised, as I'm sure everyone is, but Nico has demonstrated across the year that he is extremely brave. I think he did five or six of the hardest laps of his life in the final race of the championship but the consequence is that he made it. So I would like to wish him many congratulations and a lot of good luck for the future, which he deserves."