FIA President Jean Todt appointed as UN Special Envoy for Road Safety
UN Secretary General Ban Ki-moon has appointed FIA President Jean Todt as his Special Envoy for Road Safety at a meeting held today in Paris.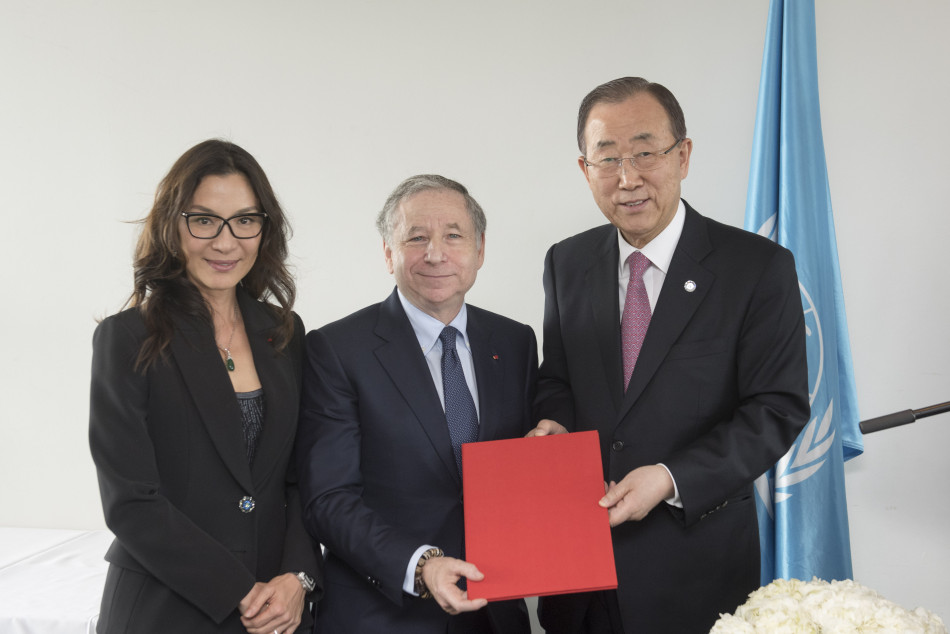 In this capacity, he will assist the UN Secretary General in mobilizing sustained political commitment towards road safety. Mr. Todt will also advocate and raise awareness about the United Nations road safety legal instruments, and share established road safety good practices, through his participations in global and regional conferences on road safety. In addition, the Special Envoy for Road Safety will generate funding for advocacy efforts through strategic partnerships between the public, private and non-governmental sectors.
FIA President Jean Todt said: "The road safety challenge is too often ignored, but road injuries are the number one killer of young people aged 15-29. That being the case, it deserves much more attention on the global political agenda." adding "This appointment will bring greater visibility to efforts to tackle this health and development crisis, as well as new leadership and renewed momentum".
"In my position as FIA President, with the backing of our members, road safety has become a key priority. I have been committed to bringing together all stakeholders fighting for this cause. This new role will help build an even stronger coalition for road safety worldwide" he said.
Road fatalities account for almost 1.3 million deaths every year with a further 50 million left seriously injured. 90 per cent of fatalities take place in developing and emerging countries, despite only accounting for half the world's vehicles. The UN Road Safety Week which begins on 4 May draws attention to the 500 children that lose their lives every day on the road. At the end of the year, Brazil will host the Second Global Ministerial Conference on Road Safety on 18-19 November to review progress in the UN Decade of Action for Road Safety 2011-2020.
Jean Todt
Jean Todt is President of the FIA (Fédération Internationale de L'Automobile) - the governing body for world motor sport and the federation of the world's motoring organisations. He was elected to the position in October 2009 and re-elected in December 2013. He is also President of eSafety Aware and a Member of the Board of Trustees of the FIA Foundation for the Automobile and Society. Jean Todt began his career in 1966 as a world championship rally co-driver, before joining Peugeot as Sporting Director in 1981. In 1993, he joined Ferrari Racing, later taking responsibility for all motor sport activity for the Ferrari-Maserati Group. He was appointed General Manager of Ferrari in 2004 and at the end of 2006 became Chief Executive Officer of the company until 2008. In 2011, Jean Todt was named Grand Croix de la Légion d'Honneur, the highest honour of the French Republic. He is Chairman of the Board of the Suu Foundation, a humanitarian organization dedicated to advancing the health and education of the people of Myanmar founded by Nobel Peace laureate Aung San Suu Kyi. He is also one of the Founders and the Vice-President of ICM, an institute devoted to medical research for brain and spinal cord disorders.
---
Le Président de la FIA Jean Todt nommé Envoyé spécial de l'ONU pour la Sécurité routière
M. Ban Ki-moon, Secrétaire général de l'ONU, a annoncé aujourd'hui la nomination de Jean Todt, Président de la FIA, en tant que son Envoyé spécial pour la Sécurité routière lors d'une rencontre qui s'est déroulée à Paris.
M. Todt prêtera son concours au Secrétaire général de l'ONU afin de fédérer un engagement politique pérenne en faveur de la sécurité routière. M. Todt aura pour mission d'attirer l'attention des pouvoirs publics sur les instruments juridiques des Nations Unies en matière de sécurité routière et se fera l'avocat des meilleures pratiques existantes par sa participation à des conférences mondiales et régionales sur le sujet. L'Envoyé spécial pour la Sécurité routière cherchera également à établir des partenariats stratégiques entre les secteurs public, privé et non-gouvernemental afin de rassembler des fonds pour soutenir les actions de sensibilisation en faveur de la sécurité routière.
Jean Todt, Président de la FIA, a déclaré : "Le défi de la sécurité routière est trop souvent ignoré, alors que les accidents de la route sont le premier facteur de mortalité pour les jeunes âgés de 15 à 29 ans. Il doit par conséquent occuper une place bien plus importante sur l'agenda politique mondial. Cette nomination donnera une plus grande visibilité, un leadership et un nouvel élan aux efforts entrepris pour résoudre cette crise de santé publique et de développement."
"Sous ma présidence de la FIA, et avec le soutien de nos membres, la sécurité routière est devenue une priorité. Je me suis engagé à rassembler tous ceux qui luttent pour la cause. Ce nouveau rôle contribuera à bâtir une coalition internationale encore plus forte", a-t-il ajouté.
Chaque année dans le monde, près de 1,3 million de personnes sont tuées sur les routes et 50 autres millions sont grièvement blessées. 90% des décès surviennent dans les pays émergents ou en développement alors que ceux-ci ne comptent que la moitié du parc automobile mondial. La Semaine de l'ONU pour la sécurité routière qui débute le 4 mai prochain attirera l'attention sur les 500 enfants qui perdent la vie, chaque jour, sur les routes. A la fin de l'année, le Brésil accueillera la deuxième Conférence ministérielle mondiale sur la Sécurité routière les 18 et 19 novembre. La conférence aura pour but d'évaluer les progrès effectués dans le cadre de la Décennie d'action de l'ONU pour la sécurité routière 2011-2020.
Jean Todt
Jean Todt est le Président de la Fédération Internationale de l'Automobile (FIA), l'instance de réglementation du sport automobile mondial et la fédération des automobile clubs du monde entier. Il est élu Président de la FIA en octobre 2009 et réélu en décembre 2013. Il est également Président d'eSafety Aware et membre du Conseil d'administration de la Fondation FIA pour l'Automobile et la Société. Il débute sa carrière professionnelle en 1966 en tant que copilote dans le Championnat du Monde des Rallyes, puis est nommé Directeur sportif chez Peugeot en 1981. En 1993, M. Todt rejoint la division Course de Ferrari avant de prendre la responsabilité de toutes les activités sportives automobiles du Groupe Ferrari Maserati. En 2004, il est nommé Directeur général de Ferrari, puis, à la fin de l'année 2006, il devient Président Directeur Général de la marque italienne jusqu'en 2008. En 2011, M. Todt est élevé à la dignité de Grand'Croix de la Légion d'Honneur, la plus haute distinction décernée par la République Française. Il est le Président du Conseil d'administration de la Suu Foundation, une organisation humanitaire qui œuvre en faveur de la santé et de l'éducation du peuple birman, fondée par le prix Nobel de la paix Aung San Suu Kyi. Il est aussi l'un des membres fondateurs et Vice-président de l'ICM, un institut de recherche médicale pour les traumatismes du cerveau et de la moelle épinière.