FIA President Jean Todt and promoters of global FIA championships assemble at Geneva International Motor Show to highlight growth and key 2019 developments
The FIA is once again prominently represented at the renowned Geneva International Motor Show, which today (5 March) opened its doors for the 89th time to welcome members of the press before the show opens to the public from Thursday 7th to Sunday 17th.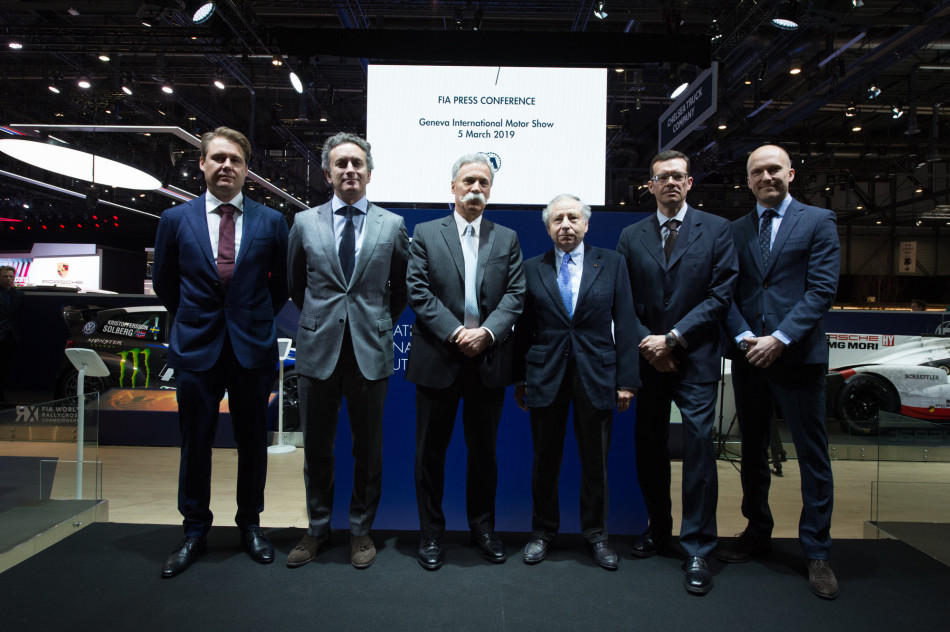 FIA President Jean Todt led a press conference featuring the promoters of the global FIA motor sport championships, highlighting growth and the key 2019 developments in the respective disciplines. He also introduced some of the key innovations from the FIA in the areas of audience engagement and technical excellence.
 
Chase Carey, CEO and Executive Chairman, Formula 1® revealed the key milestones that will punctuate the 2019 FIA Formula One World Championship™: "It's a very exciting time of year for us, just 12 days away from our season launch in Melbourne, Australia. We head into 2019 with a great deal of momentum: last year we had increased attendance at races, 10% growth in unique global viewers to 490M and for the second year in a row we had the fastest growth with our social media platforms. There are some fantastic stories about to unfold: 8 out of 10 teams will have driver line-up changes, new drivers moving up from F2, Robert Kubica returning to the F1 stage and of course an exciting battle of drivers and constructors up and down the grid. We have four fan festivals this season, the celebration of our 1000th race in Shanghai in April and we will continue to upgrade our digital offering in new and compelling ways. We will capitalise on the wider platform, encompassing F3 and F2, our successful esports programme and new initiatives such as our documentary, all to continue to elevate the sport above and beyond the calendar. We have two key strategic priorities: to build our technological leadership and the incredible achievements and efficiency of our hybrid engines, and to continue to emphasise that Formula 1 is a sport for everyone. 2019 is also just a step in our longer term plans: beyond next year we will continue to work with the FIA to introduce more significant changes to improve competition and action on track."
 
Olivier Ciesla, Managing Director of WRC Promoter reflected on a thrilling 2018 campaign in the  FIA World Rally Championship, dominated by the captivating three-way fight between Sébastien Ogier, Thierry Neuville and Ott Tänak. "Changes to the competition format, including revisions to the start order and an attractive Power Stage format, with extra bonus points available, have helped raised fan interest to new levels," Ciesla commented. "Five different drivers won rallies last season and each of our four manufacturer teams won at least once. Television broadcast time for the FIA World Rally Championship soared to record levels in 2018 and the number of followers on the WRC's digital platforms topped 10 million people. I believe we have all the right ingredients for another fascinating season in 2019."

Torben Olsen, Vice President and Managing Director of IMG Motorsports, made his first appearance since taking over responsibility for the FIA World Rallycross Championship. He commented: "World RX has had a big impact on the world motor sport landscape in a short space of time and I am looking forward to playing a major role in shaping its future. The 2019 season features 10 rounds across four continents. The calendar includes traditional venues and two new challenges in the shape of Abu Dhabi's Yas Marina Circuit and the legendary Circuit de Spa-Francorchamps with the circuit layout including the iconic Eau Rouge. That is a tantalising prospect. Tomorrow [Wednesday, March 6] we will be revealing our official 2019 entry list which features names synonymous with world rallycross – and some fresh faces. We are anticipating a fierce privateer battle with the prospect of a rising star becoming an FIA world champion for the very first time."
 
Alejandro Agag, CEO, Formula E Holdings, outlined the unprecedented levels of competition in the new era of the ABB FIA Formula E Championship, with the stunning Gen2 car having been launched exactly 12 months ago on the FIA stand in Geneva. He commented: "I am delighted that in five days' time, in Hong Kong, we will celebrate our 50th race. The championship is in great shape and we have more manufacturers than ever, with Porsche and Mercedes joining next season. I am also very happy to announce today that Formula E is going back to London. We have reached an agreement to be racing in a new location – at ExCel, Docklands - and we are looking forward to bringing electric racing back to the fan base there next season."
 
James Geidel, President of RGMMC, reflected on a successful transition year for the FIA Karting World Championships. "Our main focus in 2018 was to create the basis for future growth of the sport and build the foundation to market karting in a more contemporary way, creating social media platforms and OTT channels. The level of entries beat all previous figures with over 800 drivers taking part. 2019 will be an extremely exciting year, as we launch new programs which include local promotion and event entertainment to attract more spectators, a new mobile application for smart phones to better engage with the fans, as well as improving our social networks, OTT channels and entering the fast-growing world of esports."
 
Against the backdrop of the FIA stand, which this year showcases the winning 2018 cars from the respective championships, Jean Todt announced four key new developments for the FIA.
 
Racing News - a brand new initiative aimed at motor sport fans globally. This weekly show will be broadcast on the FIA's digital channels, and is the most complete way to get all the video highlights from the weekend's FIA motor sport activities.
 
FIA Centre of Excellence - a significant upgrade to the existing facility in Valleiry, which has been expanded in order to enhance the FIA's homologation capabilities: inspection, centralisation and secure storage of data related to inspection can now take place at a single site. It will also increase the quality of the FIA's certification by using the same equipment, process, methodology and dedicated personnel for all inspections across all of its championships.
 
FIA Digital Motor Sport Working Group - which meets for the first time later today and underlines the FIA's growing commitment to esports.
 
New Road Safety initiative - in partnership with the FIA Formula One World Championship, with the world's best-known racing drivers committing their support in a brand new advertising campaign.

Summarising today's press conference, Jean Todt commented: "The task of satisfying and creating interest across all motor sport categories is a collective one, so I am delighted to gather the promoters of the FIA's major championships here today to showcase the growth of the respective disciplines and share insights into our future direction. It is vital that we not only keep pace, but find new ways in which we can lead. Time marches on, as does technology, and what interests and inspires people. Opportunity and innovation are the fuel for improvement and I am pleased to announce these exciting new initiatives from the FIA, to enable us to better engage with our audiences and enhance our technical excellence, in order to ensure we continue 'racing ahead'.
 
The FIA stand is number 1240, located in Hall 1 of the Palexpo exhibition centre in Geneva. It will be open to the public from Thursday 7 March to Sunday 17 March, from 10am-8pm on weekdays, and 9am-7pm at weekends.